Initiatives at Columbia bridge academic disparities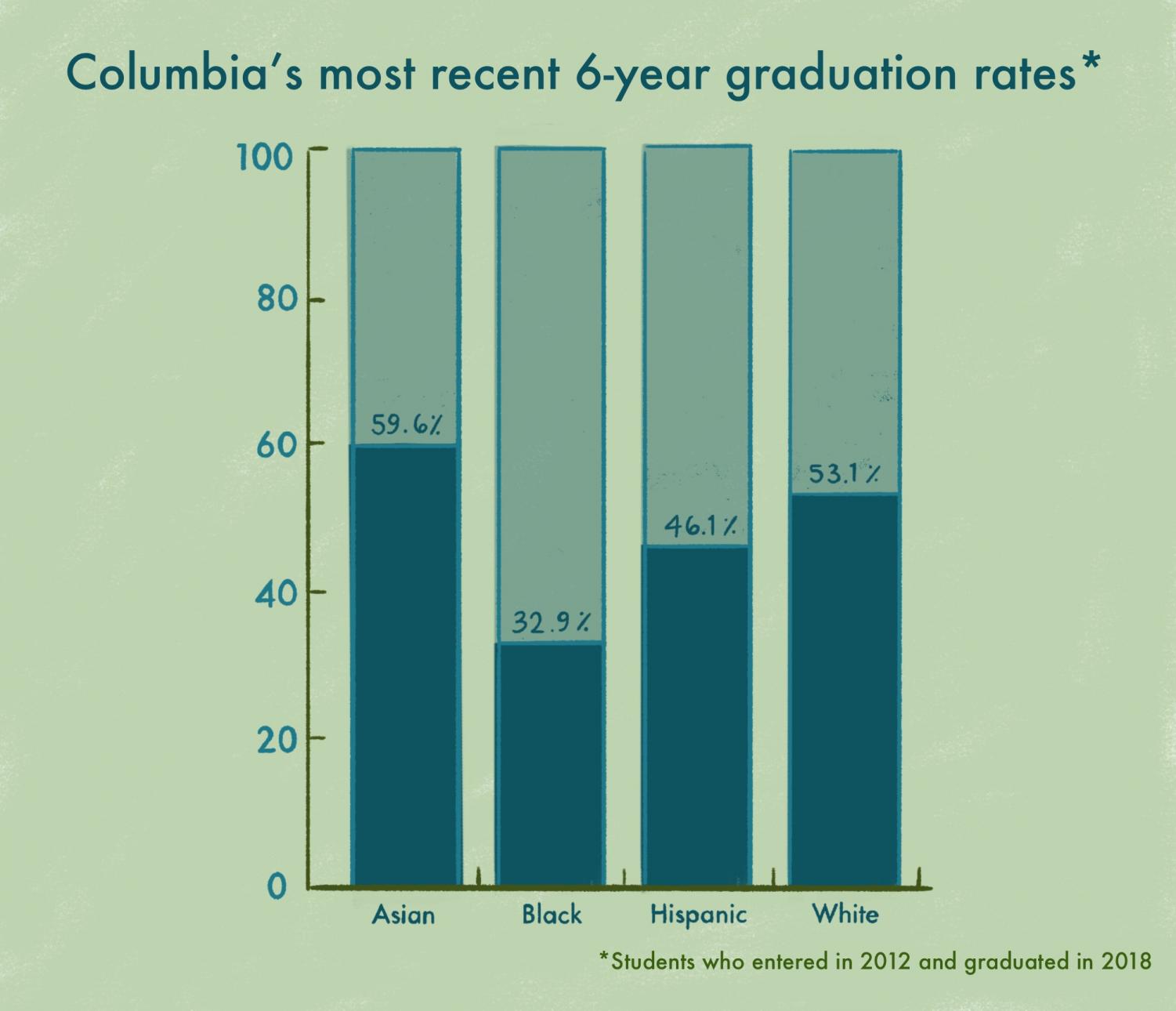 As co-president of the Black Student Union, junior television and cultural studies double major Isaiah Moore said they have noticed black students transfer out of Columbia at disproportionate rates compared to their white peers due to a host of inequitable factors.
"A lot of black students that come to this school, from not only out of state but also from the neighborhoods of Chicago, end up transferring out … that's pretty disheartening," Moore said.
At Columbia, similar to other universities, academic disparities between students of color and white students is a common issue, one that can bar many from an equitable college experience.
In Columbia's 2012 cohort, only 32.9% of black students graduated within six years, as opposed to 53.1% of white students, 59.6% of Asian students and 46.1% of Latino students.
The disparity is reflected in national data, as 41% of black students attending college in America graduated in six years, compared to 63% of white students, 54% of Latino students and 71% of Asian students, according to a 2017 report by the U.S. Department of Education.
Francisco Gaytán, interim associate provost of success and retention at Northeastern Illinois University, said finances, academic preparedness and if a student's parents went to college all tie into a larger systemic issue of racism.
"You have to get to the core of U.S. society, which is structured on disproportionate access to resources  based on race," Gaytán said.
Raquel Monroe, co-director of Columbia's Academic Diversity, Equity and Inclusion office, said administrators are investing in the success of students of color by hiring more diverse faculty and applying for DEI programming grants that would invite speakers to discuss DEI strategies.
Monroe said the DEI office is also developing "transformative curriculum" which includes diverse literary canon, a broader perspective that speaks to students and applying lenses of race, status, gender, sexuality and ability to classroom topics.
At Southwest Tennessee Community College, located in Memphis, Tennessee, graduation rates have nearly tripled in the last three years, and the achievement gap between black and white students has shrunk by two percentage points since 2016 after the school began working with Achieving the Dream—an organization dedicated to equitable student success.
Jacqueline Taylor, associate vice president of retention and student success at Southwest, said due to the history of poverty and lack of social and economic mobility in Memphis, these numbers represent a significant turning point.
"For us, it's really become more of a social justice issue," Taylor said. "Southwest has been a very integral part of making change that gives all students the chance to succeed."
Monica Teixeira, director of the TRIO Conaway Achievement Project at Columbia, said supporting students outside the classroom is extremely important for higher retention rates.
TRIO CAP—funded through a federal grant—helps students who are first generation, income eligible or disabled to solve problems and build skills with resources, personal connections and academic support.
Within the program, 43% of the 160 students served annually graduate in six years and 96% are in good academic standing.
Senior Vice President and Provost Marcella David said the Academic Progress Report has been instrumental in identifying students at risk of failing classes by connecting them to tutoring.
Angelica Hornewer, president of the Latino Alliance, said she  noticed a lack of awareness surrounding resources, such as TRIO.
Due to this, David said administrators have discussed installing a "help" button on the Columbia website's homepage so people can be more easily directed toward certain resources or answers to common questions.
Joyce Guo, president of the Asian Student Organization, said Asian students in particular can struggle with their education due to certain biases.
"Because there is that stereotype that Asians are naturally super smart, … I've noticed all throughout my years at school … there's a lack of outreach from teachers if I, or if other Asian students, need extra help," Guo said.
At TRIO CAP, Teixeira said they are working to create a safer learning space for underrepresented students.
"If [we] provide an environment where you just go to study, you are more likely to reach out to services," Teixeira said.
Moore said campus organizations are not always enough to combat the expenses, overwhelmingly white faculty and limited integration of culture and identity in the classroom.
According to the Institutional Effectiveness Fact Book, Columbia faculty were approximately 80% white, 9.3% black, 3.1% Hispanic and 2.5% Asian in 2018.
David said the college is attempting to be more deliberate in its recruitment of faculty that reflect Columbia's values and student body.
Seminars that engage faculty in DEI pedagogy are methods Columbia is using to ensure students feel welcomed, safe and culturally accepted, David said.
In addition to TRIO week, a semiannual event open to Columbia's student body, TRIO plans to implement the Student Ally Program for faculty next year—a series of workshops on how to support, communicate and work with marginalized student communities, Teixeira said.
Monroe also cited affordability as a key reason for students transferring out. Because of this, Monroe said Columbia decided to give more money in scholarships.
"This year, we rolled out financial aid in greater proportions than we have in our history to be able to support students," Monroe said.
Assistant Vice President of Student Financial Services Cynthia Grunden said in a Nov. 7 email to the Chronicle that $26.5 million worth of unrestricted scholarships have been disbursed to student accounts so far for the Fall 2019 term.
While the college tends to strategize ways to help groups and demographics of students, David said Columbia is still balancing the personal needs of its students.
"We are also trying to figure out how to crack that nut of reaching the [individual] student," David said. "Helping them to address any concerns and problems they have and be successful and happy here."