Fake billboard lands Columbia graduate a real job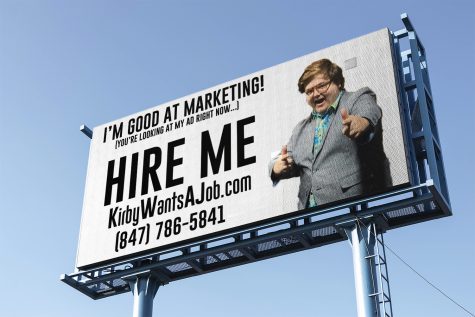 After sending out 200 job applications, Columbia graduate Kirby Callan decided to create a fake billboard. The online stunt landed him a dream job.
"In the back of my head there really wasn't any hope anymore," Callan said, who graduated in December 2022, with a degree in comedy writing and performing, and a minor in entertainment marketing. "Applying to jobs was a "really terrible process."
Callan said he didn't enjoy it "one bit."
At first, he wanted to buy Google ads on his resume and target job recruiters, but the software did not let him be that specific. That's when the idea of a billboard came to him.
Renting out a real billboard would cost thousands of dollars, money that Callan did not have, so he created a digital image of himself on a billboard with a link to his resume. He told potential recruiters that the billboard was on a stretch of I-90 outside of Chicago.
"I don't even have a car so I'm not really familiar with roads around Chicago," Callan said. "I just looked up at a map [and] I-90 is pretty big. So if I see a big area, there's a chance people are just gonna go 'Oh, I probably saw that I just didn't [notice]."
Callan said he took inspiration from one if his favorite campaigns by IHOP, where they temporarily changed their name to International House Of Burgers, to let people know they sell not only pancakes.
The LinkedIn post with the fake billboard received over 1,700 likes and caught the attention of many people. One of them was Mike Trevino, a founder and chairman of the digital marketing company RVLVR.
"I thought it was provocative," Trevino said. "I thought it was a clever tactic."
Intrigued, Trevino looked at Callan's website and LinkedIn profile and reached out by phone. "I was actually in the market for someone that could come up with a unique approach to content," he said. 
Trevino said RVLVR does marketing for Fortune 500 companies who want to tell their stories to different audiences who are not familiar with the tech world.
"I'm a big fan of bringing unconventional people together to try to find the right alchemy," Trevino said. "Kirby's style fits in with that unconventional approach that I like because that drives ultimately better teams and better outcomes."
Callan is currently working on a series of marketing campaigns for Intel and combines his passion for comedy and marketing.
At Columbia, Callan said he was inspired by a personal marketing and branding class taught by adjunct Susan Newman.
Newman said creating a personal brand is similar to the way big brands gain our trust and that all students have skills and strengths. Her class helps students market their personal brands to the right people, while boosting the confidence of the employee.
Newman reposted Callan's billboard post on LinkedIn and said "Kirby is a very creative individual who is forward-thinking and excellent in self-advocating, which is really hard to do. His efforts are unique and creative."