Exclusive: College selects Peg Murphy to be chair of Communication Department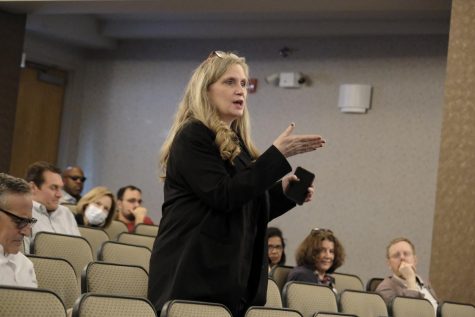 Peg Murphy, current associate chair and an associate professor in the Communication Department, has been offered the role of chair of the department. 
"I am pleased to announce that Peg Murphy has been appointed Chair of the Department of Communication," said Eric Freedman, dean of the School of Media Arts, in an email to faculty on April 26.
Murphy was one of three candidates who interviewed for the position. The other two were Associate Professor Anne Marie Mitchell, also in the Communication Department, and Hilary Sarat-St. Peter, an associate professor in the English and Creative Writing Department. 
The three gave online presentations at open forums in early March.
Murphy did not respond to repeated telephone calls requesting comment. 
Sarat-St. Peter found out she did not get selected in an email on Thursday, April 20 from Freedman, the outgoing dean of the School of Media Arts. 
She told the Chronicle that she is looking forward to opportunities to collaborate with departments across the college. 
"I would like to congratulate Peg Murphy on her well-deserved appointment," Sarat-St. Peter said. "This is a very difficult time to lead in higher education and stepping into this role shows bravery and determination, and I look forward to working with her in the future." 
Mitchell also found out by email that she was not selected.
At Columbia, Murphy teaches courses in advertising, consumer behavior, brand strategy, social media and digital strategy, along with a capstone course. 
She holds a bachelor's of Fine Arts in Theatre and a master's degree in Speech Communication, both from the University of Illinois Urbana-Champaign.  
Murphy applied for the role by campaigning for more interdepartmental collaborations and building relationships across different programs. 
She would replace interim Communication Department Chair Erin McCarthy who has led the department for two years. 
Asked by the Chronicle to comment on Murphy's selection, McCarthy responded, "you can say the chair said to be patient and that it has been a long process."
The college is trying to fill a number of key openings.
It has not yet announced the chair selection for the Science and Mathematics, Theatre and Business and Entrepreneurship departments.
There also will be an opening for an interim chair of the Cinema and Television Arts Department when Thelma Vickroy departs in August at the end of her three-year term.
The college also is expected to name an interim dean to replace Freedman, who is leaving at the end of this semester to be the next provost and executive vice president of Academic Affairs at Truman State University. 
This story has been updated with new information.