The college plans to lower its enrollment targets and become a smaller school that can deliver on its promises to students, said Columbia College Senior Vice President and Provost Marcella David. 
In an address to faculty on Wednesday, Aug. 16, David said the college "has to have a planning perspective that faces up to some realities." 
David and President Kwang-Wu Kim spoke to faculty gathered at the Student Center for the annual all-college faculty meeting, which is held at the start of each school year. 
According to data from the Office of Institutional Effectiveness, Columbia's enrollment was 6,646 in Fall 2022, a lower number when compared to Fall 2021's 6,736. Enrollment was 6,825 in 2018, rose to 6,947 in 2019 and then dropped again. It has been declining ever since.
Columbia is tuition-driven, meaning it is reliant primarily on tuition dollars for funding. 
David did not say what the new enrollment targets would be.
In April last year, the college announced four strategies it was undertaking to address a $20 million financial deficit. They were: increase tuition, retain students, increase enrollment and make operations more efficient through measures like increasing class sizes. 
"We have a statistic here where almost two-thirds of our classes are taught to 19 students or less." David said at the meeting. "And that is hard to sustain, right?"
Currently, the majority of Columbia's course sections — about 64% — are taught with under 20 students in them. About 10% of courses are taught with less than 10 students in them, and 54% of courses are serving 10 to 19 students, as previously reported by the Chronicle.
David said the college would continue to focus on "the four things" but also planned to lower enrollment targets, focusing on students who are college-ready and have a similar profile in terms of financial need.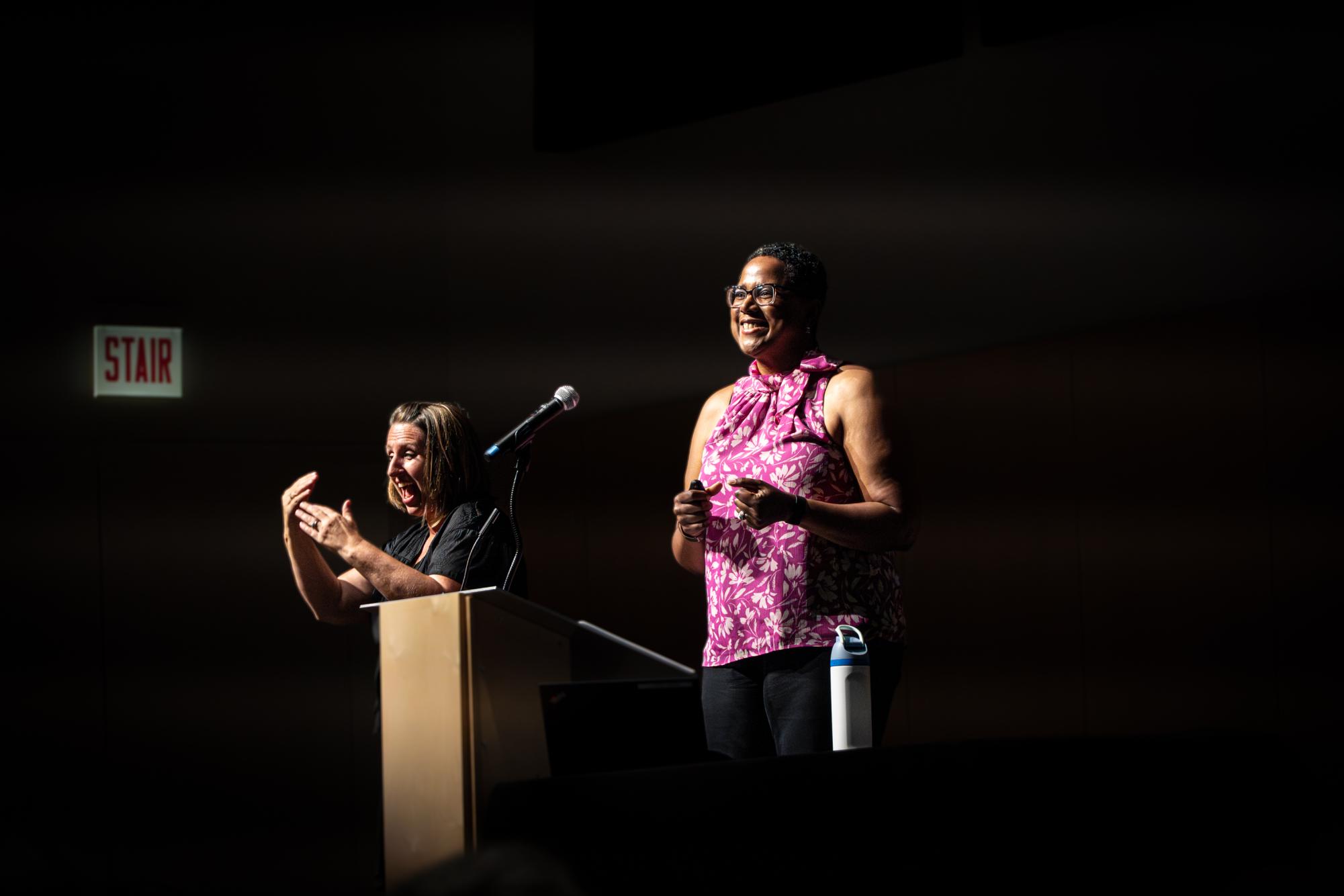 She also told faculty the college would need to look at the mix of programs and program requirements to identify those that cannot be delivered by tuition revenue. 
In an interview, she told the Chronicle the administration, faculty and students would be at the table when those conversations happen.
Nathan Bakkum, senior associate provost, said the success and sustainability of the college is "fundamentally tied to the success of our students."
"It is our responsibility to serve our students, in a changing context, meeting them where they are, being flexible, and doing anything we can to support our students," he said in an interview. 
Kim addressed faculty later in the day and apologized for the serious tone of the messages faculty were getting at the start of this school year.
But he challenged them to "try to lift up an institution we all believe in." 
"The message being loud and clear is the value of this place," Kim said. "I wish I could start helping you start the year with maybe a little bit more positive message. But I don't think it's a negative message. I think what we're really saying is, 'this is the moment.' This is the moment for us to really step up and do the things that we know how to do to really move the culture any place."
Madhurima Chakraborty, president of the Faculty Senate and associate professor in the English and Creative Writing Department, said faculty are worried about being able to handle everything that is being asked of them. 
"The expectation of our increasing workload has been made very clear all day today," Chakraborty said. "I think what I've been hearing my colleagues say is we're not not up to the task but we need space to try and figure some of this out."
David said it is concerning that student retention continues to be an issue. 
The college has lost faculty and students, particularly people of color, as the Chronicle previously reported. 
"Last year we spent a lot of time talking about retention and it is in some ways crushing that we didn't make a lot of progress in the efforts that we put into retention," David said. "The thing I remind myself and my team of is that our retention number is disappointing, but it might have been worse without all the things that we did."
This story has been updated.