Students grapple with possibility of larger class sizes to help close college's financial gap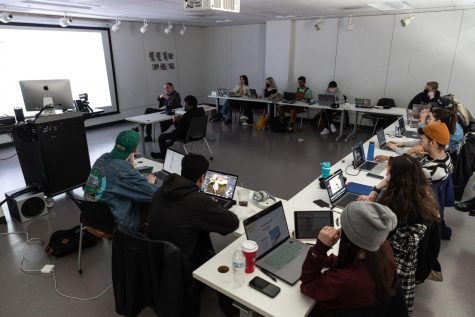 DEI ISSUE
---
When Devyn Jessonge, a senior creative writing major, saw that the college is considering raising tuition again and making class sizes bigger to offset the college's deficit, they sighed.
Jessonge has been at Columbia through it all. From taking classes completely online during the pandemic, hybrid to now, fully in-person. They have lived in Columbia's housing and are now off-campus.
"Columbia is supposed to be a place where we feel understood and seen by our professors and we get to engage in our art with them in an individual way as well as in the classroom," Jessonge said. "Increasing the class sizes will only ensure we feel smaller and that's not the appeal that Columbia sets out to demonstrate to prospective students. More and more I feel Columbia has lost its charm in that way."
The college's top administrators met with Columbia faculty and staff twice in April for town hall discussions about where the college is financially and how they plan to close the current financial gap, which was at $26 million as of late 2022. To do this by 2026, the college will need to raise tuition, improve retention, attract new students and achieve "operational efficiencies" — which could result in fewer sections being offered and larger class sizes.
Students told the Chronicle that besides possible higher tuition to attend Columbia, the possibility of larger class sizes is what worries them the most.
Currently, the majority of Columbia's course sections — about 64% — are taught with under 20 students in them. About 10% of courses are taught with less than 10 students in them and 54% of courses are serving 10 to 19 students, according to administers in the town hall.
Enisha Dowd, a first-year musical theatre major, was surprised that increasing class sizes was the administration's solution to the problem and called it a "lose-lose" situation.
"The bigger the class size, the less time your instructor has to get to know you and help you learn," Dowd said. "Getting to know your students really helps in the classroom and class performance and if the student to teacher ratio rises, I know the education of me, and my peers will suffer. It's inevitable."
Eriana Freedman, a sophomore graphic design major, said having larger class sizes and less course sections would make it harder for commuter students and those who work in addition to classes.
"It would give us less flexibility as students who have jobs and who commute," Freedman said. "Offering a few classes that people need without expanding them and making classes smaller forces us to choose class times that don't fit with our schedules."
Columbia has announced back-to-back tuition increases, during the Fall 2021 semester for a 10% increase the following year, and a 5% increase announced this last November, to take effect this upcoming academic year. Jerry Tarrer, senior vice president of Business Affairs and CFO, said the administration will meet with the Board of Trustees to discuss this in October.
Kevin Sobotka, a junior graphic design major, said it's hard to understand how the college will retain or attract new students if it has to cancel or reduce course offerings.
"I've personally had a class canceled because they failed to find a professor for it one to two weeks before the semester even started," Sobotka said. "The retention rate is dropping because the college keeps getting rid of courses people want to take as well as the additional raises in tuition."
Cristina Martínez Serrano, a junior animation major, said she also would not be for increasing class sizes because she has found it difficult to have one-on-one time with professors under the current model.
"It is already hard enough to have one-on-one time with the professor and to get our work critiqued," Martínez Serrano said. "If the amount of students in a class increased, it would make it near impossible for us to know what we need to improve on."
Martínez Serrano acknowledged that she is not sure what the logistics would look like, but said the college should make more classes to fit more people in instead of cramming several people into one.
Martínez Serrano added that if the college were to increase class sizes, they would find it frustrating but would not leave the school because of it, as they are about to enter their senior year.
Adriana Brown, a junior marketing major, said they think increasing class sizes would defeat the purpose of someone choosing to attend Columbia.
"I know at least speaking for myself, one of the big reasons I chose to come here was the fact that the classes are smaller," Brown said. "As someone who performs better in smaller settings where I can be in a more intimate class space and really get to know my classmates and professor, I would really feel misled thinking I was going to have smaller classes just to find out they are just like any other college."
Senior public relations major Nick Muilaert said because they are graduating next month and won't experience Columbia in the coming years, they feel sorry for their classmates who will have to deal with the changes.
Senior Vice President and Provost Marcella David told faculty and staff at the Town Hall that not every class would become a larger class.
"If we are able to raise the class size, for some number of our classes, either by little or substantially, we will be able to serve more students at a lower cost," David said in the Town Hall. "That will start to bend that line down in terms of the cost of education."
David said restructuring some classes to be larger and more successful would allow the college to continue to offer some of its signature smaller courses.
"We should talk about how we can make classes that are large, successful classes, that are achieving the right learning outcomes and engaging the students in the way that we want, providing the education that we want," David said.
David said increasing class sizes will also depend on the department.
"It's only by looking at this as a college — how we make this work for the college — that we will be able to move forward in a way that is actually beneficial to the college," David said.