College administration says its time for 'serious, honest conversations' to address deficit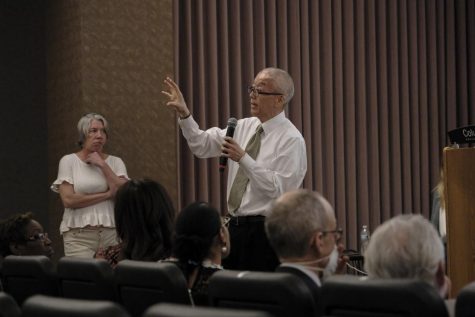 In order to close the deficit by fiscal year 2026, college administrators said their four strategies to break even are tuition increases, retention improvements, new student growth and operational efficiencies. 
"It really is time for us to have serious, honest conversations," President and CEO Kwang-Wu Kim told a room of administrators, department chairs, faculty and staff.  
The only caveat is that all four strategies need to work in order to achieve financial stability.
"It's a very challenging moment right now for us," Kim said at the town hall on Thursday, April 13. "It's not a moment of disaster, but it's a moment where we all have to be very realistic about what the actual financial prospects are for the institution." 
For students, this means the possibility of larger classes, fewer course sections being offered and higher costs to attend. 
"It seems like… a lot of different things have to go right," said Madhurima Chakraborty, president of the Faculty Senate. "Hopefully it can happen." 
The deficit was exacerbated by the pandemic, but the college already had been dipping into its cash reserves, relying on the "rainy day money" for five years.
"We thought, back in 2018, a portion of that would get us through this five year plan of deficit spending, and then we'd be really in good shape. It hasn't worked out that way," Kim said.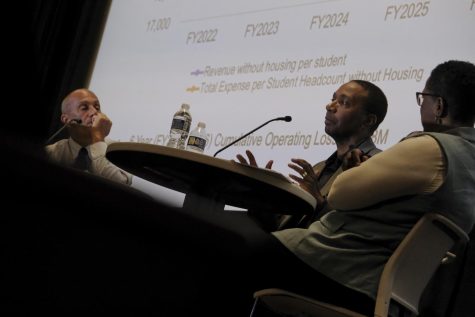 Senior Vice President of Business Affairs and Chief Financial Officer Jerry Tarrer said after fiscal year 2026—which starts September 2026 and ends August 2027—the college can no longer rely on these reserves. 
"The president alluded to this fact before that we have been burning off cash at an extraordinary rate in order to keep the college going," Tarrer said. "This truly is the last year where we will be able to burn off operating reserves… and what it means is as we go forward, if we continue to run significant operating deficits, we'll have to dig more into the endowment."
Endowments are funds that are used to support both the short and long-term goals of an institution. Tarrer said typically the college uses about $10 million of the endowment each year towards Columbia's operating cost.
As a private institution, Columbia receives no state funding, but did receive federal aid through the CARES Act. Referring to what Kim had said previously, Tarrer said historically Columbia has been one of the cheapest institutions to attend compared to other schools like Savannah College of Art and Emerson College. 
"It's a really important part of our overall financial picture, to have a strong, healthy endowment," Tarrer said, adding that the policy is that the college takes about 5% of the endowment's value to contribute to the college. "We would be in much deeper trouble if we did not have those contributions." 
Columbia's current financial state is in part due to enrollment declines, including retention rates. For the Fall 2023 academic year, the college has a freshman retention goal of 71.5%. As of April 10, the retention rate sits at 55.9%, or roughly 241 students—a percentage point behind where the college was last year. 
Kim, who has been in the presidential role for nearly 10 years, said enrollment has declined for 11 consecutive years—six of them before his time as president and five under his leadership.