Columbia classes teach students how to manage stress using art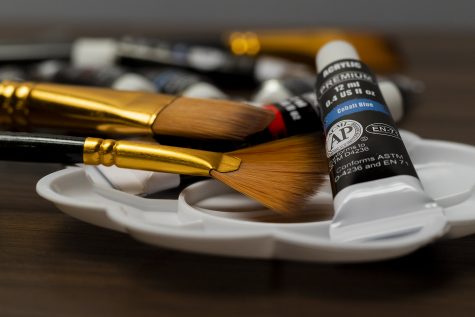 Over the past several years, Nicolette Hummel found that art therapy has helped her deal with the difficult parts of life. She began utilizing art therapy while in inpatient therapy in 2018 and discovered it helped her talk through her feelings.
"[With art therapy] I don't have to be perfect, and that equates to life a lot," said Hummel, a sophomore theatre major. "It also helped me as an artist because with art therapy, I realized I am allowed to just do all kinds of art for fun. … I can just be making something for [myself]."
Columbia offers an arts in health care minor, which teaches students to utilize the creative arts in areas of health care including trauma, drug abuse and cancer treatment.
Nicola Elder, a senior dance major, said the arts in health care minor was perfect to help her work toward her goal of practicing dance movement therapy. Elder learned about the minor from Jessica Young, an associate professor in the Dance Department, and said it has prepared her for the professional world.
"It sets you up to be able to go into the field of creative arts or just to be an artist within the health care industry," Elder said. "A lot of what you're learning through the courses is information that's really applicable to theory and practice within arts and health care."
Susan Imus, associate professor in the Dance Department, said there are five types of creative arts taught for the minor: dance, art, music, drama and poetry.
Through various courses, students learn about the different types of art therapy and how to apply them.
In her "Performance as Therapy" course, Young has students create a performance for the class as an exercise. Through this assignment, students learn about the relationship between a performer and witness and that the main focus is the creative process, not the final product.
"I would recommend [the minor] to anybody who is working in their discipline and finds that there's a type of emotional, mental, physical, whole body release that comes from working in that discipline, and they are curious about why that is," Elder said.
The main benefit of art therapy is that it uses the creative process and doesn't rely on words, Young said. 
"Sometimes we don't necessarily have the words to fully express what we're experiencing," Young said. "Sometimes also, due to limited cognitive abilities, the words aren't available to us, and we don't necessarily need words. By engaging in a creative outlet the emotional expression comes forward often in a way that's less defended."
Trauma is processed in the non-verbal part of the brain, and Young said art therapy can be used in those scenarios to help a person share and process their feelings.
Abbie Roe, a freshman illustration major, was 12 when they were introduced to art therapy to help them focus and better connect with other kids.
"It allows you to say things that you're not able to put into words … things come out in your art that you're not even consciously aware of, so it helps you to give yourself a better understanding of yourself," Roe said.
While Roe only used art therapy for a year, they said the experience is the reason they started drawing and eventually why they chose their major.
Imus said it does not take expensive supplies to start using the creative arts as stress management, and she said scribbling is a good starting point.
Doodling, singing and dancing to music, writing a story and writing in a daily gratitude journal are all examples of using art as stress management, Young said, but there are many more.
Imus, like Young, said there is not one set way to utilize the creative arts.
"The sky's the limit," Imus said. "Creativity is in fostering your imagination so that you activate your senses as well as images, and then bring the senses, images, feelings and thoughts to life by putting them into another form." 

While Hummel and Roe both used drawing as a way to manage their stress, Roe said they believe there is a creative outlet for everyone.
"Art doesn't necessarily have to mean like painting or drawing," Roe said. "I know people like to cut into things [and] earring-making has been a super popular thing lately. … Art is very subjective and can take the form of many different things."