Columbia alum talks about Sacred Rose festival performance, motherhood and evolving as an artist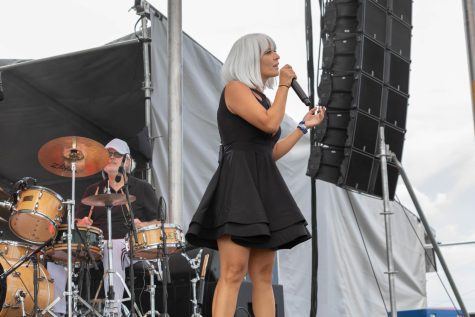 Minutes before performing under stage lights for the very first time, Anna Soltys knew something was not right.
"What is happening?" she thought, as all feeling left her right arm, the arm she needed to hold her guitar.
Nervousness was getting the best of her.
She tried yoga to calm down. No luck. She drank a beer to loosen up. That didn't work either.
"I got this; I can do this," Soltys told herself. And she hopped on stage.
"I will never forget my first ever performance. … There were so many emotions," Soltys said while reminiscing about that first live show at the concert hall SPACE in Evanston. "I was nervous as hell."
Soltys, who was born in Poland and grew up in France, graduated from Columbia in 2002 and walked out of college with a bachelor's degree in fine arts. Soltys is currently a part of two bands – Syzygal and Anna Soltys and the Familiar – which accompany her fine arts career.
Soltys said one of the biggest learning curves she experienced from attending Columbia was learning how to cope when she hits a roadblock as an artist.
"I wouldn't take it back; it is tough being an artist … [it is] no joke," Soltys said. "There's absolutely no security. It's like you're flailing around, you know? You gotta be ready to sort of land on your ass, a lot, before you feel any kind of warm feelings from anything."
When it comes to coping with failures, hurdles and hardships as an artist, Soltys said she believes it is up to the individual to cope with it and not something that can be taught.
Years after her first performance at SPACE, 1245 Chicago Ave., Soltys took over the stage at the inaugural Sacred Rose festival, which was held Aug. 26-28, at SeatGeek Stadium in south suburban Bridgeview.
Along with her bandmates, Mickey Kellerman and Darren Heitz, who play the synthesizer and drums in the trio, respectively, Syzygal performed for the first time as a trio at the festival.
Despite her musical success, Soltys said it took her a while to get comfortable with the idea of singing, as her artistic interest started with fine arts and because English was her third language.
"Since I was little, I had always kind of thought that, you know, fine arts was a direction that felt natural for me, [and] I've always been really attracted to [the] physical representation of things; I've always felt I am an artist," Soltys said. "I wasn't always that comfortable with language, having English be my third language; it didn't really seem like a natural fit for me to become a musician because I would have to write lyrics."
Soltys slowly became more comfortable with singing and musical artistry when she first picked up a guitar in her mid-20s. Soon after she would start Anna Soltys and the Familiar, and then meet Kellerman, with whom she would go on to record music and join his band.
Soltys previously performed with Kellerman, Heitz and other members of the band Future Rock at the North Coast festival in Chicago, but the Sacred Rose festival marked their first performance as the trio Syzygal.
She said her favorite part of the North Coast festival experience, besides the "massive audience," was that she gave birth to her son not too many months earlier. Soltys said she remembers walking through metal detectors at the venue with her breast pump on her.
"I was like, 'Okay this is a cool adult moment, I'm about to be a rock star on stage, with my breast pump,'" Soltys said.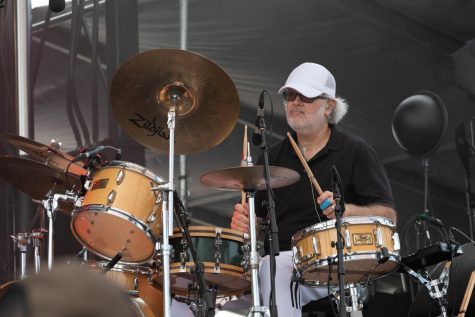 Motherhood changed the game for Soltys, as she welcomed her son two days after her own birthday, calling him her "twin flame."
"I used to second guess myself so much," Soltys said. "But giving birth to my son proved to me … how strong I actually am and how much I'm capable of. … He is the best thing that's ever happened to me."
Soltys said although she knows children can be the "end all, be all" for some people she said her son is "an important piece to her puzzle."
Soltys said at the North Coast festival, she realized how their sound evolved and started to settle into her "musical marriage" with her bandmates.
"I really feel like the work has evolved so much, and even in this last record that we haven't released yet … it just keeps getting better," Soltys said. "And that's something that only time and love and passion and authenticity can do."