College administration considers clinic's low use, other available health care options as it weighs whether to close on-campus employee facility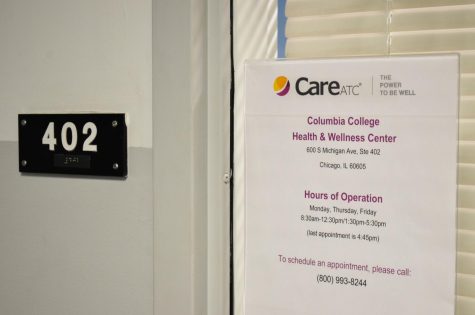 Since 2022, the college's on-campus health clinic typically had about 110 visits on average each month from faculty and union staff, far less than capacity and representing just a fraction of employees eligible to use its services.
Overall, the clinic has been chronically underused, with 95 visits in October 2022, which is 34% of the clinic's capacity to serve patients. In April of this year, during the peak of the semester, the clinic had 88 regular visits and 69 visits for biometric screenings. That was roughly the same number as April 2022.
The college employs 240 full-time staff and 255 full-time faculty as of this past spring. Full-time faculty and staff and their families have access to the clinic, but part-time staff and adjunct instructors do not.
Last week, the college told staff union representatives that it was considering closing the clinic to save costs and would make an announcement by June 1. It confirmed the potential closing with Faculty Senate leadership.
"The clinic is not near its capacity," Chief of Staff Laurent Pernot told the Chronicle in an email on Wednesday, May 24.
Use was less a factor in recommending that the clinic close than the fact that employees have other healthcare options off-campus through Columbia-provided insurance, he said.
The clinic's doctor, James Barrett, who also works at an urgent care facility in the city, is a primary physician for some employees. If the clinic closes, they would need to find a new primary care provider.
"We understand a change would be disruptive to employees who use the clinic," Pernot said.
The busiest month for the clinic is typically August, driven by biometric screenings, which the college requires for a reduced deductible rate for its insurance plans. The screenings would continue even if the college closes the clinic, Pernot said.
Pernot told Faculty Senate leaders that if the college decides to close the clinic, it would not be immediate, staying open several months for ongoing care.
Pernot said it costs the college about $585,000 per year to keep the clinic open. The college's rising deficit has forced it to take more money than anticipated out of the college's endowment. Retention from this academic year into the 2023-24 year also is lower than expected, meaning the college's financial picture is worse than expected. As of late 2022, the college was facing a $26 million deficit and now has been requested by its Board of Trustees to close that gap by 2026.
The on-campus clinic has been open since 2008; Columbia is one of the few colleges and universities that offer in-house primary healthcare as DePaul University and Roosevelt University do not have an on-campus clinic for faculty.
Pernot, Senior Vice President and Provost Marcella David and Patricia Olalde of Human Resources met with the Faculty Senate's Executive Committee on Wednesday, May 24 to answer questions and address concerns about the clinic's potential closure.
"Full-time faculty will, no doubt, continue to have questions about what such a closure would mean for them and how much time they have to find alternate health care providers," Faculty Senate President Madhurima Chakraborty said. "I hope that the college will be forthcoming with information."
The Executive Committee has asked for a more collaborative model around such budget decisions in the future, Chakraborty said. "We were assured that this is the hope from their end as well moving forward, and I really hope this means future decisions will include us at an earlier moment in the process."
The clinic is administered by CareATC and is currently housed in Columbia's 600 S. Michigan Ave. building.
Kim Hale, Columbia's academic engagement librarian, is disabled and said the on-campus clinic is both convenient and accessible.
"The impact of closing the CareATC clinic would be difficult for me," Hale said. "As a disabled person, the loss of a convenient and accessible clinic location, ability of getting important lab and tests done quickly, and the exceptional care provided by Dr. Barrett and his staff would be detrimental to me and the many staff and faculty who use this service. I hope continued discussions will result in an outcome beneficial to all."
Yonty Friesem, associate professor in the Communication Department, said they and their partner have been utilizing the clinic as their primary healthcare since they started at Columbia over five years ago. They said they consulted with Barrett during the peak of the pandemic.
"Dr. Barrett's care and personal approach are amazing, and he was helpful to guide me and support me through various health issues," Friesem said. "The health of staff and faculty should be part of the plan to improve our college. Closing the clinic would have a ripple effect beyond the health of staff and faculty that will impact the college in ways we cannot predict."