Closing the nature gap: How Chicago environmentalists are advancing outdoor equity
Editor's note: This article is one in a series of stories from the Communication Department's award-winning Echo magazine,  featured this summer on the Chronicle site.
_____________________________________
When news broke in late May that a false police report was filed by a white woman against Christian Cooper — a Black science writer — while he was bird-watching in New York City's Central Park, the conversation around racial equity entered the environmental community at full force.
People of color are less likely to easily access nature, according to a Center for American Progress study. This problem is even worse within low-income communities and families with children, who were found three times more likely to live in nature-deprived places than in white communities.
The same study also found that as of 2020, 77% of people of color in Illinois live in a place that is "nature-deprived" — an area with more green space being industrialized than preserved for ecological uses.
Although public policy and urban development play major roles in increasing this access, there are also key organizers in Chicago working on the grassroots level to ensure their communities can engage with nature sooner rather than later.
Sergio Ruiz | Food justice organizer, urban gardener, community leader
How do you help your community as a food justice organizer?
Our campaign was created in response to our community's food insecurity. So it's bringing awareness to how we have the right to grow, eat and sell healthy foods. Bringing food into our communities that is culturally appropriate, fresh, local and grown with the full care of all workers, animals and lands is something that we strongly believe in.
Expand on what you mean by culturally appropriate.
The neighborhood has their own group of people with food being a big thing that differentiates between all of us. With our program that's going on right now, Farm, Food, Familias, that's something that we've put a pin on: to have food that's culturally appropriate. [We've got] folks from the South Side, and then we also got folks in the Southwest Side, like in Little Village. There's always a difference between Mexican cuisine, Caribbean cuisine and soul food. We just try to include everyone to taste a little bit of everyone else's cultural foods.
How are you making nature more accessible to your community?
The gardeners themselves have made [the garden] a safe hub like a community. When someone gets into getting their hands dirty and going into the earth, it's kind of like a spiritual thing. It's connecting them to their roots. I had multiple gardeners tell me that it reminded them of when they were small and lived in Mexico or in other Latin American countries. It's something beautiful to see.
Amaris Alanis-Riberio | Conservationist, educator, activist
How did you first get involved in environmental advocacy?
My family would do day-and-a-half road trips down to Michoacán. I have five sisters, and I remember when we would pull over I was always the wanderer, "la perdida," just exploring. I remember moving into another neighborhood that was predominantly white and closer to more green space. I loved the parks, the exploring and the river. It was beautiful, but we also had a lot of racist issues going on with moving into this neighborhood and being in these green spaces, and I would question it.
How is your approach to community organizing informed by the communities you serve?
I was definitely in a not super diverse high school, and we were all checking each other out [to understand] 'Hey, what are you about?' That aspect of realizing, like, we're all in the same struggle. [I] ended up being a hip-hopper. So for me, some of that community work was a lot of that, the cultural aspects of hip hop. Once I got my degree and started doing environmental work, I had all that being rooted in the community.
How are you involved in making nature more accessible to your community?
I work in a field that's daily saying, 'How can we bring more people outdoors?' And that's not the question that we should be asking. It's 'How have we historically excluded them?'
I'm trying to change the internal systems that exist in my organizations and agencies, and not just mine but everybody else's as a collective of environmentalists of color. And when I'm building bridges with other folks who are doing, you know, the work for food, or doing the work for water, it only makes my work even better, because it's not just about getting them outside to enjoy nature and and hiking [a] trail, it really is about environmental justice.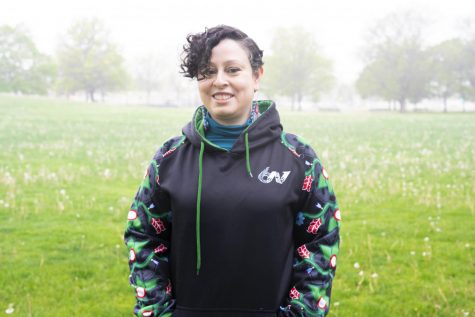 Aasia Mohammad Castañeda | Collaborative event organizer, social justice leader, bird-watcher
How did you get involved with environmental advocacy?
My grandparents were farmers in Mexico, and I spent time there with them, almost every summer, and I think that is how I started, in the womb. I think oftentimes the colonizer-dominant narrative is that we're separate from nature. But humans are very much part of the ecosystem. For me, it was that cultural lens and that ancestral knowledge [that] catalyzed me to feel like I want to be a part of a movement that takes care of this land.
How is your approach to community organizing informed by the communities you serve?
[Writer and activist] Adrian Marie Brown talks a lot about these fractals, 'All is small, small is all,' which means the way something looks on a very microscopic scale is the way it looks on a very large scale. So for me, organizing, it's on a very micro level. Your relationships and how you vibe, the people you work with, if it's not good, then whatever program, whatever event, is just going to come out rough. For me, the dopeness of things is in the details.
How do you make casual access to the outdoors accessible to communities of color?
In my practice, we carry values of 'What does access to nature mean in outdoor rec?'
The more spaces we can hold, to connect with each other, not through this structured event or just white people way of connecting to nature, but through the way we vibe with nature — and I say 'we' as in all our cultural dynamics as people of color because there's not a singular way in which we do that — the more we can hold institutions and organizations accountable to the way we connect.
Mila Kellen Marshall | Urban ecologist, clean water advocate, media-maker
How is your activism work informed by the communities you work with?
You take cues from the community, and you find ways in which what you have to offer can fill those gaps.
The other part of my activism is networking. Our efforts can either be in conflict or in concert, depending on who you invite to the table. I do find myself making tons of introductions and very strategic, intentional introductions. That information, that access to networks, can be transformative for a community. It's not always the hour reading or the $25 sent, sometimes it is 'Hey, I want to introduce you to someone.'
What have you discovered through your environmental research and work in Illinois?
Most of the environmental justice issues are really place-based, so if you're not from that community, you may not even know that there's an issue going on in your city. Part of my engagement work is to figure out how we get people to know what is going on and how to help.
How does accessibility to nature play into your work, either abstractly or directly?
As a clean water advocate, I focus on helping protect Illinois lakes, streams and rivers, and we want to make sure that everyone has access to clean, healthy water. Everyone means everyone, including businesses. It's important to use all of the tools — whether it's policy, engaging in permits, doing cleanups, engaging in research and data collection — we can understand the state of the system and what it is that we need to do.
_____________________________________
The 2021 issue of Echo will be available this summer on newsstands across campus, and PDFs of all issues are available online.