Chicago artists, scientists join forces to craft conversation on climate change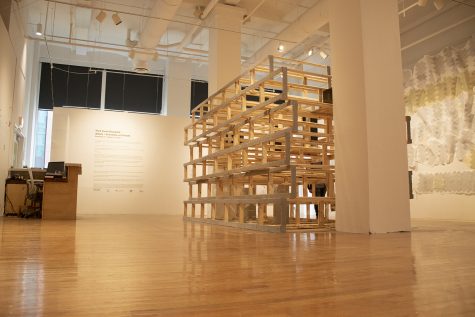 Seven artists and seven scientists walk into the Indiana Dunes National Park. But it is not a punchline; it is the basis of a new gallery at Columbia that visualizes the impacts of the climate crisis on Chicago.
"Third Coast Disrupted: Artists + Scientists on Climate" opened Sept. 8 and runs through Oct. 30 at Columbia's Glass Curtain Gallery, 1104 S. Wabash Ave. The gallery features new work from seven local artists in a variety of mediums.
"Third Coast Disrupted" is the "brainchild" of Christine Esposito, the project director and lead curator. Esposito was inspired by a similar project in Fairbanks, Alaska, which found that 71% of those who attended the exhibit left wanting to learn more about the scientific topics featured.
The exhibit is the result of a yearlong conversation between the project's artists and climate scientists on how Chicago is and will be impacted by the climate crisis. The conversation began in September 2019 with a retreat at the Indiana Dunes National Park.
The retreat was followed by periodic gatherings where participants congregated—eventually on Zoom due to the pandemic—to talk about their work.
The exhibit is one of the first in-person exhibitions for Columbia after a summer spent reimagining what art looks like in a socially-distanced age, said Meg Duguid, senior consultant and director of exhibitions in the Department of Exhibitions and Performance Spaces at Columbia.
To keep both staff and visitors safe, Duguid said the space will be limited to 10 visitors at a time, and no student workers will be present. A webcam will be installed so visitors can also check out the gallery virtually and there will be Zoom lectures with climate scientists throughout the fall semester.
"At the base, scientists and artists are both really interested in finding new knowledge," Duguid said. "We were really interested [in the exhibit] because climate change is something that many artists have taken on over the course of the last decade."
Participating artist N. Masani Landfair decided to take a personal approach to their piece after learning about how certain areas in Chicago are not equipped to sustain modern infrastructure because of the lakefront climate.
Landfair began to document the physical and mental toll of living in a home on Chicago's South Side that has flooded many times because of an increase in the frequency and severity of rainfall, resulting in black mold growing in their home.
"Not only did it create havoc with our property, but with our health," Landfair said. "We started experiencing illnesses due to black mold because it was creeping through the walls."
Other participating artists, like Andrew S. Yang, went with a more data-driven approach to the exhibit. Yang installed a large-scale, silk-screen printed wall drawing with 1 million black dots to represent air molecules, and 415 red dots to represent the current level of carbon dioxide in the atmosphere leading to global warming.
"As unfortunate as it is to have an exhibition at a time where people are less likely to access it, the theme of being disrupted couldn't be more timely," Yang said. "There's not many exhibitions opening right now at all. Since this is actually available, hopefully, people will take the time to visit it in-person or take part in the online conversations."
The artists were not the only ones influenced by the collaboration.
Participating scientist Elena Grossman, program director of Building Resilience Against Climate Effects at the University of Illinois at Chicago, said one of the biggest challenges in the scientific world is communicating the concept of an issue in a way that people understand, whether it is discussing climate change or the coronavirus.
However, art is a powerful way to communicate climate change as something that does not only affect polar bears, she said.
Grossman said she hopes attendees will not only listen to what the artists and scientists have to say but also walk away with a feeling that something can be done to battle the climate crisis.
"As humans, we progress through hope," Grossman said. "It's very easy to throw your hands up to a situation like climate change that feels so drastic and dark. … But by providing hope—and there should be hope because there are things that we can do—it empowers people."