Featured Artist: Levi Sherman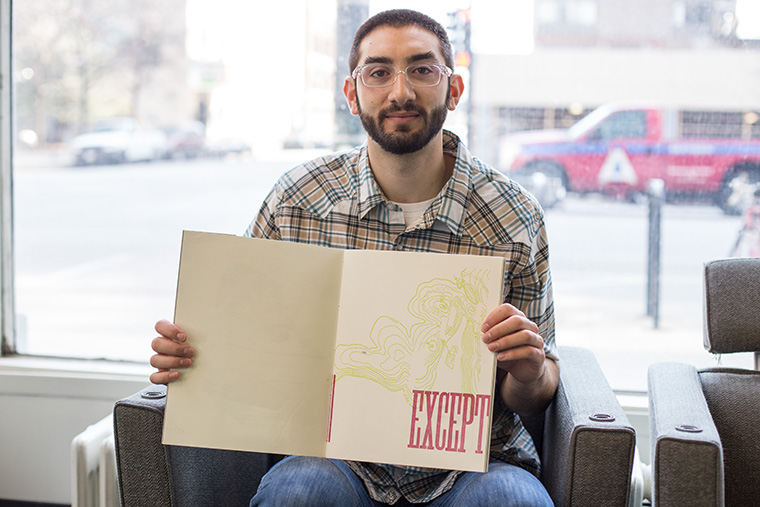 Levi Sherman, a graduate interdisciplinary book & paper arts student, is using his letterpress printing expertise to research, write and create a series of books about Colombian coffee culture.
In addition to receiving Columbia's Aiko Fellowship for his work, Sherman traveled to Colombia in December 2013 to examine the relationship between Latin American coffee farmers and coffee consumers through photography, interviews and research.
In July 2013, the College Book Art Association, a national organization that promotes academic book art education, awarded Sherman a travel grant for the trip. He said he has completed five books so far, and is currently working on one about the effects of reading to coffee plants.
Sherman, who graduated from University of Arizona in 2012 with a bachelor's degree in graphic design, said he discovered his passion for book art in a class he took during his last semester at UA.
Sherman held a teaching apprenticeship last summer at Wells College in Aurora, N.Y., at its Book Art Center Summer Institute, where he educated students about letterpress techniques while refining his own skills.
Sherman will receive his Master's in May 2015 and said he has a lot to look forward to in his time at Columbia. He plans to eventually take an active role in tending the Papermaker's Garden, Columbia's green space located at the corner of Wabash Avenue and 8th Street that features a variety of plants used as papermaking fiber and art material.
The Chronicle spoke with Sherman about his passion for book art, trip to Colombia and future plans.
THE CHRONICLE: What exactly is book art?
LEVI SHERMAN: Book art, or artists' books, are a zone of intersection between a lot of different disciplines. It's kind of like a mixture between bookbinding, zones, graphic novels, photography, photo essays and poetry. Basically the idea is that the artist would control all of the aspects of the production of a single book or a single piece of art.
CC: Where does your passion for book art come from?
LS: When I was looking at grad schools, I was mostly applying to graphic design programs. This was the one exception and I hadn't actually taken a book arts class until I had already applied and gotten accepted here, which kind of made my decision a lot easier. [During] my last semester of undergrad, I took book arts, and it was a really nice break from doing client-driven design work. A lot of the skills transferred, but I felt like using those skills for a more meaningful or stimulating purpose.
CC: How is your Aiko Fellowship project going so far?
LS: I've got a couple of projects done that I started before I took the trip. The research gave me a push to finish up some of what I started and [find] a different perspective. As far as the ultimate goal with the hand-made paper and printing on that, I'm still working on making the images before I can finish that.
CC: What was your trip to Colombia like?
LS: It was definitely different than I expected. It was surprisingly hard to talk about some things that I thought people would be willing to talk about. I knew it was going to be difficult to poke around and talk about labor issues, wages and social justice, but some people were really ready to talk about things like that. I have some extended family there, so that definitely helped as a complete outsider. I really don't think I could have done it without getting a lot of help from family and other people.
CC: Do you plan to pursue a career in book art after you graduate?
LS: I'm definitely looking to have a career that enables me to do book art [and] I still really enjoy doing graphic design. I think there are fairly traditional design jobs that I'd be happy with as long as it still gave me time and left me with some energy to still keep making art on the side. Those jobs could give me skills I can continue using.