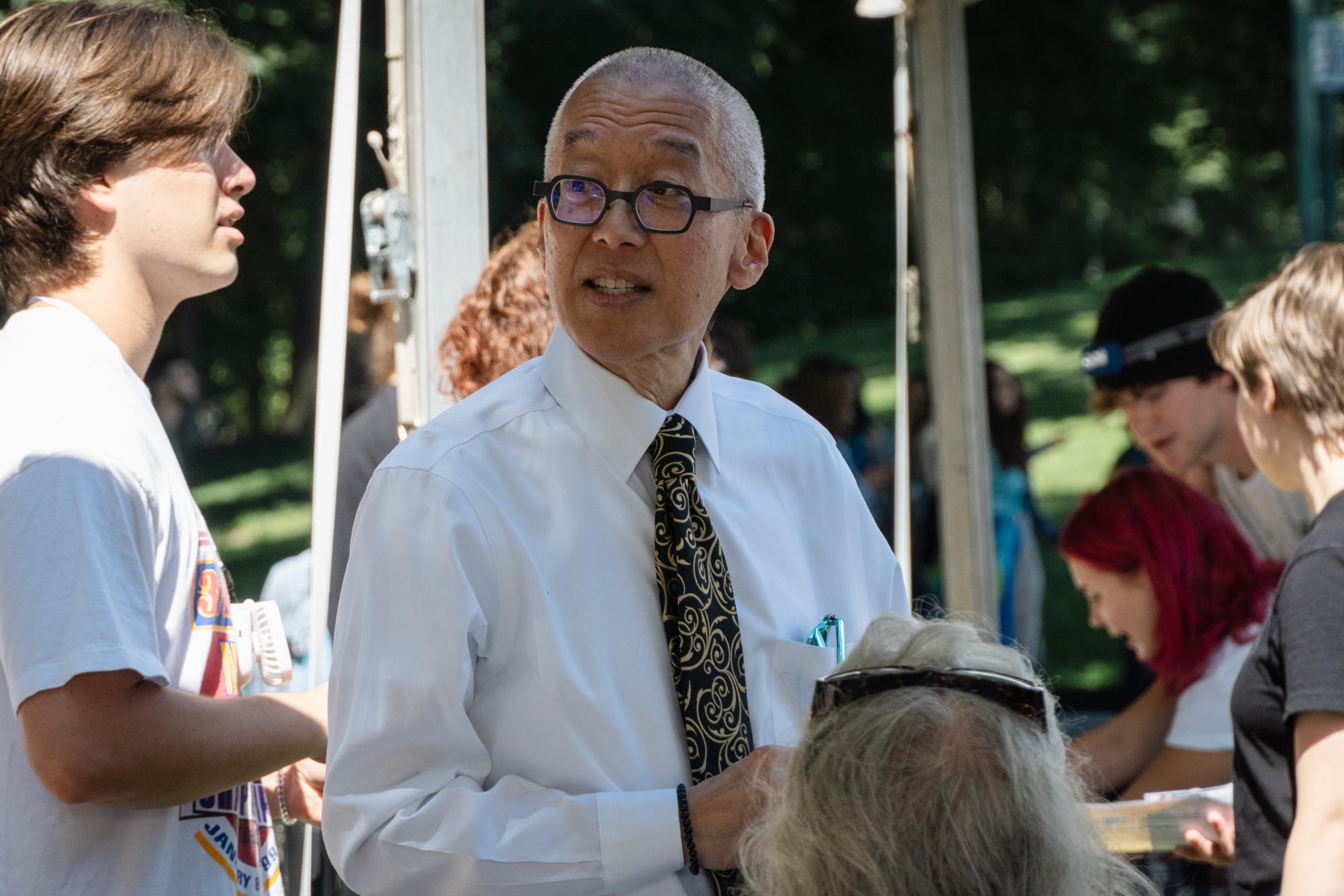 President and CEO Kwang-Wu Kim did not rule out some tuition credit for students impacted by the part-time union strike.
"We're very aware that our students are frustrated," Kim said after chemistry assistant professor Derick D. Jones Jr. asked in a faculty forum if the college would consider a tuition reimbursement for students. "We don't have an answer right now," Kim said.
More than 150 faculty attended the forum on Tuesday, Nov. 14 on Zoom, the third and final in a series to address the college's financial situation. Previously scheduled to be in-person, the forum was moved online.
For context: The Columbia Faculty Union, which represents 584 part-time instructors, went on strike on Oct. 30 over cost-cutting measures the college is implementing to address a $20 million deficit. The union is particularly upset over an increase in some class sizes and a reduction in course sections, which will mean fewer opportunities for them to teach.
The college has said it wants to shift more teaching to the college's 221 full-time faculty and has to be more strategic about when it offers electives and courses that students don't necessarily need to graduate.
The union has blamed spending on administration salaries for the financial issues and has rallied students to join in the dispute. Last week, dozens marched to Kim's residence to protest.
What else Kim said: The college made another "comprehensive" offer to the union on Tuesday morning. "I'm pushing so hard to create an offer for the union that the union feels good about," Kim said. 
The union did not accept an offer the college made last week and called for the strike to continue into a third week. That offer would have added 30 cut sections back to the Spring 2024 course catalog, increased part-time salaries and course cancellation fees, provided paid training for teaching larger classes and given even greater preference to the most senior instructors for teaching.  
The union did not immediately respond to an email seeking comment.
Kim was asked in the forum about the possible sale of his residence to alleviate the deficit. He replied that selling property is "not a long-term solution." The residence is provided to him as part of his contract, he said. 
However, he said the college was looking at the possibility of selling the 624 S. Michigan Ave. building, where the library is located, and 1312 S. Michigan Ave., which houses the Sherwood Community Music School that merged with Columbia in 2007. 
Kim also said master plan unveiled last February that envisions degree programs configured into five different hubs is not a priority at this time. "We're really in 'let's get the college through this mode.'"  
He said the college had completed one part of that plan to create a new admissions center and bigger spaces for larger classes.
Sharon Ross, associate professor in Cinema and Television Arts, asked if there was a way to make the communication from the college accessible to Spanish speakers. Ross said she has a Mexican American student whose parents want to read the updates the college is sending out about the strike. 
"I don't know that we've thought about it until you asked, but we will now," Kim said. 
What else faculty are saying: Jones said in the forum that they are "hopeful we are going to get through this."
They also said one bright spot for them is the top administrators at the college are people of color. "I do just want to say that seeing people of color in leadership roles… makes me feel really good," Jones said.
Jane Jerardi, the media/technology coordinator in the Dance Department who also teaches part-time, said she left the forum "with a bit more confidence that the administration is really listening to people's concerns."
"I also didn't know just how much the school was discounting tuition for scholarships to students – double what we used to – in order to be affordable and that this might be part of the root of the financial issues, which frames things in a different way," she added in an email to the Chronicle. " I think there's still a lot to figure out in terms of the plan for future to become sustainable.
What's next: Kim will talk to students on Thursday, Nov. 16 for his annual Q&A hosted by the Student Government Association. 
That forum had also planned to be in person but was moved online over the weekend.