BREAKING: Music talk show 'Sound Opinions' finds its new home at Columbia, WCRX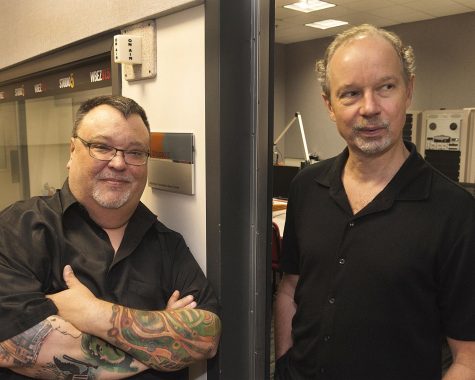 Renowned Chicago rock music critics Jim DeRogatis and Greg Kot and their music talk show "Sound Opinions" is moving into a new home at WCRX 88.1 FM at Columbia after more than 15 years of production at WBEZ.
"We are doing things exactly the way we want," said DeRogatis, an associate professor of instruction in the English and Creative Writing Department.
Previously produced by Chicago Public Media through WBEZ 91.5 FM, the music talk show was notified in mid-June that it would no longer be produced in-house and officially became independent on Sept. 4, recording podcast episodes on its own and posting on its website and platforms like Spotify.
DeRogatis said he and the rest of the "Sound Opinions" team were devastated when Chicago Public Media terminated the production agreement, as WBEZ was a "good home" to the show for years.
Although handling production and the behind-the-scenes work on their own since becoming independent, DeRogatis and Kot continued the show's distribution to about 150 other public radio stations nationwide.
The weekly show is an hour of DeRogatis and Kot, longtime Chicago Tribune music critic, talking shop about all things music, including news, interviews, critiques and discussions on music history.
In the midst of the pandemic, DeRogatis said recording and producing in the WCRX studio will take some time, and for now he and Kot will continue to record across from each other at DeRogatis' kitchen table.
"What this is about is building for the future and being able to give students an opportunity," DeRogatis said.
He and Kot have always strived to give back and get other people involved, and the essence of "Sound Opinions" is conversation and sharing diverse voices and ideas, DeRogatis said.
Dean of the School of Media Arts Eric Freedman said the school's goal is to support the show's production and provide program-related opportunities for students working in radio and audio production.
"'Sound Opinions' is a tremendous value add for our students and our academic programs and will lift the profile of our work and our station," Freedman said.
Matthew Cunningham, faculty adviser for WCRX and assistant professor of instruction in the Communication Department, said once "Sound Opinions" became independent, DeRogatis came right to WCRX to foster the opportunity for students to get involved.
Cunningham said he is ecstatic about the show because students in the past have wanted to intern for it, and now that opportunity will be available at Columbia.
The partnership was made possible through a gift from the Walter and Karla Goldschmidt Foundation, and since last weekend the show has already begun airing on the station. Cunningham said "Sound Opinions" will be broadcast every Saturday at 11 a.m. and Sunday at 8 p.m.
DeRogatis said while there are a lot of podcasts out there with people "yapping about music," there are not a lot with the breadth of musical discussion and journalism like "Sound Opinions," and he is ready to bring that to the Columbia community.
"I love being at Columbia … it is always a great place to be," DeRogatis said.
More updates to come.