BREAKING: College cancels evening classes on election night, provides extra security, support services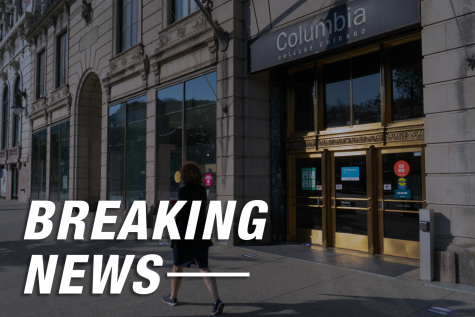 Tomorrow—Tuesday, Nov. 3—is Election Day, and the college announced today it will be offering support services and programs throughout the week.
In a Monday, Nov. 2 email to students, the college said in light of the election and pandemic, it is "especially important at this time for the members of the Columbia community to be mindful of their own physical and emotional well-being, as well as that of others."
The email reminded students of services available this week offering counseling and emotional support. Counseling Services (312-369-8700) and Student Relations (312-369-8595) can be reached between 9 a.m. and 5 p.m. Monday through Friday, according to the email.
When a student calls Counseling Services or Student Relations, they are encouraged to leave a message with their name, MyColumbia ID number, the best phone number through which to reach them, a brief description of why they are calling and their availability to receive a call back during business hours.
The college's Student Relations, Counseling Services, and Student Diversity and Inclusion offices will also collaborate in hosting Zoom sessions to "facilitate healthy dialogue related to the election."
Zoom sessions included Election Self-Care and Coping this afternoon; with Processing the Election scheduled for Wednesday, Nov. 4 from 4 to 5:30 p.m.; and a repeated session of Processing the Election on Friday, Nov. 6 from noon to 1 p.m. Those interested in participating can click the links provided and register beforehand.
The email said the college "affirms its mission as an institution that prepares students 'who will communicate creatively and shape the public's perceptions of issues and events and who will author the culture of their times.'"
The college's Safety and Security team will "closely monitor the campus and neighborhood environment" before, during and after Election Day, in case some gatherings or demonstrations are not peaceful, according to the email.
Extra personnel will be added and security will be in communication with the City of Chicago's emergency operations center regarding "necessary coordination and response."
Ron Sodini, associate vice president of Safety and Security, was not immediately available to offer more information on how many extra personnel will be available and whether the college will take extra precaution in boarding up building windows and doors like some surrounding businesses in the South Loop.
The college is also encouraging students to contact Safety and Security at securitycommand@colum.edu if needed.
Updated Tuesday, Nov. 3 at 12 p.m.
In a Tuesday, Nov. 3 email to students, the college said given the possibility of street and CTA closures due to the City of Chicago's election night contingency planning, "we are suspending tonight's evening class schedule."
The email said academic and administrative operations, including classes, on campus will be suspended at 6 p.m. Tuesday night.
"There is no current information that transportation networks will not be available; we are taking this measure as a precaution to avoid members of our community lacking transportation access should there be closures," the email said.
Residential hall operations will remain uninterrupted and normal academic and administrative operations are expected to resume tomorrow morning, Wednesday, Nov. 4.
More updates to come.