AEMMP records releases day//night CD compilations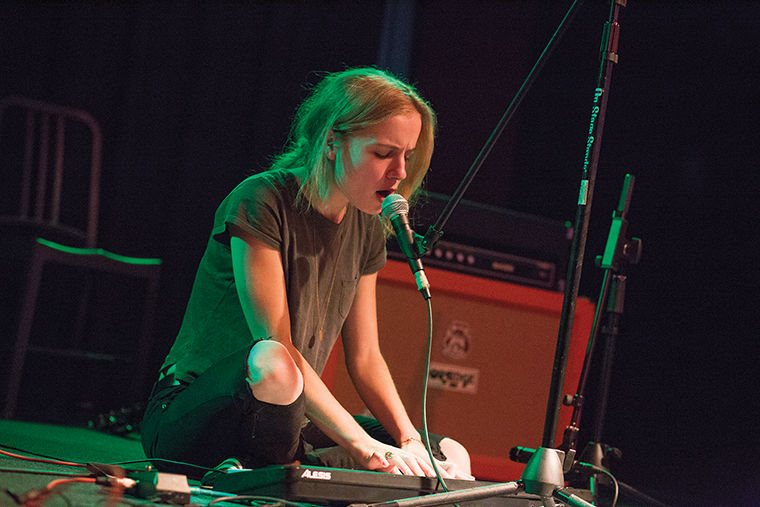 AEMMP Records, Columbia's student-run record label, teamed up with the "Club Management: Practicum" class in the Business & Entrepreneurship Department to host a CD release for the label's latest compilation, day//night, on Nov. 6 at HAUS in the 623 S. Wabash Ave. Building.
The release show centered around performances from student musicians, including The Papers, American Wolf, Deer Emerson and Cool Mom, all of whom are featured on the compilation CD.
Donations made during the event were forwarded to the Columbia Cares organization, which serves as an emergency fund for Columbia students in need of urgent financial assistance.
Zoë Sharkey, a junior business & entrepreneurship major, is part of the "Club Management: Practicum" that partnered with AEMMP Records to host the release show. Sharkey said the "Club Management: Practicum" and "AEMMP Record Label: Practicum" banded together to showcase the strengths of both groups, with artist selection from AEMMP and an enveloping event atmosphere provided by the club management class.
Sharkey said communication between the classes was vitally important to the flow of the show along with making sure that students know about the presence of HAUS as an available on-campus performance space for students and student-centric events.
Sharkey said the opportunity to participate in the planning processes and hosting the event was educational. She said it enabled her to show fellow students interested in event production or the music industry the level of real-life learning experiences available to them within the industry at Columbia.
"This is just a concert for some people, but it is also an opportunity for students to see what other students get to do, and maybe they want to be a part of that one day," Sharkey said.
Scott Nadeau, a senior business & entrepreneurship major and AEMMP Records representative, said this event was set up to promote the many artist styles AEMMP will offer on its next compilation release. The variety inspired the title day//night, Nadeau said.
"Working with the club management class has always been great for [AEMMP] because we have this really great event on campus and put our label's artists on stage where the rest of their Columbia friends can see them," Nadeau said.
Nadeau said AEMMP's focus was to raise awareness about the label as well as its artists and to let students know the organization is a viable on-campus outlet.
"We have so many talented musicians at Columbia that we want to get everyone involved in AEMMP Records," Nadeau said.
According to Nadeau, AEMMP was established at the college more than 30 years ago. The label encourages student artists interested in working with the label to submit work to its website, AEMMP.org, and attend similar events to get information about future developments.
Sara Buzon, a junior business & entrepreneurship major, was in attendance as one of the  performing artists under her stage name, Deer Emerson. Buzon said she has also been part of the AEMMP practicum class and that the opportunities offered through the course are great for students who are eager to delve into the industry.
"It's a lot of insight into the music industry," Buzon said. "We do just about everything from press releases to reaching out to local venues."
As an artist, Buzon said she appreciates the chance to build on her vision through performing and becoming more comfortable with her style and musical approaches.
"There is a lot of encouragement and opportunity to jump on some of these shows, network and meet new people," Buzon said. "The class built me to the point where now I can go into the Chicago music scene and be more confident about myself and my vision."
Buzon said exposure to other artists is a major advantage of working with AEMMP and Columbia on similar events. She referenced another of the performing artists from the day//night release show as an instant inspiration.
"Being in an art school and seeing a lot of different artists, [you are] influenced by that," Buzon said. "Like The Papers—I've never heard of them before, but I thought they were phenomenal and I'm going to go home and listen to them and they are probably going to influence some emotion or feeling that may entwine itself in a new song or idea."
Buzon, who won the "Biggest Mouth" event last spring, is currently working on her debut EP, which she plans to release independently in March.