President Kim launches joint faculty, staff town hall meetings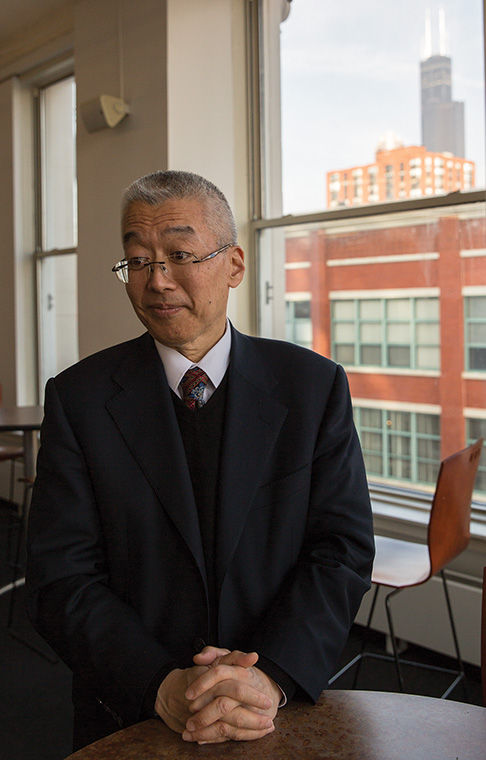 Throughout President Kwang-Wu Kim's first year in office at the college, he placed a heavy emphasis on building relationships with students. This year, to bring more representation to Columbia's faculty and staff, Kim is implementing faculty and staff meetings to hear both sides of many relevant issues.
"It's important that faculty and staff know what's going on [on campus] because otherwise people create stories and it starts to [build] a culture of suspicion," Kim said. "It's important to be like, 'Here's what's going on and how you can be a part of it' on a regular basis. It's a way of building community, and that's what [Columbia] is: a community."
Kim held the first faculty and staff meeting of the academic year on Oct. 24 at the Film Row Cinema in the 1104 S. Wabash Ave. Building. His main focus was on the six-step strategic plan he hopes to begin implementing in the spring  of 2015. The six areas of focus are student success, curriculum, diversity and inclusion, community, enrollment and resources. The planning process is Kim's major goal for the 2014–2015 academic year.
"For the first time, people heard the basic content of what I hope to achieve in our strategic planning," Kim said. "I hope what happened [at the meeting] is people start thinking, 'Okay, so what do I want to contribute to those ideas?' To me, this was about throwing ideas out there and letting people percolate on them for a while."
Kim broke down each of the strategic plan's areas and allowed faculty and staff to voice their questions, concerns and opinions after his presentation.
A goal of the plan is to improve student success by raising the four-year graduation rate at the college, which currently stands at 42.9 percent, he said.
Kim said the national college graduation average hovers around 59–60 percent and that his goal is to reach the national average. Kim also said he plans to use the rate of employment after graduation as a key marker of student success.
Christie Andersen Asif, director of career initiatives at the Portfolio Center, said during the meeting that the Portfolio Center is promoting student work and helping students find jobs in their field after they graduate.
"What does the success of the majority of students look like?" Kim said. "That is graduation rate and employment after graduation."
To ensure these numbers continue to rise, Kim said he is going to be taking a closer look at the curriculum of the college, with an emphasis on the First Year Seminar course and how to make it more beneficial to students. He said creating a fluency of business and marketing across all majors is also a goal. Making sure students know how to use their passions in a practical way is something they should be able to leave with, he said.
Michele Williams, an adjunct faculty member in the English Department, suggested having seniors mentor freshmen in their departments to help them get ready for their field and market their talent.
Within the curriculum changes, Kim plans to include diversity and community at Columbia by fostering a closer relationship with the city and the businesses that could benefit a student's career.
"We're not as connected to Chicago and the outside world as we should be," Kim said. "We need to make our walls more porous."
However, Kim said in order to do this, the college must increase enrollment and offer resources that connect students to the city. He said the downturn of admissions was more than the administration projected for the Fall 2014 semester.
"This is to our detriment," Kim said. "We need changes approaching enrollment management."
Kim said this is something the college as a whole needs to evaluate. It is a problem of the institution, not of an individual, he said.
Kim also said he plans to work on ideas to improve enrollment rates and other projects with Stan Wearden, the newly-appointed provost and Mark Kelly, the vice president of Student Success.
One project Kim said he plans to focus on in the next year is a student center at the Johnson Building, 820 S. Michigan Ave. This will incorporate social interaction and learning with extended hours, possibly open 24 hours per day, Kim said.
The idea of a 24-hour building opening on campus had Jennie Fauls, a faculty member in the English Department, questioning the  students' safety especially after night classes.
"There are no security shuttles and there are no blue lights for students when walking home from class," Fauls said. "We need to rethink police presence on campus."
Kim said this was a concern of his as well, but the college will begin to implement new ideas regarding students' safety after the retirement of Robert Koverman, associate vice president of Safety and Security, in January.
The meeting was a gathering of ideas, Kim said. The strategic plan is still being built, but changes will be made within the next year.