462 days before the 2020 election, young people are already fired up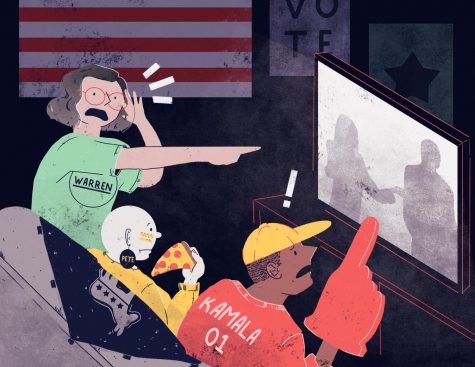 With many young voters incited by President Donald Trump's political agenda and a diverse field of Democratic candidates, an increase in political engagement from young voters could impact the 2020 election.
"The differences in 2016, 2018 and 2020 … are tangible," said Maggie Luddy, a senior government major at Hamilton College in New York. "There's a fire in everyone's belly to be proactive."
According to Luddy⁠—a registered Republican turned self-identified Independent⁠ who interned at the U.S. Department of Justice—young people were angry after the 2016 election, but did not do anything to preempt Trump's election. Now, she's seeing outrage long before Super Tuesday and more than 400 days before the general election.
"Young people see the xenophobia and bigotry from Trump, and we have to go against that; we have to vote him out of office," said junior television and cultural studies double major Isaiah Moore. "We couldn't fathom Trump being president. He brought all these issues to the forefront."
Luddy and Moore favor South Bend, Indiana, Mayor Pete Buttigieg most adamantly, with some interest in California Sen. Kamala Harris, but both outright reject former Vice President Joe Biden.

"[The first Democratic debate] really showed [Biden's] inability to connect to current issues. You could tell that his shine was gone. … To put it bluntly, I felt like his age was really showing," Luddy said. "You look at Joe and [Vermont Sen.] Bernie [Sanders] in between Kamala and Pete, and there really is such stark difference. I've just found myself really being done with the old, white man politician."
Since the 1980s, eligible voters between the ages of 18–29 have turned out in consistently smaller numbers than older voters. With 51.1% of young voters going to the polls in 2008, Barack Obama's first election was one of only two times since the '80s when young voters surpassed a 50% turnout. During Trump's run to election in 2016, only 46.1% of registered voters ages 18–29 voted, compared to 58.7% of voters ages 30–44; 66.6% of voters ages 45–64; and 70.9% of voters ages 65 and older, according to data from the U.S. Census Bureau.
At Columbia, students can register to vote in Illinois during Orientation and some Student Government Association events, according to Associate Professor in the Communication Department Sharon Bloyd-Peshkin.
"The level of political engagement seems to be up," Bloyd-Peshkin said. "This is a pretty blatantly progressive college, but as a journalism teacher, I feel it's my responsibility to make sure that all voices can be expressed and not to assume that everyone is outraged; not to assume that everyone is upset [by the state of politics]."

Moore, who is also the co-president of the Black Student Union, campaigned for Sanders in 2016. Moore said the race is not just about candidates' big ideas anymore.
"It's not enough to beat Trump," Moore said. "The next president needs to be able to fix things."
Fixes to issues such as the climate crisis, the Trump Administration's immigration policies, gun reform legislation and relieving the financial burdens of college are among the top priorities on young voters' minds.
These issues that affect youth most directly are also popular subjects in candidates' campaign rhetoric, from former Colorado Gov. John Hickenlooper's plans to tax carbon emissions to Massachusetts Sen. Elizabeth Warren's proposal to transfer student loan debt to taxpayers.
Andrew Feldman, spokesman for the nonprofit organization Rock the Vote, said youth engagement has grown since 2016 and can be seen in the "impressive showing" of young voters in the 2018 midterm elections. However, seeing young voters fired up more than a year prior to the general election does not surprise him.
"We work with young people every single day; we know that young people are very passionate about the issues, whether that is about reduction of gun violence or economic justice and racial justice," Feldman said. "Young people are tremendously passionate about these issues. Now, there are a lot of candidates out there talking about these types of issues."
Student debt and family separations at the border are registering with young voters, Feldman added, mobilizing them to go to the polls.
"There's a lot at stake," Feldman said. "Young people understand just how much is really at stake. They're seeing how they can really make an impact."
However, based on Luddy's studies and close observations of her peers, she does not believe the youth vote will set records in 2020 due to large pockets of the country where young people are disinterested in politics or live an apolitical lifestyle. Even in her Connecticut hometown, she believes voter turnout among youth will be low, and she is unconvinced the youth vote can steer an election.
"There is so much of the country where kids do not care," Luddy said. "We will continue to get higher voter turnout but it will be a long while for there to be a true generational shift in that demographic becoming a serious contender in an election."
On the other side of the aisle, job approval for Trump among 18–24-year-olds is at 34%, according to July data from the Gallup Presidential Job Approval Center.

If young people can stay engaged in politics, and the momentum from 2016 continues to build⁠—which Feldman is confident it will⁠—America's youngest voting generation has the power to steer the 2020 election, he said.
Feldman noted the youth vote is the largest voting bloc in the 2020 election.
"When you combine millennials and Generation Z, they make up the largest voting bloc of people in this country," Feldman said. "They have a tremendous power to sway this election and have an impact not only on what happens right now, but long into the future."
All but 2% of Democratic-leaning respondents ages 18–49 said they plan to vote in the 2020 election, according to an April Quinnipiac University poll.
Feldman is adamant that one of the most effective ways to get young people engaged in the electoral process is through peer-to-peer discussions, either in-person or over social media.
Social media savviness will not win the youth vote alone, though. For that, Moore said candidates need to campaign more on university campuses and other places young people congregate.
"People don't vote because they don't care about old issues," Moore said. "Now, we have issues to vote for."