WAC opens new exhibit with variety of artwork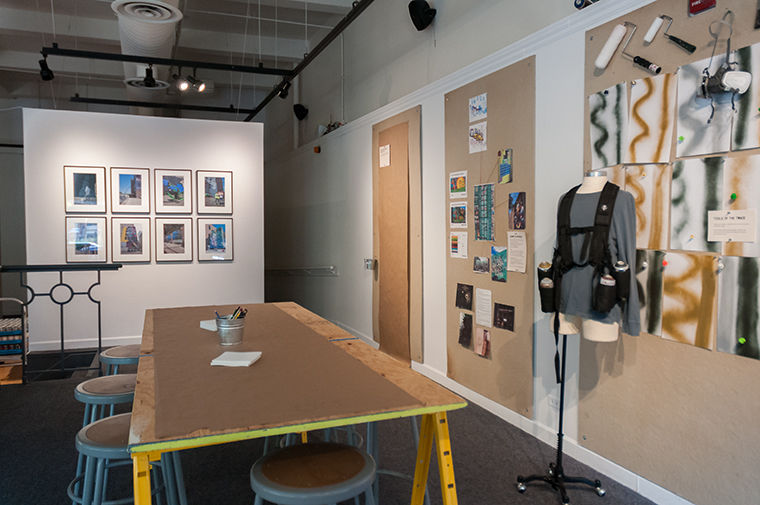 The Wabash Arts Corridor opened a new exhibit Sept. 15 that includes murals and a variety of interactive and performance art.
Neysa Page-Lieberman, director and curator of the Department of Exhibitions, Performance and Student Spaces, said she considers the new exhibit, located at the 623 S. Wabash Ave. Building, to be like a fall festival.
"The name of this one is 'STREET LEVEL,'" Page-Lieberman said. "It is a follow-up to a street art festival we did in 2016 called Big Walls, so this is the second inaugural festival."
Page-Lieberman said "STREET LEVEL," which will run until Jan. 22, 2018, includes a series of new murals, WAC's first performance art series, exhibitions around campus and several different multimedia installations are included.
Although murals are the most visual and permanent form of art for WAC, Page-Lieberman said the curators wanted to diversify what it is known for.
"We wanted to make sure we were thinking about public art way beyond murals, and that's why we added performance, projection and even some outdoor installations," Page-Lieberman added.
Sydney Pacha, a second year graduate student in the master of arts management program who helped coordinate the exhibition, said she is excited about what the interactive spaces have to offer.
"It's to have visitors engage, instead of being this voyeuristic point of view, looking in on the outside," Pacha said.
Jeffreen Hayes, executive director of local nonprofit art organization Threewalls and WAC curatorial adviser committee member, said she decided to join the project after Page-Lieberman told her about her vision for the festival.
Performances from participants at Threewalls include performance artist and ceramicist Jennifer Ling Datchuk; Misty De Barry, who will present a one person play; and Michael Anthony Garcia, who will speak about consumerism, capitalism and immigration. The appearances will take place throughout the months of September and October.
All performances have social justice themes, which Hayes said is a strong value to the Threewalls organization.
"We were happy to partner with Columbia because I know that [Page-Lieberman] and her team not only believe in social justice, and inclusion and equity, but actually practice it," Hayes said.
Sam Kirk, a 2005 business and entrepreneurship alumna, is working on a mural located on the 1306 S. Michigan Ave. Building on the Wabash Avenue side, depicting Dolores Huerta, an activist and co-founder of the United Farm Workers.
When the WAC committee approached Kirk, the committee told her about the "Sí Se Puede" exhibit at Columbia, that also recognizes the activism of Cesar Chavez and Dolores Huerta. When Kirk decided to contribute a piece, she was excited to honor Huerta, whom she said has gone unrecognized through out the years.
"What I'm really excited about at the exhibition is that it highlights all the talents Columbia has and how they've contributed that to WAC," Pacha said. "So, it's a really good marriage of Columbia and WAC together, but it's also to engage community members."