4 need-to-know updates on where Columbia stands ahead of the 2020–2021 school year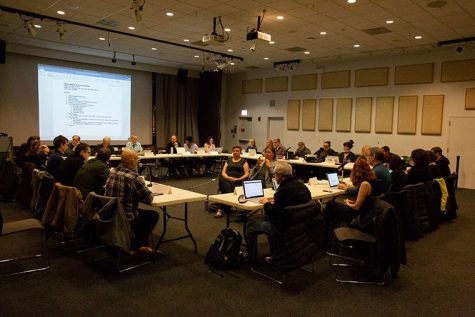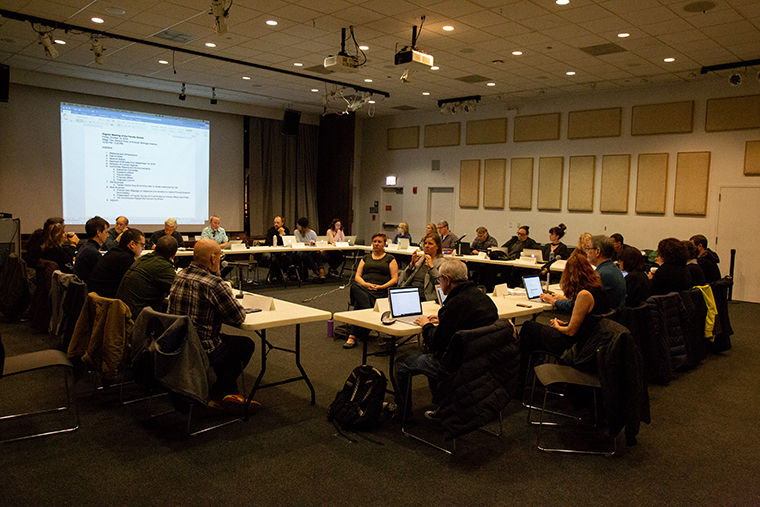 Updated Sunday, August 23 at 5 p.m. with a correction to the deficit figure. Originally it said Columbia could be looking at a $22 million deficit, but it is actually a $30 million deficit. 
In the first Faculty Senate meeting of the academic year, administrators updated senators on ongoing plans to reopen amid a pandemic. Updates included:
—On-campus coronavirus testing will be available for all students, faculty and staff beginning Monday, Aug. 24.
—Columbia officially partnered with Rush University Medical Center for consultation on its reopening efforts.
—Enrollment numbers dipped as some students canceled their registration. The expected flux comes mainly from returning students, according to administrators.
—The chief of staff says Columbia could be looking at a $30 million deficit.
Here are the main takeaways from the Friday, Aug. 21 discussion:
No. 1: Reopening Plan developments
Columbia signed an agreement Wednesday, Aug. 19 with Rush University Medical Center to become a consultant for the college's reopening efforts. Rush representatives also visited Thursday, Aug. 20 to review the Student Health Center's protocols and sit down with a handful of departments to offer health and safety feedback, according to Chief of Staff Laurent Pernot.
Pernot said Rush offered useful insights—although he, along with some faculty members, were disappointed about being advised to ban shared coffee pots on campus.
Columbia will also begin offering free optional coronavirus testing on campus for faculty, staff and students starting Monday, Aug. 24 for those who are asymptomatic or just want the "peace of mind" of knowing, Pernot said. It is unclear how much the college will spend on each test.
The tests will be available to students living in residence halls, employees working on campus for at least part of the week, students taking in-person and/or hybrid classes and students and employees coming to campus for other reasons, according to a Friday, Aug. 21 collegewide email.
The testing service is not intended for students and employees who experience coronavirus symptoms or students and employees who have been informed they were in close contact with someone carrying the coronavirus, according to the email.
On-campus testing is by appointment only and will be located on the first floor of 618 S. Michigan Ave.
"Employees and students seeking an on-campus test will be required to sign a consent form under which the college will be notified if they test positive, for the purposes of initiating contact tracing and to ensure self-isolation time frames are adhered to following a positive test," the email said. "Those testing positive will receive a phone call from a CareATC nurse to discuss next steps. Those who test negative will be notified electronically."
There will be 75 nasal tests available per day to begin with, but that number may change depending on demand. The test results have an approximately three-day turnaround time.
The college is also in unofficial talks with the University of Illinois Urbana-Champaign to be its first client to acquire saliva tests for the coronavirus, which Pernot said have faster turnaround times and are cheaper and less physically intrusive.
Pernot said some types of masks will not be permitted on campus—including those with ineffective filters like knitted masks, neck gaiters and bandanas—that have been scientifically shown to be less effective in protecting against the spread of the coronavirus.
Columbia's Incident Assessment Task Force has also been watching the situation at other schools like the University of North Carolina System—where the school was forced to switch to online instruction after reporting 135 new cases in one week.
Two of the coronavirus case clusters occurred at fraternity and sorority houses, as reported by The Daily Tar Heel student newspaper, and social media posts showed students on a Slip 'n Slide after classes were moved online.
At Columbia, 75 rooms have been set aside with room service and medication delivery service for students who become infected and need to quarantine. Workers at the Student Health Center will be available to check on those students, Pernot said.
Senior Vice President and Provost Marcella David encouraged instructors to underline the importance of social distancing on- and off-campus.
She said student organization leaders and Residence Life are also helping push this message. On her course's Canvas page, David included a message about being "all in this together" when it comes to Columbia's reopening success or failure.
"It is very helpful for faculty to share with their students that they really don't want to—and this is a vernacular—be the assholes who shut the school down because they went to a party or did a Slip 'n Slide," she said. "I do want to reiterate, we are different. We don't have football culture; we're not as large; we don't have fraternities or sororities; we're in a city that believes in science."
No. 2: Enrollment dips
The college is beginning to see some students withdraw their registration, which was expected due to a slew of hardships facing the national student body, from financial to technological issues, David said.
However, she said they are still seeing interest from students in living in the dorms. The first wave of students is set to move onto campus Monday, Aug. 24 and will have their own room to maintain social distancing.
The "realistic" enrollment dip mainly comes from returning students, she said.
No. 3: Budget deficit
After an email from President and CEO Kwang-Wu Kim sent last week to faculty and staff about the college's "severe financial shortfall" for the 2020–2021 academic year, faculty were concerned about some of the cost reduction measures, especially retirement plan cuts.
Pernot said Columbia is looking at a loss of approximately $17 million this fiscal year, which ends on Aug. 31, and is expecting a $30 million or higher deficit for the coming year.
Although Columbia received approximately $3 million from Congress' CARES Act in April, it did not cover many of the expenses Columbia had to endure, such as the $1 million cost of putting safety precautions in place, the $9 million to refund housing contracts in the spring and the $10 million for additional scholarships in an attempt to keep enrollment up, Pernot said.
"We did make the decision as a cabinet in conjunction with the Board [of Trustees] that the benefits and retirement benefits were obviously an impact financially on people but does not impact the day-to-day ability to meet one's daily expenses like layoffs or furloughs would," he said. "In a menu of bad options, that was the one that was decided on."
Administrators did not rule out the possibility of future pay cuts for faculty and staff when asked about them, but said there were no current discussions about initiating pay cuts anytime soon.
No. 4: Hybrid class accommodations
As of publication Friday, Aug. 21, an estimated 25% of courses will be taught in-person or hybrid for the fall semester, but instructors are still uncertain about how to handle requests from students to take hybrid courses completely online.
If a student approaches an instructor and asks to complete course requirements online because of geographical or health barriers, instructors should approach their department chairs to arrange for that student to be switched to a web section of that course, even if it is full, said Tom Dowd, an associate dean in the School of Media Arts.
But Dowd said the jury is still out for what to do in the circumstance that a course has no web counterpart; however, departments plan to find solutions to this.