Administrators address faculty worries on campus reopening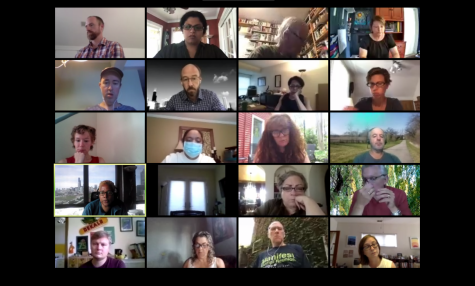 With the start of Columbia's Fall 2020 semester a little more than a month away, faculty are still worried about a slew of uncertainties, like whether instructors can be retaliated against for contracting the coronavirus or what social distancing will look like on campus.
In a Friday Zoom meeting attended by more than 80 people—and one possible Zoombomber—and hosted by the Faculty Senate Executive Committee, administrators attempted to answer these questions, but much still remains up in the air.
Can faculty be retaliated against for having the coronavirus?
Faculty Senate President Sean Johnson Andrews began the meeting by assuring faculty the rumor that instructors could be retaliated against for reporting coronavirus, or COVID-19, symptoms on the MyColumbia app, as is required to enter campus buildings, is untrue. In fact, any retaliation relating to this would be "highly illegal," he said.
Under coronavirus updates to the Americans with Disabilities Act, or ADA, employers can ask if employees are experiencing symptoms such as fever, chills, cough, shortness of breath or a sore throat. It also allows employees who exhibit symptoms to quarantine or work from home.
Although the ADA protects employees' medical information by requiring it to be stored separately from personnel info, it also allows employers to disclose the employee's name to a public health agency if that worker has the coronavirus.
At Columbia, faculty were advised to contact Human Resources for accommodations to be made under the ADA so administrators would not be part of the process in an attempt to bar any retaliation.
For example, if a faculty member is in a high-risk category for the coronavirus, they could go to Human Resources for help in changing their fall hybrid or in-person course to web only.
After consulting with a faculty member's health care provider, Human Resources may consult with the faculty member's department chair or dean to coordinate the proper accommodations. The deadline to request these accommodations was Friday, July 24, but there appears to be a rolling process in place, said Andrews, an associate professor in the Humanities, History and Social Sciences Department who also serves on Columbia's Reopening Task Force.
In a July 23 email to faculty, Senior Vice President and Provost Marcella David said: "Medical accommodation requests submitted after July 24, 2020 will still go through the ADA interactive process, but submitting as soon as possible will help you and the college be better prepared for the start of the fall semester."
Andrews said "although there appears to be considerable discontent with some aspects of the current scheduling, there also seems to be a lot of the schedule that's still in play, particularly in relation to the ongoing ADA accommodation process."
What efforts have been taken to protect health on campus?
Chief of Staff Laurent Pernot said the college's reopening plan is built on a triad—hygiene, social distancing and required masks.
Pernot said Columbia has consulted with Rush University Medical Center when establishing and putting its reopening plans in action. The college has also been in communication with the Chicago Department of Public Health—specifically Deputy Commissioner and Chief Medical Officer Jennifer Layden— and walked away feeling good about their plans, Pernot said.
"We did validate with Rush; they thought our plan was ahead of most places," he added.
Pernot said the college is still ironing out how it will recommend students quarantine before moving into dorms or commuting from out-of-state given Mayor Lori Lightfoot's emergency travel order, which requires anyone from 22 states, including Wisconsin, to quarantine for 14 days.
The mandatory quarantine order will likely affect "thousands" of Columbia students, Pernot said, and threw a "curveball" at the college's plans. One possible solution would be to have students quarantine for two weeks at their homes before traveling to campus, because requiring students to quarantine in dorms will be "nearly impossible," he said.
The campus itself will look very different, with signs marking pathways to minimize personal contact when walking within buildings, sanitation stations, classrooms optimized for social distancing for 10 or fewer people and even bathrooms with marked-off areas to ensure no close contact. Instructors will also be provided with face shields to go over masks in the classroom.
What is the likelihood all courses will be web only in the fall?
Although Columbia is continuing to monitor the pandemic and is at the discretion of Illinois Gov. J.B. Pritzker's decisions, administrators plan to have some students back on campus in the fall.
"There is not a trigger for saying we're going to be completely online. We did in the spring," Pernot said. "Now, we're going to have social distancing and processes and masks … and guidance we didn't have in place in March, so we have that on our side."
David said she met with department chairs Thursday, July 30 to examine how courses will work, and they will likely announce further adjustments to the course schedule soon. Some changes will be a result of ADA requests and others include additional web-only courses to reflect registration numbers.
Senior Associate Provost Nate Bakkum said the college is not in a situation where it can provide fully online courses because it is not accredited to do so by the Higher Learning Commission, which accredits colleges and universities in a 19-state region including Illinois. Up to 50% of a program can be completed remotely, so if half of students are completing hybrid or online courses, Columbia's standing could be threatened.
David said registration numbers continue to look strong, but it is possible some students may change their minds about attending at the last minute.
"Honestly, we are not a for-profit business but we do have a business plan, and the business plan requires us to have students paying us tuition so that we can operate," David said. "We want to try to provide something that is safe and yet at the same time appealing for our students."