Illinois grants Columbia $7.2 million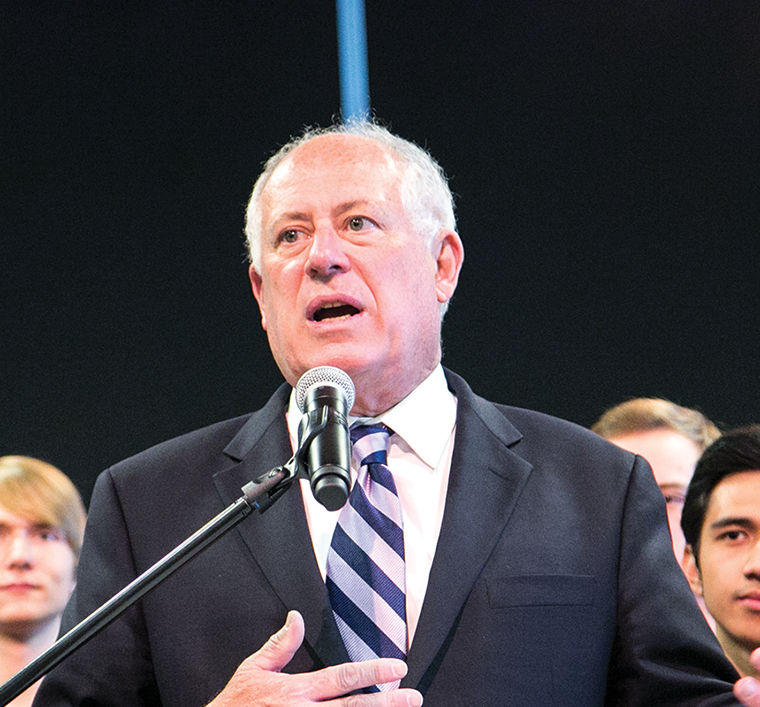 As the gubernatorial race gets down to the wire, incumbent Illinois Gov. Pat Quinn is vocal about his administration's commitment to higher education.
Quinn appeared on campus Oct. 28 to announce that the state government would give the college a $7.2 million grant to improve curricula and defray developmental costs.
In speaking at the Conaway Center in the 1104 S. Wabash Ave. Building, Quinn discussed why the state chose to invest in the institution.
"I always like coming to Columbia College," Quinn said. "Democracy depends on education for everyone, and this institution, for decades, has been making education available and helpful to so many different students."
Although the total amount of the grant is $7.2 million, only $1 million is going toward aspects of the curriculum for the 2015–2016 academic year. The remaining funds are a final payment of a previously awarded grant, according to Alicia Berg, vice president of Campus Environment.
"The grant was awarded to the college [and] all the other [Illinois] colleges several years ago, and it has been paid out in several different payments to build the Media Production Center [located at 1600 S. State St.]," Berg said. "Essentially, the grant is reimbursing us for costs already expended."
Quinn said he invested in the college to help it continue its creative educational mission. He said the  $1 million in new funds will go toward an innovation studio to enhance Columbia's role as a media school and allow students to make a difference.
"When you make an investment of millions of dollars, you want to have something pay dividends, and the students who come through these doors are going to change and make life better in Illinois for hundreds and hundreds of people over the course of their lifetime," Quinn said. "Making this investment will help the institution impart knowledge to young people, and not-so-young people, to get degrees here and make a difference in our state and in our world."
The innovation studio will partner with Pilsen-based Cinespace Chicago Film Studios, a new presence on campus, to give students a hands-on relationship with the field they are studying, according to Mark Degnen, chief financial officer for Cinespace Chicago.
"Students here understand technology and we want to make sure the technology at the college is up-to-date," Quinn said.
Degnen is helping Quinn manage the grant. He said bringing the studio to campus would give students a chance to openly communicate with real-world professionals in the industry they are preparing to enter.
"You're working with, for instance, Warner Brothers taking on interns to get that real-life experience," Degen said. "[You'll be] walking out after being on our campus with very real-world connections."
Robin Bargar, dean of the School of Media Arts, said he helped orchestrate the new $1 million portion of the grant because the innovation studio was an idea that no other colleges had.
"The innovation studio idea is a college-wide concept to create a space where we can put new technologies, and have faculty work together in teams with students to learn ways of using creative technologies and those can eventually make their way into the classroom," Bargar said.
Bargar said although the grant money will be allocated to the innovation studio, a media arts asset, it will be available to students in all departments.
"Faculty will figure out how [the things they do in an experimental space] affect the curriculum so students will experience those new technologies in their regular curriculum," Bargar said. "They won't have to become a major in high-tech stuff, and that's the important difference."
Other Illinois colleges will also receive funds, according to an Oct. 28 press release from the governor's office.
This academic year, DePaul University will be awarded $11.46 million to construct a new academic building, according to the press release. Other colleges in the South Loop, including Roosevelt and Robert Morris universities, will receive $2.62 million and $2.9 million, respectively.
President Kwang-Wu Kim said the grant money awarded and the upcoming addition of the innovation studio will benefit the student body.
"Every dollar that comes to us that we have discretion over using is to build our programs and improve our facilities," Kim said. "It is beneficial to all of our students and really what this money is for."
Insook Choi, associate provost of technology, said she wants Columbia students to graduate with technological abilities. She said her mission is to provide media and technology opportunities to round out students' knowledge.
"Columbia has been known as an arts school, and moving forward, it's not really enough," Choi said. "We should focus on creative practice and other opportunities for media production and design areas with the creative technologies."