'Zoom fatigue,' the downside of constant video conferences
From Zoom calls for work meetings and classes, to socially-oriented FaceTime sessions, to happy hours with loved ones, coronavirus-induced lockdowns have many people turning to their screens as the sole method of communication.
For some, all this connection can lead to exhaustion, said licensed counselor Suzanne Degges-White.
"Zoom fatigue is an emotional, psychological, physical exhaustion with showing up at your kitchen table on a screen," said Degges-White, who is also the chair and a professor in the Counseling and Higher Education Department at Northern Illinois University. "It's the exhaustion you get from having to be physically present, though you're not present where you're showing up."
In an April 4 article she wrote for Psychology Today, Degges-White outlined the phenomenon of "Zoom fatigue." She said it arises as a result of many factors, including too many hours spent looking at screens and a lack of "ergonomic furniture," or furniture designed to support function while reducing health problems.
Zoom meetings are a form of "high-intensity virtual connecting," Degges-White said. It expends cognitive energy to stay alert enough to pick up on the nonverbal cues, like body language and facial expressions, that would come naturally in a face-to-face conversation.
Degges-White said a general lack of focus—sometimes due to stress about the coronavirus, or COVID-19—can also impact individuals' health when it comes to video calls.
Iesha Brown, a freshman journalism major, said her focus is usually on multiple things during Zoom classes.

"Nine times out of 10 I'm in my bed, so I'm accidentally dozing off," Brown said. "I use Zoom on my phone, so I'm constantly switching between apps."
Brown said it is hard for her to listen over Zoom, and she misses having in-person connections through conversations with people. She said since most of her classes now have a Zoom component, she finds it difficult to be in virtual meetings all day.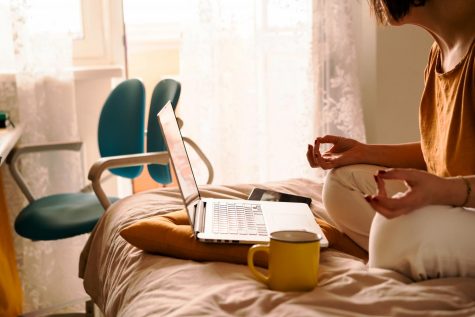 FaceTiming her friends and family is usually a de-stressor for Brown, but lately she said she has spent too much time on school-related video calls during the day to want social ones at night.
Brown said she told her friends and family to text rather than video call.
"If I can't physically talk to you, then I just don't want to talk to you at all," she said.
Olga Goldenberg, an assistant professor in Columbia's Humanities, History and Social Sciences Department, said one way of beating Zoom fatigue is to turn off video when possible for social calls and classes if students get permission from professors.
Goldenberg said the video component of Zoom calls is especially tiring because everyone looks at themselves and others in the meeting at the same time.
"[Students] feel self-conscious. They don't want everybody staring at them," she said. "That takes some energy, especially out of people who are maybe a little bit more self-conscious or a little bit more introverted."
Goldenberg said she has not experienced Zoom fatigue, but in her courses she tries to balance Zoom calls with classwork students can complete on their own. However, video conferencing does add to "social cohesion," and without it, many may start to feel socially isolated, she said.
To combat Zoom fatigue, Degges-White recommends scheduling time to complain with friends or family, getting a change of scenery between meetings and putting away one's computer when finished with work or school to make that part of the day feel complete.
"We know what we need," Degges-White said. "Technology is awesome, but sometimes you need that break from technology. … Cut yourself some slack."