'You never, never know': Sofía Valdés on her unexpected rise to fame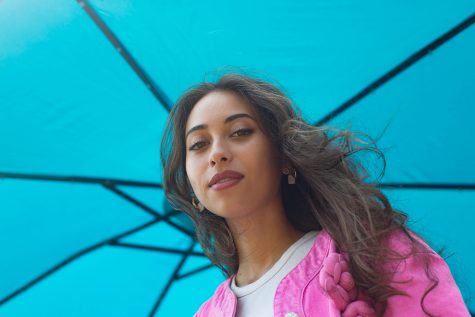 The day before Sofía Valdés planned to drop out of school and move back home to become a yoga teacher, she was presented with an opportunity she was waiting for since she learned to play the guitar at age 8.
"I was literally eating beans and rice because I didn't have money to pay for food and then I was about to drop out of school, and I was going to move back to Panama and be a yoga teacher," Valdés said. "And literally the day before I left, magically, one of the drunk men in the bar was an important person. So you never, never know."
That led to Valdés' performance earlier this month at Lollapalooza's Tito's Handmade Vodka Stage for her first live show — aside from appearances in local bars in Liverpool, England, where she lived for two years. She joked the audience at the local bars consisted of the same three drunk men, until one of those "drunk men" was someone from Warner Records, where Valdés is now signed.
The 20-year-old Panamanian dreamy pop artist released her spirited, self-reflective music during the pandemic and said she did not expect it to reach such great heights, eventually leading her to visit Chicago for the first time.
Valdés brought her support system of her mom, younger sister and friends along with her to Chicago, and said her family-oriented culture is intertwined in her music.
"I feel like Latin culture is very familiar as in like, if I meet you, then I'm going to be like 'and this is my mom, and this is my grandmother, and this is my sister, what about your grandmother?" Valdés said. "And then you'll come have dinner and it's just like you're adopted into a family."
Musical talent is a part of Valdés' family history as well. Her great-grandfather, Miguelito Valdés, was a Cuban singer and songwriter, and her great grandmother, Silvia De Grasse, was a Panamanian musician.
"I feel like there's a part of me that also wants to really reconnect with those roots, and so in some of my songs there's a few influences of Brazilian music, Cuban music [and] rhythmic patterns that are found in those styles," Valdés said.
Valdés said she is going to continue to write her songs in Spanish because of the positive reaction she has received from fans around the world.
The artist dropped her debut EP, "Ventura," earlier this year, performing it live at Lollapalooza, along with her heartfelt cover of Gwen Stefani's "Sweet Escape."
Aside from exploring life itself, Valdés said the different people she has met in her travels have deeply inspired her lyrics.
"I feel like because I've moved around quite a bit and met so many different cultures, everyone's point of view is so different just because of their upbringing, and that always makes you change a little bit or see things in another way," Valdés said.
The emotional single, "Handful of Water," was released in 2020 and is now included in her EP, collecting more than 1.8 million streams on Spotify.
Valdés said the song is about a two-year relationship she had with a person that changed the way she sees herself and the world.
"I feel like in the past with my songs, I used to write the … victim perspective, which it's fine, but also seeing myself as someone that also wants good things and wants to give good to others is very inspiring," Valdés said. "Yeah, Jesus Christ, he's going to have an ego boost [reading] this."
Valdés studied songwriting in college for a year and a half, but struggled to afford it before Warner Records "appeared out of nowhere."
"It was a hard decision because I really wanted to finish school, especially being one of the first people in my family that was able to study outside [Panama and] had the opportunity," Valdés said. "But then again, my mom was like, 'you know, that's how life is, you have to take the opportunities or the train just leaves."