Yesterday's students are today's successful business owners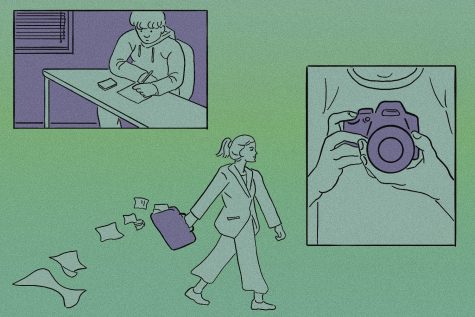 Danielle Kolb moved to Boston for a job in event planning but returned to Chicago for love — to be with her now-husband. While she planned events for other companies, wedding planning was always in the back of her mind. During her second pregnancy, she quit her job and started her own wedding planning business, Danielle Kolb Events.
"I'm very fortunate, [my job] allows me the flexibility to do what I love but also being a mom to my [three] children," Kolb said. "Every client of mine I'm very close with, and I develop really great relationships with them. It's a dream come true."
Kolb graduated from Columbia with a degree in journalism in 2008. While in school, she interned at news outlets such as FOX 32 Chicago and NBC 5.
Kolb said in order to start a wedding planning business, people do not need millions of dollars. All she needed was a few office supplies, wedding table numbers, a computer and herself.
An annual survey of small business owners from Guidant Finance — a small business financing company — showed that in 2022, nearly 48% of people who started their own business did it out of dissatisfaction with corporate America. This makes it the second most popular reason after being your own boss at nearly 61%.
"You're coming on [to a firm], and there is already a structure in place. Sometimes that structure is good, sometimes it's bad," said Lucas Seiler, a 2011 Columbia journalism alum. "People have their own way of doing business and operating their companies. I had this realization [that] 'I know how to do this. I feel like I could do it in a more impactful way on my own.'"
After that realization moment, Seiler started the Propulsion Agency — a Chicago-based public relations and communication services company — in 2019.
Seiler said during the start of his business he had to wear multiple hats simultaneously by being a manager, performing the services to clients, assigning projects, managing ads and many other tasks needed to run a business.
Seiler looks back at his time at Columbia with fondness. He said he particularly appreciated that his professors, who worked in the industry while teaching, prepared him to work in journalism.
"Listen and learn as much as you can, and try to expose yourself to other sides of the business that you're currently working for, even though it may be outside the scope of work that you're assigned to do," Seiler said.
But, not every successful business owner needs a completed bachelor's degree.
After dropping out of Columbia during his senior year as a film major in 2003, Julian Tillotson worked in automobile sales and real estate. From gaining experience in sales, Tillotson's company started on a $1,200 investment in a Canon 60D camera and two Tamron lenses.
He reached out to brands from a random magazine he picked up with offers of free promotional materials. Fast forward 12 years later, Tillotson now owns his own Chicago-based real estate marketing agency, INDIRAP Social Club, with 12 employees and multiple contractors.
He said "99.9% of times I got a 'no.' The other 0.1%, I got a 'yes,' and that's how I started to build my portfolio."
During his time at Columbia, Tillotson said he did not gain skills that helped him get to where he is now, but Columbia helped him learn who he was as a person, what content he did not want to do and what people he did not want to be around.
"If you're going to start a business, for the first year or two, don't plan on making a lot of money. The money that you do make, you need to reinvest it in your brand, in your marketing," Tillotson said. "You can be the most talented person in the world, but if nobody knows who you are, you are going to have a hard time being profitable and staying in business."