Voting is in fashion for this South Loop resident
By Paige Barnes, Audience Engagement Editor
September 24, 2020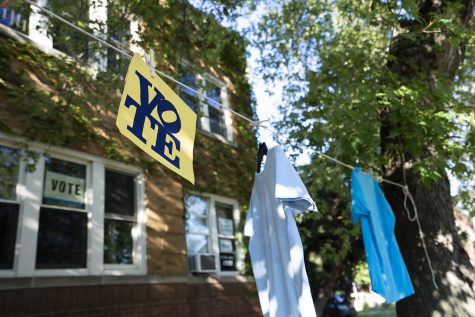 South Loop resident Dubi Kaufmann will not be casting a ballot this November, but he is hosting a free T-shirt printing event to encourage others to vote—just bring your own shirt.
Kaufmann is inviting Chicago residents to bring up to three fabric objects to have "VOTE" silkscreened on them in purple fabric ink Saturday, Sept. 26 from 4-5 p.m. in Dearborn Park, 865 S. Park Terrace.
He said the design is inspired by American artist Robert Indiana's 1965 pop art image, "Love."
Kaufmann, 47, moved to the United States 25 years year ago from Israel but is not able to vote because he is not a U.S. citizen. However, he is hosting the T-shirt printing event to celebrate democracy and one's civic duty to vote.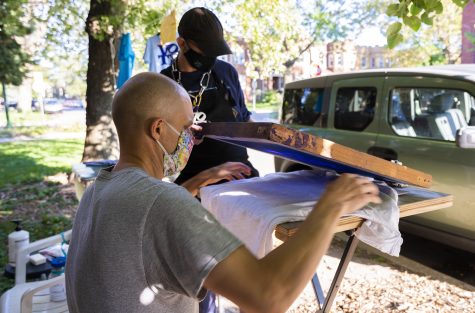 Kaufmann said it is important for him to encourage other U.S. citizens to vote because people have died fighting for others' right to vote and he is dismayed at the low voter turnout.
He has hosted three other T-shirt printing events in Avondale, Roscoe Village and the South Loop. He brought the event back for a fourth time due to popular demand.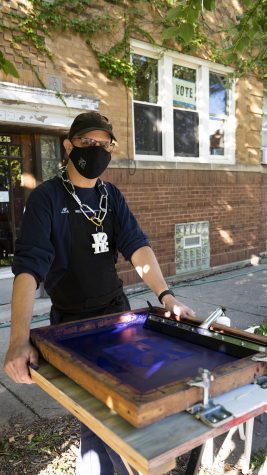 "It's like magic," Kaufmann said. "They bring a shirt that they had in the back of their closet and suddenly it means something."
Kaufmann said he has printed on baby onesies, T-shirts and tote bags before, but anything that is fabric and light in color is easiest to print on because the ink is dark.
People can observe in-person how Kaufmann prints the design onto their object, and they can tell him where they would like the design to be placed. The pieces take about 10 minutes to dry.
He chose "bipartisan purple" ink to print with because as a foreign national he does not want to interfere with people's political beliefs, he said.
Though there are election items available online from other retailers, Kaufmann said once shipping and handling are totaled, items end up costing around $25—and he said there are very few shirts for which he would be willing to pay $25.
"What I'm doing here is I'm cutting the need for inventory, cutting the shipping and handling, letting people bring whatever shirt they want, whatever color, size and make them happy," he said. "I'm offering the product that I would like."
Kaufmann said the process is simple. He takes the object, places it under the silkscreen, adds the paint and then uses a squeegee to spread the ink and transfer the design onto the object.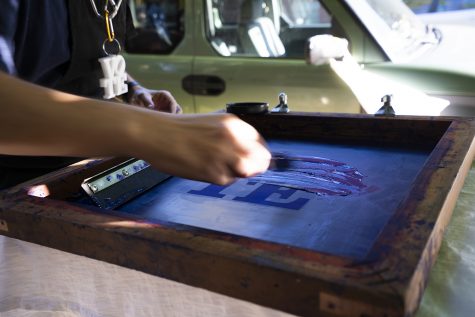 He is also taking the proper coronavirus safety measures for attendees by hosting the event outdoors, wearing a mask and politely asking others to do the same. He also has the customer place their fabric onto the silkscreen.
Going forward, Kaufmann said he is considering more T-shirt printing events, but it is contingent on the weather.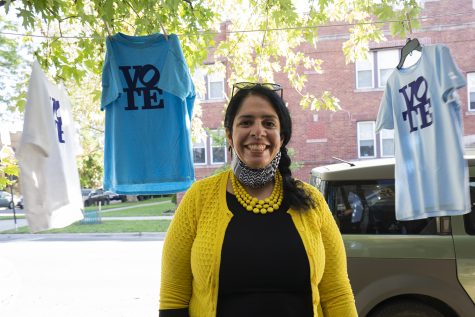 "Right now, there's social unrest. I want to take this unrest and challenges [and turn it] into something positive," Kaufmann said. "We all feel helpless and we don't know what the future is holding, but voting is something that we do to control our future."