'Voices of the Movement': Black activists discuss power in organizing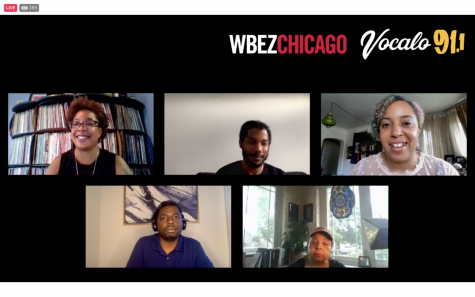 After viewers enjoyed a few minutes of Childish Gambino's song "This is America"—which highlights the unjust killing and violence against Black Americans—viewers and panelists virtually held a moment of silence to commemorate Black lives lost to police brutality.
In a Tuesday, June 23 Facebook Live event "Voices of the Movement: Black Activism and Organizing for Change" hosted by WBEZ-FM 91.5 and Vocalo 91.1, Jill Hopkins, the morning show host of Vocalo, led a discussion about the historical fight for racial equity in Chicago, the power of organizing and how non-Black people can work to achieve racial justice.
The discussion featured Rev. Brenda Collins Sheriff, first vice president of NAACP Chicago Southside branch; Rev. Jamie Frazier, lead pastor of the Lighthouse Church of Chicago; Amika Tendaji, mental health organizer for Southside Together Organizing for Power; and Damon Williams, founding member of Let Us Breathe Collective and a social activist.
Sheriff said she has witnessed a loss of "willingness" among people to commit to the Black Lives Matter movement, compared to what she experienced during the civil rights movement in the 1950s and 1960s.
In the early 1940s, Sheriff was 6 years old when she first understood the pain and hurt that came with being a Black person in America after experiencing it firsthand.
She said her closest friends in grade school were white, and when the father of one of her friends did not allow her to join them at the annual carnival in her hometown in Tennessee, it devastated her and her father.
"It was at that time I thought how unfair, unjust and how much hurt," Sheriff said. "I was hurt as a child. My father was hurt as a father and as a man."
Sheriff said the experience was a major contributing factor in her becoming an activist when she moved to Chicago years later.
Other panelists also spoke of being thrust into activism at a young age because of their experiences in their families and communities.
Prompted by questions from Hopkins and viewers, panelists discussed recent local and national protests against systemic racism and police brutality, with all in agreement that these issues are nothing new to the Black community.
Panelists addressed the reallocation of funds in the Chicago Police Department and the Chicago Board of Education voting on whether they will end its contract with the Chicago Police Department. The board voted Wednesday, June 24 against terminating a scrutinized $33 million contract between Chicago Public Schools and the Chicago Police Department, leaving more than 200 officers in about 70 schools, according to a story in the Chicago Sun-Times.
Williams, founder of the Let Us Breathe Collective, said people are afraid of the phrase "defund the police," but it is not a new idea. He said what people are asking for is exactly what people want, which is a redirection of resources.
"On a human level, this is a movement against slavery, against abuse and torture, and we are saying that is what police and prisons are at their best," Williams said.

He cited structural barriers "that affect our society at large." He said the way American society and economy is structured now is not designed for people to "be in relationship with each other."
Williams said it takes a lot of time, connection and energy to "get together and build things," especially from the grassroots.
Tendaji, of Southside Together Organizing for Power, said grassroots organizations typically do not have the resources to utilize more people and spread out the hard work among larger groups of people, which can lead to extreme mental stress and burnout.
"But I really want to be free, and I really want to live in a world where I don't have to worry about children being shot by the police … or non-police," Tendaji said. "So I don't get burnt out. I don't get tired of working toward that."
Williams said in order for people to "get it right this time," they need to educate and challenge themselves in order to enact a change. He said social media has been a key tool in making resources and educational tools accessible for more people.
While social media should not be the only form of activism used, activists should be "taking all the roads" to reach people, Tendaji said.
She said for people to further help the movement, they should imagine a world without police, prisons and capitalism, and then "start talking to your family and friends about it." Tendaji said people need to continue making calls to alderpersons and local officials, donating or joining organizations.
Sheriff said people need to make a commitment to themselves to become more knowledgeable and not turn a blind eye to these issues. In response, Williams said commitment includes staying courageous during this moment in history.
"The action is understanding that getting rid of these systems is not a reaction, this is something that has been thought out long and hard," Williams said. "This is actually the beginning, not the endpoint."