Turning the page: Columbia looks ahead to a brighter school year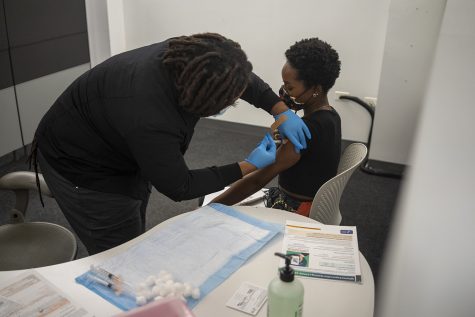 As the calendar turns to the final week of the spring semester and a school year unlike any other comes to an end, the Columbia community is looking ahead to the next year with high hopes for a return to relative normalcy.
Campus changes
One reason for optimism is the dramatic increase in number of classes scheduled for Fall 2021 with an in-person component compared to the current spring semester.
During an April 16 student forum, President and CEO Kwang-Wu Kim said he estimates 75% of classes will have either a completely in-person or hybrid modality in the fall, compared to just 25% of classes this spring.
Ben Sutherland, chair of the Audio Arts and Acoustics Department, said he is hopeful students in his department will be able to have a more immersive, complete experience in the fall.
"If 20 people are on 20 different sets of headphones and earbuds and laptop speakers, they're having a very different listening experience than everyone together in a shared space," Sutherland said. "Students will be back in the studios, touching the equipment, working with the microphones, but also hearing in a much more high fidelity situation."
Tom Joyce, an internship and career adviser, said he was surprised by the number of calls from employers he has received in recent weeks, as the number of available internships is increasing.
Joyce said these in-person opportunities will allow for students to create more connections than they have been able to make during the pandemic.
"If we're having events in person, I think it forces the students to get outside of their shell and to come to an event and really get to know people in the industry," Joyce said. "I think it's easier to engage in person, and it builds a skill for students—which is key to anything—which is communication." 
Joyce said he looks forward to seeing students working in shared spaces again during the fall semester.
Social Changes
Many Columbia students missed out on going to citywide events like parades, music festivals and theatre performances. This feeling of missing out may subside as the city inches closer to being fully reopened.
In a Thursday, May 6 press conference, Gov. J.B. Pritzker announced his plans to fully reopen Illinois as soon as June 11, starting with the Bridge Phase on May 14. These plans are contingent on the state avoiding a spike in COVID-19-related hospitalizations.
The phase would be the final step before Illinois moves into Phase 5, which would be a full reopening of the economy and no capacity limits.
Mayor Lori Lightfoot said the goal is for Chicago to reopen by July 4 if "COVID-19 metrics continue to tick downward," according to a May 4 Sun-Times story.
According to the city's COVID-19 dashboard, as of publication May 7 the positivity rate has decreased by 0.1% from the last week to 4.5%, while the 7-day rolling average number of daily cases is 485.
In April Columbia announced students will be required to get vaccinated against COVID-19 for the Fall 2021 semester.
Tina Tan, a professor of pediatrics at the Feinberg School of Medicine at Northwestern University and an infectious diseases physician at the Ann & Robert H. Lurie Children's Hospital of Chicago, said even though Columbia students will be vaccinated and the city will be more open, they need to continue to wear a mask and social distance.
She said there will be students who see the city is loosening its restrictions and resume to their normal social lives, while others will remain cautious. The problem, Tan said, is health guidelines are divided into people who are vaccinated and those who are not, but there is no way to ensure someone is telling the truth about being vaccinated.
Tan said if individuals refuse to be vaccinated, the safest way to prevent spreading and being exposed to COVID-19 would be continuing with remote learning.
"I don't think you can give people the option [of], 'Well, I'll wear a mask and I'll socially distance,' because you know that's not going to happen," Tan said.
Although safer than in-person interaction, remote learning can lead to Zoom fatigue — emotional, psychological and physical exhaustion from having to be more alert for body language and facial expressions—something that is more natural in a face-to-face conversation.
Tan said the lack of social interaction is contributing to burnout because people can only interact so much on a Zoom call.
Karen Gross, a senior policy adviser to the U.S. Department of Education under the Obama Administration and former president of Southern Vermont College, said her biggest concern from online learning is not so much the COVID-19 education gap, but the psychosocial gaps.
She said schools can always make up the content, but the developmental opportunities for students of all ages are being negatively impacted, such as learning how to work in a group, resolve conflict, understand the feelings of others and accept separation and life's transitions.
"When students go off to college, that's another separation and developmental hurdle," Gross said. "We learn to do transitions, and we get better at transitions."
Gross offered advice for professors and college administrators as schools transition back to more normal operations.
"One of our jobs going forward has to be to help students process what happened in the 18 months since the pandemic started," she said. "It's not like you go back to school, switch on the light and pretend 18 months didn't happen."
But before the Columbia community places its full focus on the Fall 2021 semester, there are a few more boxes to check as the current semester comes to a close: This Saturday, May 15 the college will celebrate the accomplishments of the graduating classes of 2020 and 2021, with a total of five virtual Commencement ceremonies all beginning at 10 a.m.