This online gallery promotes activism through student-made illustrations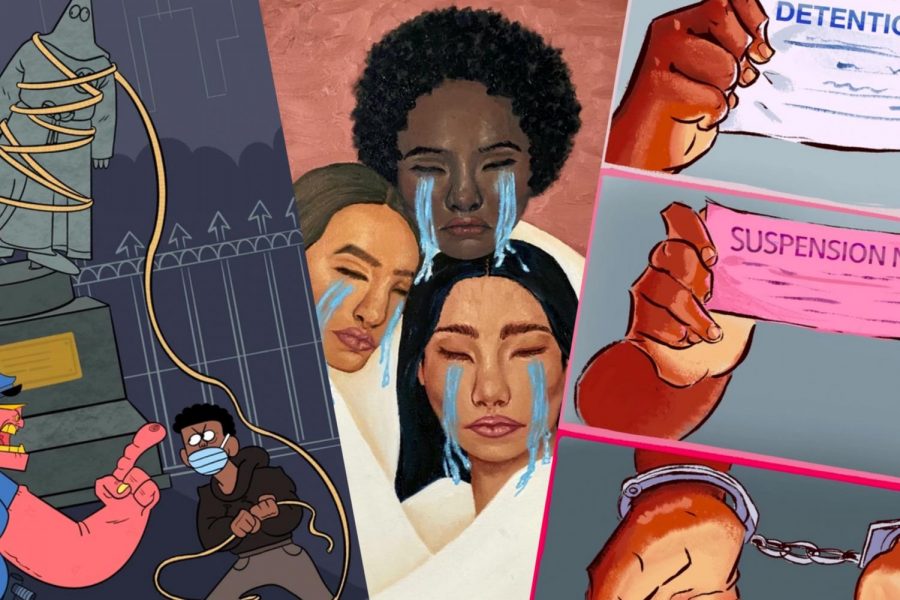 A blood-splattered bald eagle. The back of a Black man, fist raised, wearing orange. Shadowed bodies view Fourth of July fireworks from behind a wired fence.
These are some of the powerful images featured in a new online gallery titled "Illustration as Activism," curated by students in Columbia's Illustration Student Group and created by Columbia students and alumni.
The project was initiated by Ivan Brunetti, an associate professor in the Design Department, to keep students engaged with the department over a pandemic-consumed summer and the many events occurring across the globe.
"It's not just making a pretty picture," Brunetti said. "Images can change people's minds; images can affect people in deep ways. You can't erase an image from your mind."
The artwork was collected by student curators through an open call, and every piece submitted was featured in the online gallery. Each piece also features an artist statement about the work. Illustrations touch on a wide variety of social justice topics, from the Black Lives Matter movement to abortion rights to socioeconomic inequities.
Natasha Uno, a junior illustration major, found out about the gallery through Brunetti and was excited to submit a painting she was already working on.
Her piece, titled "Tributaries," depicts three people of color holding each other warmly, as shocks of electric blue tears stream down their faces.
Although Uno typically plans out her pieces beforehand, this painting was meant to be more of a "gut reaction" to depict the emotion she feels seeing people from different social movements come together, unified by the pain society has caused them and their warmth for one another.
This message is also seen in the title, "Tributaries," which are rivers or streams that flow into larger rivers or lakes, alluding to the streams of tears.
"I really like how it represented the idea that everyone's personal experiences and struggles can all flow together to create a greater understanding," Uno said.
With so many people spending time on social media while at home during the coronavirus pandemic, it is harder to ignore art popping up on an Instagram feed than it is to avoid the news, she said.
Senior illustration major Beau Old said by creating and posting illustrations that artfully explain a topic such as defunding the police, illustrators are helping to lower academic barriers and inserting an issue into public consciousness so people can start thinking about social issues.
Old had a difficult time narrowing down an idea for their submission because they had so much to say about different things happening in the world. Old ended up submitting a piece with the hope of reaching and impacting educators, among others.
Old's piece, "Zero Tolerance," depicts the school-to-prison pipeline with a set of Black hands first holding a detention slip, then a suspension notice and finally shown in handcuffs.
According to the American Civil Liberties Union, the school-to-prison pipeline is a "disturbing national trend wherein children are funneled out of public schools and into juvenile and criminal justice systems. Many of these children have learning disabilities or histories of poverty, abuse, or neglect, and would benefit from additional educational and counseling services. Instead, they are isolated, punished, and pushed out."
Declan Gatenby, a senior illustration major, said exhibits like these can be powerful because they bring a variety of voices together. Coupled with social media—which allows easily understood images to be shared across hundreds of accounts—visuals are powerful enough to change people's minds, he said.
Gatenby's artwork, "That's My History!" is a commentary on the ongoing movement by protestors to take down statues depicting people or events with racist backgrounds, he said. It pictures an activist tearing down a statue of a hooded member of the Ku Klux Klan while an ape-like, angry police officer bellows, "Hey! You can't tear down my history!"
"Illustration, in general, is one of the easiest and most accessible ways for people to understand and resonate with activism," Gatenby said. "If you're really invested in wanting change or a better world, you should be using your illustration to promote those ideals."
Student curators behind the "Illustration as Activism" online gallery will host a roundtable discussion about the exhibit via Zoom on Thursday, Aug. 13 from 5 to 6 p.m. The link to the Zoom discussion is available here.