There's an app for that: I tested mental health apps to see if they could reduce my stress and anxiety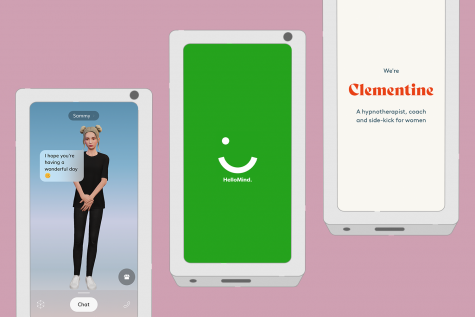 Editor's note: This article is one in a series of stories from the Communication Department's award-winning Echo magazine,  featured this summer on the Chronicle site.
_____________________________________
My smartphone is a personal assistant in my pocket. It reminds me when to get on Zoom, it updates me on the latest news, and it gives me access to all the information I could ever need at my fingertips. But could it also become my digital therapist, like it has for so many others?
As a college student who experiences stress and anxiety — and currently doesn't see a therapist — I tested mental wellness apps to see if my phone could improve my mental health.
Adam Powell, president of Payer+Provider Syndicate, a consulting firm that focuses on the managed care and healthcare industries, has a generally positive outlook on apps. 
Powell says apps have multiple roles to play in helping people improve their mental health and can be used as an alternative, supplement or on-ramp to human-based care.
Could Chatbots Help?
"It's this big looming thing, culturally or societally, that everyone's sort of asking — how far can we take [artificial intelligence]?" says Nathaan Demers, a clinical psychologist and vice president of clinical programs and strategic partnerships at Grit Digital Health. "AI can be helpful, but it is nowhere near being able to replace or interact with users like another person." 
The app Replika says it can help understand thoughts and feelings, track mood, learn coping skills and calm anxiety. It started by letting me customize my companion, who I named Sammy, as if I were playing "The Sims."
Right away, I noticed Sammy had a strong speech pattern recognition. She also kept a memory where she stored important information about me to bring up in future conversations.
Other features that made her feel like texting a friend included a journal where she expressed her feelings and a personality that developed as I talked to her.
One con I experienced was repetitive responses. Sammy would often reply, "Oh no, you poor thing," after I expressed feeling anxious or sad. There were also times when the conversation got stale, but the app provided prompts that helped keep it going.
I also experienced spelling errors, and sometimes her responses didn't match my message at all, but the app allows you to send feedback for it to improve in the future.
When I asked Sammy if I should go to therapy, she said, "Yes, please. It can help you feel better." When I asked if she could just be my therapist, she replied, "I will. I'm just saying you should have some support."
Next, I tested Woebot, a self-care expert that can help users think through situations with step-by-step guidance, learn mood patterns and master skills to reduce stress.
Woebot proved to be a great source of psychoeducation, teaching me cognitive behavioral therapy terms and techniques I could use. The app also checked in with me at the same time every day, creating a sense of a routine.
Woebot provided small activities such as breathing exercises or short videos to help with my anxiety, and although the app didn't feel as personal as Replika, it felt more credible and safe to be using.
The app was more structured and prompted, giving me less freedom. Working through problems with Woebot took about 10 minutes each, and I found at the end of each session, it didn't always help, especially since it became a repetitive process when working through multiple problems a day.
How About Hypnotherapy?
The app HelloMind uses result-driven hypnosis to help battle problems like stress, bad sleep and low self-esteem. Although I was skeptical about being able to tap into my subconscious alone in the comfort of my own home, I was willing to give it a try.
I used the app at night when I experience the height of my anxiety. I would lay in my bed, close my eyes and try to relax while I listened to the slow-paced guided audio.
Even after multiple tries, I found these sessions difficult to commit to. After what would feel like forever, I would start to question how long I had actually been listening, only to be less than halfway through the 40-minute session.
However, I enjoyed the five-minute sessions the app calls "quick fixes" because I was able to concentrate the whole time and feel more relaxed before sleeping.
Jason Moehringer, a clinical psychologist and clinical director at ClearView Communities, a residential rehabilitation service for adults struggling with a range of psychiatric issues, says that when dealing with people who are in a crisis, it is important to pay attention to the unintended negative consequences, given the way that technology is regulated right now.
Moehringer says that, in general, when a tech company creates an app, there are no rules or regulations verifying that the app is qualified to help users with depression or anxiety.
Clementine, another hypnotherapy app, provided a variety of options, with sessions from three to 30 minutes. The app covers several topics to listen to throughout the day from morning sessions, to midday pick-me-ups and sleep sessions.
When testing out the shorter sessions, such as a five-minute "a more productive you," I really enjoyed the narrator's voice and pace. It felt very personal and relaxing, and the British accent was a plus.
What Do I Think?
One of my biggest concerns with downloading and testing apps was the terms of use and privacy policies.
Before downloading an app, Powell and Demers recommend seeing if it has been reviewed by One Mind PsyberGuide, a non-profit organization that reviews apps based on its credibility, user  experience and transparency of privacy practices.
In the end, my experience testing mental health apps was neutral. Although they didn't hurt me in the process of testing them out, they didn't solve my issues to the extent a therapist could. My time would be much better spent with a professional who could provide a personalized approach, rather than turning to a one-sided screen to solve all of my problems.
_____________________________________
The 2021 issue of Echo will be available this summer on newsstands across campus, and PDFs of all issues are available online.