Students weigh in on Columbia's COVID-19 vaccination requirement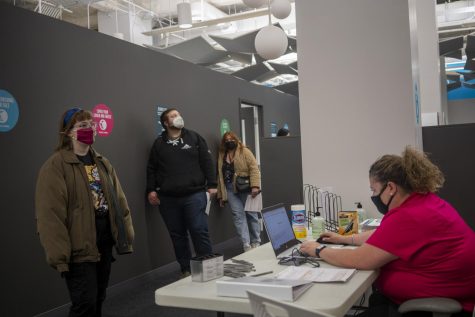 From being in staunch opposition to openly supporting the decision, Columbia students have mixed feelings about the college implementing a COVID-19 vaccination requirement for the Fall 2021 semester.
Columbia was the first college in Illinois to require COVID-19 vaccinations, as reported by the Chronicle Monday, April 19, with DePaul University following suit as of Wednesday, April 21 and Loyola University on Friday, April 23.
Surrounding colleges such as Roosevelt University, the University of Illinois at Chicago and the School of the Art Institute of Chicago are not requiring COVID-19 vaccinations but are strongly encouraging it, offering resources about vaccinations and site locations.
Elijah Jagours, a sophomore music major, said he was not shocked at the announcement of a vaccination requirement.
As a resident assistant, Jagours said during the Fall 2020 semester he tried to advocate for a vaccination requirement in the dorms because he wanted to reinstate guest privileges for the Spring 2021 semester.
Jagours said he hopes the vaccination requirement allows students to utilize on-campus resources they pay for with tuition and fees.
Sophie Mikos, a sophomore photography major, said they were surprised to hear about the vaccination requirement as they did not know if any colleges would make being vaccinated for COVID-19 mandatory.
Mikos said they plan to get their second vaccination shot, even though they understand that some people will not be vaccinated for a variety of reasons.
"I hope that we restore some sort of normalcy [and] people are able to go see their friends, go to events, go to concerts and support each other," Mikos said. "While being on campus, it will be a lot easier to do what we need to do."
While the college is making vaccines accessible to the Columbia community on campus, some students are hesitant to take the vaccine and do not understand why it is required.
Ayyub Wright, a freshman film major, said he felt frustration and fear when he heard the announcement about the vaccination requirement.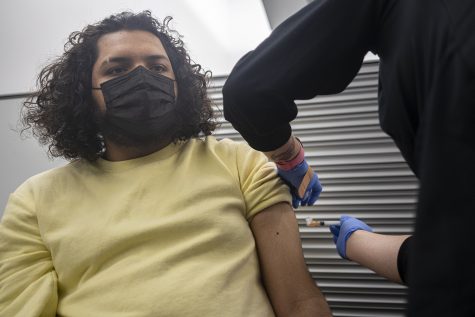 As a person of color, Wright said he is skeptical of the vaccination because of the U.S. Public Health Service Study at Tuskegee between 1932 and 1972, wherein Black men were told they would receive free medical care but instead were observed for untreated syphilis.
As reported by the Chronicle in 2020, old traumas with the health care system have led some in the Black community to be wary of getting vaccinated. 
Wright said in a Monday, April 19 email to the Chronicle that it is unjust and unreasonable for Columbia faculty and staff to have the option to get vaccinated while students have no choice.
Jimmi Gordon, a junior creative writing major, said he is also hesitant and wonders how the college will accommodate those who do not want to take the vaccine.
"Some people don't want to take the vaccines because they're still new, and we don't know how effective they are," Gordon said in a Wednesday, April 21 email to the Chronicle. "Some people don't take them for religious reasons … what is the school going to do for them?"
For students who cannot receive the vaccine due to medical or religious reasons, Lambrini Lukidis, associate vice president of Strategic Communications and External Relations, said the college encourages them to contact Columbia Central so they can fill out forms and provide the necessary documentation for exemption.
Students must submit a typed and signed statement on MedProctor explaining how the vaccination conflicts with religious beliefs or medical conditions, Lukidis said.
In an April 16 student forum, President and CEO Kwang-Wu Kim said while being vaccinated for fall will be required, there will be some exceptions.
"The thing that we're working on right now is the language so that it both explains that the requirements in place [are] to try to guarantee the community's safety … but also acknowledges that there will be exceptions," Kim said. "We will honor the valid exceptions."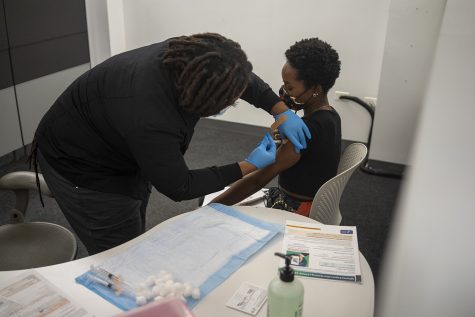 In clinical trials, Pfizer was 95% effective against COVID-19 after two doses and without prior infection seven days before the dose; Moderna was 94.1% effective after two doses; and Johnson and Johnson's Janssen COVID-19 vaccine was 66.3% effective, according to the Centers for Disease Control and Prevention.
An April Centers for Disease Control and Prevention study of the Pfizer and Moderna vaccines found the two-dose vaccine regimen prevented 90% of COVID-19 infections two weeks after the second dose. In the study of 2,479 participants, only three had confirmed COVID-19 cases after vaccination. 
Diana Vera Cruz, a research scientist in the Department of Ecology and Evolution at the University of Chicago, said although people in the traditional college-age group might not have the highest contraction risk for COVID-19, there is still a chance they could get sick. 
"By ensuring most people are vaccinated [on] campus [you can have] … an almost normal capacity of people that can be in a room, [and] you can also increase the number of classes that are actually in person," Cruz said. "You reduce transmission not only to your fellow classmates but also to all the people that work in the school."
Lukidis said the college's motivation to require the vaccination is for the safety of students and also meeting student desire for in-person instruction.
"It's really important for the college to make this move … primarily because this is a college for creatives," Lukidis said. "The types of disciplines and programs we have require collaboration and in-person instruction."
On-campus vaccinations began Thursday, April 22.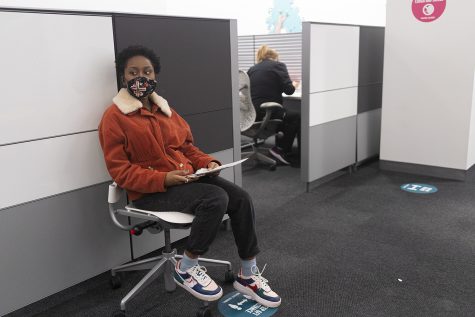 In a Monday, April 26 collegewide email, Columbia announced it will have the one-dose Johnson & Johnson's Janssen COVID-19 vaccine available, in addition to the Moderna vaccine, which will allow some in the college community to become fully vaccinated before the end of the semester.
Maya Salman, a freshman advertising major, said she was relieved to hear Columbia is requiring students to be vaccinated against COVID-19.
Salman got her first shot of the Moderna vaccine on April 1 and is due for her second shot April 29. She said the vaccination requirement makes her feel more comfortable about taking in-person classes in the fall without having to worry as much about contracting the virus. 
"The best way for Columbia to protect students who depend on herd immunity is to require vaccinations for the fall," Salman said in an April 21 email to the Chronicle. "I think this was the right choice [for] Columbia, and I hope other colleges [do] the same."