BREAKING: Required COVID-19 vaccinations approved, could begin on campus as early as this week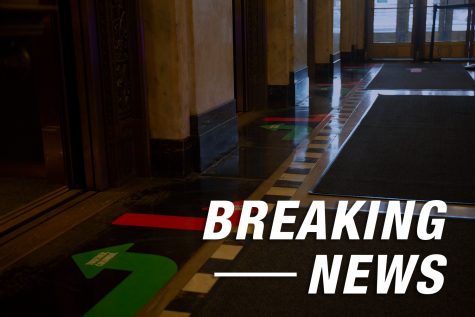 Columbia students will be required to be vaccinated against COVID-19 for the Fall 2021 semester, according to a Monday, April 19 email from the college.
The news comes just three days after President and CEO Kwang-Wu Kim announced this requirement was on the horizon during a Friday, April 16 student forum, as reported by the Chronicle.
According to the email, the college plans to begin offering vaccinations on campus during the next two weeks. Likely, initial batches will be the Pfizer vaccine, and the college said future doses may be Pfizer or Moderna.
If students plan to receive or have received their first dose from a non-campus source, they must go to that same location to get their second dose. Many states, including Illinois, do not allow people to receive a second dose from a different provider.
In order for members of the Columbia community to receive the vaccine, they must sign up to be notified of vaccine appointments via VAXQ.
While being vaccinated isn't a requirement for current students to finish the semester, they are able to sign up through VAXQ along with staff and full- and part-time faculty who are teaching in the Spring 2021 semester or are scheduled to teach in Summer or Fall 2021.
Vaccine availability will later extend to students taking courses during the Summer and Fall 2021 semesters.
"Any student who arrives not vaccinated will still be able to attend class but will be required to both begin the vaccination process and test a minimum of once a week when on campus until the vaccination process is complete," the email said.
Those living in the residence halls must wait to move in until they have completed the full vaccination cycle, which ends two weeks after their second dose. However, international students who are unable to receive the vaccine before arriving on campus will be granted an extension on their vaccination.
If the international student has already been vaccinated in another country with a vaccine not approved by the U.S. Food and Drug Administration, they will not be required to be re-vaccinated, but vaccinations will be made available to them.
Health experts at Rush University Medical Center have advised the college it is safe for a person vaccinated with another vaccine to be re-vaccinated with one of the existing FDA-approved vaccines.
Last week, Columbia was granted formal approval to serve as a vaccination site by the state and is working with both the Chicago Department of Public Health and Illinois Department of Public Health, with doses arriving as early as this week.
Because the number of doses on campus will be limited, and Columbia will receive fewer doses than it has students and employees, the college said it recommends people try to access the vaccine through non-campus providers if possible. The college's email noted that beginning Monday, April 19 all Illinois residents, 16 years of age and older are eligible for the COVID-19 vaccine as the state and city enter Phase 2.
Information on how to upload vaccination verification for those who have already been vaccinated from an off-campus site will be announced in the coming weeks, the email said.
Those vaccinated will still need to continue abiding by the college's COVID-19 guidelines outlined on the Together, Columbia site, such as wearing a mask, maintaining social distancing, and hand-washing or sanitizing frequently.
While staff and faculty will not be required to be vaccinated, it is "strongly encouraged" that they are, the email said.