Students intrigued by Dwight Lofts' new neighbor: the Church of Scientology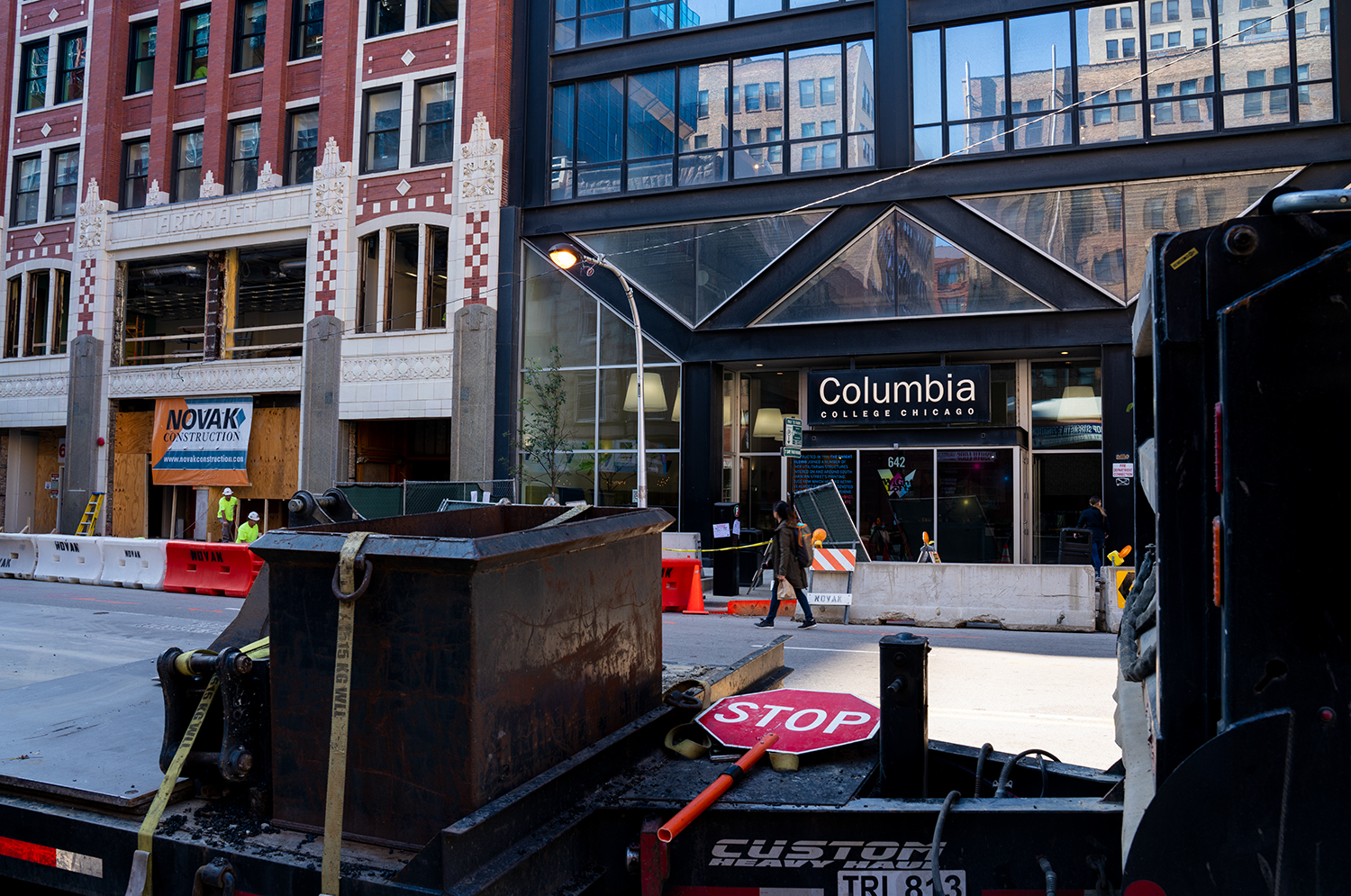 Junior filmmaking major Aaron Biggers, who lived in the Dwight Lofts for the 2018–2019 academic year, was curious to find out what was happening next door after passing by the construction.
Biggers eventually learned the construction site neighboring the Dwight Lofts, 642 S. Clark St., will be home to the relocated Church of Scientology of Chicago, as reported by the Chronicle April 13, 2015. The church currently has a Chicago location at 3011 N. Lincoln Ave.
"I saw the construction outside last year … and we were all wondering what it was," Biggers said. "As I passed by after class one day, there was some paperwork on some wood paneling that said something like, 'If you have a problem with the construction, notify the Church of Scientology Illinois.'"
Church of Scientology of Chicago spokesperson Rebecca Cusano told the Chronicle in the 2015 article that renovations on the building, 650 S. Clark St., were intended to be finished by the start of 2016.
Cusano said at the time the church chose the location next to the Dwight for its historic architecture, and indicated in 2015 the slow construction process was to avoid damage to the building.
The Church of Scientology of Chicago has not responded to numerous requests for an interview and an update on the progress of the renovation as of press time.
Scientology was founded in 1952 and is based on the book "Dianetics," written by L. Ron Hubbard. The religion of Scientology "addresses the spirit—not the body or mind—and believes that Man is far more than a product of his environment, or his genes," according to the church's website.
Sara True, the director of public relations at the Church of Scientology Greater Cincinnati, has been a member of the church for 44 years. She was first introduced to the religion by her parents.
"I have been tremendously helped by technology in Scientology," True said in an Oct. 4 email statement to the Chronicle. "But, more importantly, [I] have been able to use the knowledge and tools that I have learned to help others."
True said the goal of Scientology is to "wake the individual up" by making people aware of their surroundings. She practices it daily for her own "survival." A lowered "spiritual awareness" can cause difficulties with others, illness and unhappiness, she said.
Initially, Biggers thought the construction was a new shop because of the other shops in the area and found it "weird" a Church of Scientology was moving directly next to a college residence building.
Biggers, a Lutheran Christian, said he has an interest in checking it out after learning about Scientology in his high school world religions class, but most likely will not join.
Bennette Seaman, public relations officer for the Church of Scientology Kansas City, said people will need to go and find out for themselves what Scientology is, and not base their opinions on it from the likes of celebrities such as Tom Cruise, who has been a well-known Scientologist since joining the church in 1990.
Seaman said she could not quickly summarize the key beliefs of Scientologists nor do the religion justice since there were so many important principles.
She explained that in Scientology, there are eight dynamics that interact with one another. Thus, when making decisions, all areas of life that are represented through the dynamics must be considered and balanced.
Seaman has been a Scientologist for 31 years and was referred by a friend to check it out after going through a difficult time in her life.
"I'm opinionless as long as they're good neighbors," said Shea Wight, managing partner of First Draft, 649 S. Clark St., a bar across the street from the church's new location. "If they want to come in here and eat and drink and be a part of the community, that's one thing. If they're coming in here to recruit, that's different. I wouldn't be for that."
Freshman acting major Nicolette Hummel said they grew up with a Scientology church down the road from their high school in Minnesota and they're concerned about the new location.
"They actively target younger people," Hummel said. "It's really scary because I feel like a lot of the kids coming [to the Dwight] are freshmen."
Erick Hernandez, a freshman music major who identifies as agnostic, is interested in knowing what the church's mission is but feels he cannot access that information unless he is a member.
"It's very controversial because … it's a very secretive organization," Hernandez said. "It's very cult-like."
Seaman said Scientology is not a "cult" because its members are not controlled by who they can or cannot talk to, nor are they "sequestered" by the church.
Jamie Lesk, a coach at Clark Street CrossFit and Nutrition, 730 S. Clark St., has only heard about Scientology from the media and does not know much about the religion. Lesk said people would not care as much if it were a Catholic church moving to the South Loop location.
Michael Owens has lived in the South Loop community for nearly a year and said he does not have a problem with the church moving in the area as long as  the church attendees do not impose their beliefs on the community.
"Similar to a resident, if this is a … 'home,' they have the same rights as any one of us," Owens said. "I don't see an issue with it versus any one of us living here."