Students bring the 'HEAT' with comedy musical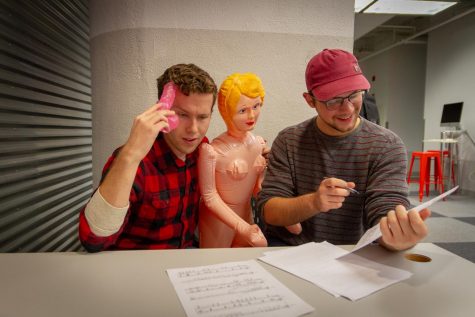 During his sophomore year of high school, Martin Brablec had the idea for a comedy musical he said would "push a lot of lines." Now, in his senior year of college, alongside senior cinema art and science major Corbin Eaton, Brablec is bringing his musical concept to life.
Brablec, a music and composition major, loved acting and participating in musicals in high school, but he said it was not until he saw "The Book of Mormon" that he knew a musical could be exciting, funny and boundary-pushing all at the same time. He wrote the concept for "HEAT" his sophomore year in high school, but never had time to make something of it. The show revolves around a group of firemen who are also strippers.
In order for students to graduate with a music degree, they have to put on a senior recital, but rather than doing what people usually do, such as composing music and performing it, Brablec decided to devote his time toward a comedy musical, with an all-Columbia student cast.
Through a variety of drafts, Brablec said the final product has become much more than just a "funny musical," as it tackles the stigma of being a male stripper in a small town.
"['HEAT'] was initially supposed to be a fluff piece, [but] … as we went down the road, we added a lot of value to it," Brablec said. "We are still trying to make it a generally positive show in the sense that [we] want to make sure these [stigmas] are accepted in the show."
To make the musical blossom to its full potential, Brablec brought on Eaton to write the scripts after seeing the writing he has done for The Black Sheep Columbia, a platform for satirical content. With both of their voices on the project, Brablec said it turned into something "really great."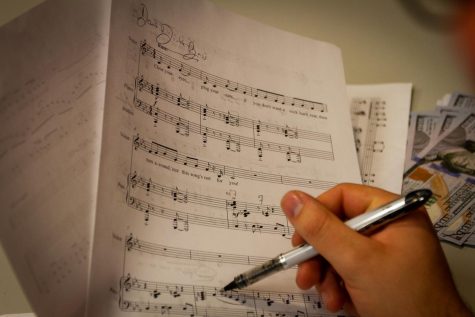 Brablec was pushed to go forward with the project after private lessons with Ilya Levinson, associate professor in the Music Department, because he said at Columbia it is fairly rare for music composition majors to go into musical theatre. Brablec said he was always drawn to musical theatre since high shool, and through the college he was able to hone in on the skills needed to put on a show, including writing the music score, conducting the music pit and working with actors.
Eaton was the perfect piece to the stripping firemen puzzle of a musical, due to his experience in comedy with The Black Sheep Columbia and scriptwriting. Eaton said his knowledge of story structure came from the college, and he and Brablec had a common understanding of the humor and tone they wanted the musical to exhibit. Eaton said it has been a collaborative process, with even the actors chiming in on how to spruce it up.
"It can be very easy to take yourself too seriously," Eaton said. "So one thing we do with this show is we don't take ourselves seriously at all."
Brablec said he wants people to come to the show and have fun, not to be hit in the face with an extremely complex piece. And with a prop box full of money guns, sex toys and blow-up dolls, a fun, refreshing show is exactly what the audience will receive.
Nothing can prepare audience members for what they will see, Eaton said, and they encourage everyone who attends to give back to all of the performers with laughter, cheering and interaction. And if anyone sits in the front row, they and a Jesus Christ figure will be "making it rain" with a stack of fake money from on-stage.
"It's all about pushing lines … while still maintaining integrity of a well-written show," Brablec said. "I mean, it's a wacky premise, but everything is rational."
Performed for one night only, "HEAT" can be seen Friday, Nov. 22 at the Music Center, 1014 S. Michigan Ave., for free. Eaton said people will know they are in the right place when they see the show's two shirtless ushers, wearing only bow ties and skinny jeans.