Stars align for genre-defying Columbia alumni band Jungle Green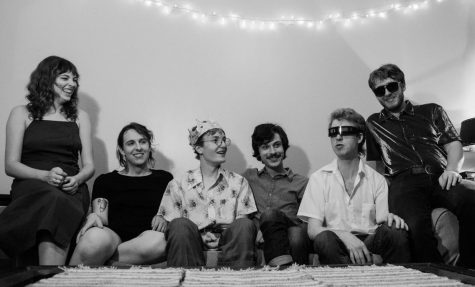 Five Columbia alumni and one School of the Art Institute of Chicago alumna became the six-piece band Jungle Green in 2016, and are now reaching new heights with their first full-length album.
The band recorded its upcoming album in Los Angeles two years ago and plans to release it within the next year. It also recently released a single titled "Cryin'" and a video from the album they made with Jonathan Rado, Foxygen member and producer. On June 19, it will perform at Reed's Local, 3017 W. Belmont Ave., and on June 25 at Sleeping Village, 3734 W. Belmont Ave., with the musician Fran.
"Our first show we played … It was insane and bad, but our love for each other was unceasing," said 2017 radio major alumnus Adam Miller.
Andrew Smith, 2016 radio major alumnus and singer-songwriter, named the band after his favorite Crayola crayon color when he was in grade school, and chose Chicago as its home because it's a larger city with more places to perform. He said in Chicago, musicians are like small fish in a large pond—which could be a good or bad thing.
Performing in Chicago has more perks than pre-show deep dish pizza, though.
"I like the queer music scene here," said Vivian McCall, 2016 journalism alumna. "We mostly play clubs, but on occasion we play a house show. We're playing for an audience of mostly trans people like me [and] that's just not something every city has to offer."
Jungle Green first came about following Smith's own career as a solo artist. After playing a few shows alone, he realized he wanted to create music with more people. He met the other members through classes, and they gradually became the band people know them as today.
"I met Alex [Heaney] in 2014, and we would sometimes perform as a duo where he played guitar and I sang and danced; it wasn't very good in retrospect," Smith said. "From there, we gradually started adding friends who were fun, cool and talented, and it gradually molded into the six of us. It felt like the stars had aligned."
Heaney, a 2018 Cinema Art and Science alumnus, said the band considers its music art pop.
"When we're putting the songs together, we start with [Smith's] music and try to expand on it organically in a way that's not necessarily beholden to any genre," Heaney said. "In that sense, genres like '60s rock, proto-punk and country are all some genres we have fun with. But once we have that, we try to take the genre we're in or influences we're drawing from and play around until it feels like our own. So, in theory, you could call us any genre you like. Pick your adventure. Just don't call us Dub," he said, referring to a genre of electronic music.
When the band first started playing together its members were inspired to find new ways to challenge their creativity in a group setting because most of them were working on music alone prior to forming Jungle Green.
"Where everyone's idiosyncrasies musically can be synergistic or uncomplimentary, it is fun navigating that group creative space and focusing on a role for the greater good of the work or song at hand. It tickles me pink," said Adam Obermeier, 2018 fine arts alumnus.
All the band members switch instruments—from clarinet to snare—for nearly every song, which 2019 SAIC studio arts alumna Emma Collins said allows them to switch up their sound and groove.
"We've added a lot of keys and percussion. It is tons of fun to experiment with an instrument you're not 100% comfortable with," Collins said.
In the beginning, the band members felt overwhelmed but have since met generous and inspiring people who have given them opportunities and have made lasting impacts on them, Heaney said.
"We've made great friends and grown a lot as people and musicians," he said. "The journey is what matters. And the folks you break bread with; I think the Bible says that."