Staff union negotiations 'productive' despite delays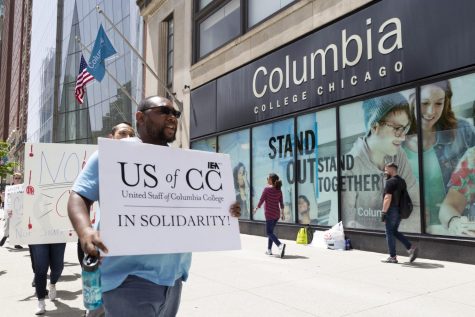 The United Staff of Columbia College, the college's staff union, has been negotiating its contract for more than a year, but the end may be in sight.
USofCC President Craig Sigele, who is also an adjunct professor and academic manager in the Communication Department, said he expects a possible conclusion to the negotiations—which have been ongoing since September 2018—this year.
The delay in negotiations can be attributed to several causes. In general, Sigele said the administration has presented information "very slowly."
Additionally, half of USofCC's executive board was dismissed from the college in a round of layoffs in May, as reported Tuesday, Aug. 20 by the Chronicle, which Sigele said had also slowed the process at the time.
However, the main point of debate prolonging negotiations has been health care.
The administration has proposed an increased cost of health care for staff members without offering to increase their pay to cover this cost, Sigele said. He added that this would disproportionately affect staff members with families, who make up about 50% of USofCC's membership.
According to the current USofCC contract, which officially expired on Aug. 31, 2018, employees have two options for health insurance plans: a $325 deductible with a $1,600 out-of-pocket maximum for a single employee, or an $850 deductible with a $3,000 out-of-pocket maximum for a family. The union has agreed to work under terms of the existing contract while negotiations continue.
Once this contract is finalized, it will be USofCC's third since the union was founded in 2006.
Its first contract was negotiated from scratch, said Michael Bright, an administrative assistant in the Cinema and Television Arts Department and former president of USofCC. The contract was finalized in 2009 after approximately three years of negotiations. The second, and current, contract was negotiated for slightly more than two years and was completed in 2015. It included an increase in health care costs, but these were offset by salary increases.
"Those people, if they're in families and they're going to take on additional health care costs, need to have a bump in their pay," Sigele said, "to not just cover their health care increase but to give them an increase because the cost of living has gone up and the cost of living in Chicago is much greater."
The administration has committed to returning with an updated health care and compensation offer in about a month, Sigele said, though he expects it will probably take until the end of the semester or perhaps the end of the year for a final package.
The college declined to comment on the specifics of the negotiations, according to Lambrini Lukidis, assistant vice president of Strategic Communications & External Relations.
"The college and the Union have been meeting regularly, exchanging meaningful proposals and having good discussions regarding the specifics of those proposals as they continue to bargain in good faith," Lukidis said in an email to the Chronicle.
The negotiation teams met on Tuesday, Nov. 19 to discuss provisions in the contract language regarding position evaluation procedures, rehire rights and how vacant positions are filled.
Despite the slowed process, Sigele said the administration has been bargaining in good faith.
"I think it's very congenial; it's very productive," he said. "It's a lot of give-and-take; it's educational and I'm hopeful."