Skyrocketing sex drives and virtual check-ups: the Chronicle's guide to sex during a pandemic
This is the first in a two-part series on sex and love in the age of the coronavirus.
Whether you're spending your shelter-in-place snuggled in bed on your lonesome with a shiny new vibrator you ordered online, sexting your long-distance significant other or sanitizing before jumping into the sheets with your partner, the coronavirus has changed nearly everyone's bedroom life.
With the global coronavirus, or COVID-19, pandemic, there are a lot of unanswered questions around sex and sexual health. The Chronicle set off to answer these questions to help you stay orgasmically healthy.
Can I hook up with my Tinder match?
Patrycja Ferenc was not actively looking for someone to hook up with, but after three days of being out of work due to Illinois' statewide dine-in restaurant and bar closures, she said she was already getting bored.
Now, Ferenc, a sophomore marketing major at Harold Washington College, said she has been more cautious since the stay-at-home order was put in place by only hanging out with one person she met on Tinder and being honest with him about other people she comes in contact with.
"I do feel like it is my civil duty to actually stay home and follow these guidelines," she said. "But I'm still young and I get bored being stuck in my apartment. Obviously, I want to hang out with someone."
Sofia Maes, a junior advertising major at Columbia, said it has become a joke between her and her partners whether or not they should kiss because of the coronavirus. Maes has been seeing people during the pandemic but said she stays home other than that.
"My sex drive has completely skyrocketed," Maes said.
Ferenc and Maes aren't alone in their sexual pursuits.
New York City's Health Department even released a titillating two-page report addressing sex during the pandemic. It said because being in contact with another person can increase the spread of the coronavirus, the best options are to take part in "self-love" and only sexually interact with a partner if you live in the same household.
As of press time, no similar report has been released by Chicago's Department of Public Health.
People seem to be taking the socially-distant masturbation decree to heart, though, as companies report soaring sex toy sales and dramatic increases in porn viewership, as reported by Vice, which comes as no surprise to Lauren Streicher, a medical director for Northwestern Medicine Center for Sexual Medicine and Menopause.
Streicher said being at home alone gives people plenty of time to explore things they may not have explored before—including themselves. However, she advised people to refrain from sexual activity with another person if it is not someone they "regularly swap saliva with."
"If it's not with your usual partner and if you haven't been social distancing, you need to be aware that you could be infected," Streicher said.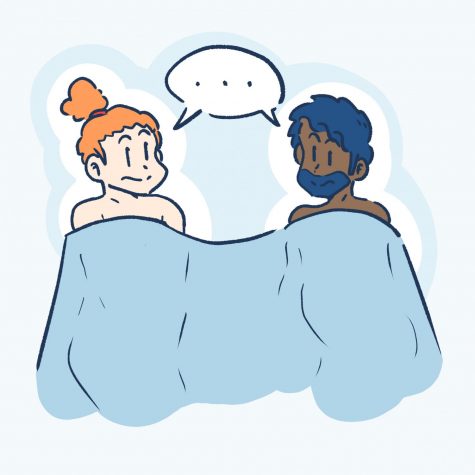 How do I look after my sexual health during the coronavirus pandemic?
Current Centers for Disease Control and Prevention recommendations for health care providers—including gynecologists—are to postpone any non-urgent clinical services.
Alternately, Caryn Peterson, a research assistant professor of epidemiology at the University of Illinois at Chicago School of Public Health, said providers can continue to see patients for clinical services that cannot be delayed or resolved through a telemedicine visit.
In regards to sexual and reproductive health issues, Peterson said certain visits cannot be delayed and provider organizations, such as Planned Parenthood, remain open, although many clinics have been holding telephone triage before scheduling visits.
Planned Parenthood of Illinois is encouraging people to practice safe sex virtually through phone sex and sexting rather than in-person dates, one-night stands and kissing as the coronavirus can be easily spread through respiratory droplets.
Planned Parent of Illinois' in-person services are open in several locations, including on the Near North Side, which is the closest clinic to Columbia's campus. These clinics continue to offer abortion procedures and other critical appointments while staggering appointments in line with social distancing measures.
Patients not in need of immediate care are encouraged to use "telehealth" services where they can receive birth control, prescription refills, treatment for a urinary tract infection or answers to any questions they may have for a $25 fee.
Peterson said sexually active adolescents and young adults, 15 to 24 years old, have the highest rates of sexually transmitted infections in the U.S. Because of that, she advises practicing prevention by reducing the number of partners one is sexually active with, and using condoms correctly and consistently.
"Prevention is even more important now because the current COVID-19 crisis is putting significant pressure on our health care system," Peterson said. "STI testing may be harder to obtain, results may take longer and treatment time may be slower."