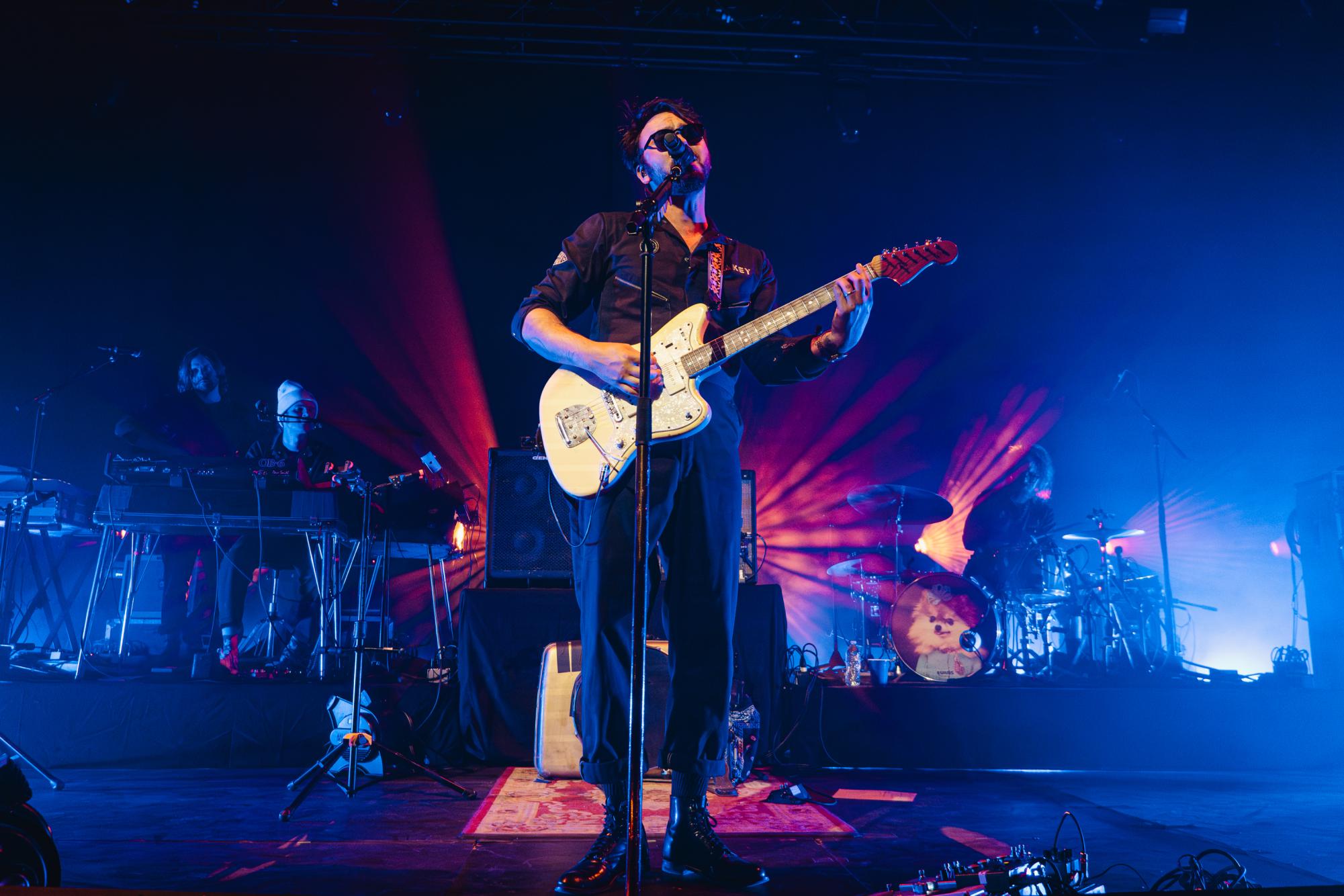 Following the release of his new album, the genre-bending musician Shakey Graves, named Alejandro Rose-Garcia, delivered a bold performance with theatrical flair, bringing the concept of his latest body of music to the stage.
Rose-Garcia's fourth studio album "Movie of the Week" radiates change, almost abandoning his roots of a stripped-down sound. Texas-born, the Americana artist began his music journey performing as a one-man band, only accompanied by a guitar and a suitcase drum. Now, Rose-Garcia has evolved into a larger, spacey soundscape, incorporating elements of psychedelic rock with notes of folk.
At the concert, there was a notable absence of his signature suitcase drum and seated performances. Instead, a full-fledged band took the stage, accompanied by intense strobes and lively jumping around.
Stepping onto the stage, Rose-Garcia announces that he selects a universally relatable theme for each concert. He then proceeds to amuse the entire audience with a comedic situation that involves marrying someone who uses you for money, getting involved with the law, and eventually needing to flee the country – which in reality, isn't relatable for most. He later backtracks, revealing that the actual theme is "time slipping away."
Having driven four hours from Michigan, Brent Payne, who was second in line outside of the Salt Shed, awaited the opening of the doors; this marks Payne's third time seeing Shakey Graves this year.
 "It's funny because it didn't catch on right away. It was 2017, I think the first one [I heard] was 'Tomorrow,' and it just kind of came in passing," Payne said. "Then I slowly started getting into a lot of his older stuff. I eventually got a guitar and then started trying to learn his songs on a guitar as the first songs I was starting to play."
Depending on the year listeners discovered Shakey Graves, they might have had entirely different experiences with his music, given his vast range of music style.
First gaining recognition in 2011 for his one-man-bad performances with an acoustic guitar and kick drum, Rose-Garcia since then has gradually created his own unique sound. Over the years, elements such as alternative, electronic and fuzz rock have made their way into his folk soundscape, making it difficult to consider Shakey Graves as just one genre. The diversity in his music is apparent at the concert, where attendees of all ages and walks of life occupy the sold-out venue.
Heather Abbott, a fan from the Chicago area, said this is her second time seeing the artist perform live.
"The first time I saw him was last year opening for The Head and the Heart, I had never heard of him," Abbott said. "I saw him, and I was like, oh, he's better than The Head and the Heart, literally the opener ruined the next band for me."
"He is a very strong lyricist and a very strong musician. He bends genre in a really cool way," Abbott said. "I'll be crying to one song and then up dancing the next one, So I think there's something for everybody."
Interacting with the crowd, Rose-Garcia showed large amounts of gratitude for his fans and being able to tour given the uncertainties COVID-19 once brought when it shut down the world of live music.
"I didn't know if I'd ever be able to play in a venue like this again, we've been through so much shit," Rose-Garcia said. "Many highs and many lows."
Concluding the night with his song "Look Alive," fans sway while singing the lyrics, "Look alive, it's over in no time," seamlessly weaving the theme back in and bringing the night to a resonant close.