Sanders drops out of presidential race; Biden the presumed Democratic nominee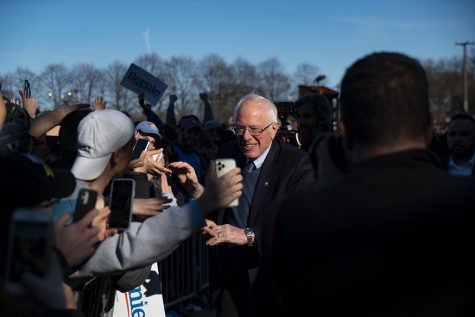 Sen. Bernie Sanders has ended his bid for the presidency, paving the way for former Vice President Joe Biden to earn the Democratic nomination.
"The path toward victory is virtually impossible," Sanders told supporters in a live stream. "So while we are winning the ideological battle and while we are winning the support of so many young people and working people throughout the country, I have concluded that this battle for the Democratic nomination will not be successful. And so today, I am announcing the suspension of my campaign."
And to Bernie's supporters: I know that I need to earn your votes. And I know that might take time. But I want you to know that I see you, I hear you, and I understand the urgency of this moment. I hope you'll join us. You're more than welcome: You're needed.

— Joe Biden (@JoeBiden) April 8, 2020
https://twitter.com/AndrewYang/status/1247910318786908162
Thank you @BernieSanders, for fighting so relentlessly for America's working families during this campaign. Your fight for progressive ideas moved the conversation and charted a path for candidates and activists that will change the course of our country and party.

— Elizabeth Warren (@ewarren) April 8, 2020
.@BernieSanders is an extraordinary leader. From health care to climate change, his campaign drove the conversation around what's in the best interests of working families. We must continue that spirit and ethos as we work to unite the party to defeat Trump.

— Kamala Harris (@KamalaHarris) April 8, 2020
The Vermont senator's campaign suspension comes after Biden overtook him in delegate count following votes in key Southern states, such as South Carolina, which overwhelmingly voted for Biden. Sanders was the last candidate to drop out in a Democratic presidential field that originally began with candidates numbering in the double digits.
As of Sanders' Wednesday, April 8 campaign suspension, he holds 914 delegates and Biden holds 1,217. To win the nomination, a candidate must earn 1,991 delegates, according to the Associated Press.
Democratic socialist Sanders' ability to gain on the moderate-leaning Biden was severely limited after the coronavirus, or COVID-19, pandemic caused the two candidates to turn to live streaming and social media to reach voters. Sanders' campaign had been known for its large, enthusiastic rallies. Many states still have primaries to hold, which have either been postponed until summer or transitioned entirely to mail-in ballot.
Bucking that trend, Wisconsin held its in-person primary at polling places on Tuesday, April 7, a controversial move after the state's governor filed an executive order to postpone the election, but the order was overturned just hours before voters were due at the polls by the state's supreme court.
As the longevity of the coronavirus pandemic comes into question, some have questioned whether the November general election—presumably between Biden and President Donald Trump—should be pushed back. Biden has come out staunchly against this.
"I'd much prefer to have … in-person voting, but it depends. It depends on the state of play," Biden told NBC in a Tuesday, April 7 interview. "But we cannot, we cannot delay or postpone a constitutionally required November election."
Weeks before suspending his campaign, Sanders held a large rally in Grant Park on March 7. The Columbia Chronicle's editorial board endorsed his candidacy Feb. 29.

Check back for more updates.
Additional reporting by the Associated Press.