Safe and jolly holiday activities for Chicagoans this winter
It is the holiday season, but many of the activities we planned months ago are either unsafe or in venues that are closed.
While the pandemic has prevented people from participating in some holiday traditions, here are three COVID-19-safe places in Chicago that will give people the opportunity to get out of the house and into the holiday spirit.
Music Box Christmas at the Drive-In
The Music Box Theatre continues its Christmas shows tradition with the 37th annual Christmas sing-along and a double feature.
But, for the first time ever, the event has moved to the ChiTown Movies drive-in, 2343 S. Throop St., from Dec. 11 through 24.
This year's screening will include "White Christmas" and "It's a Wonderful Life."
Prior to the screening, there will be a short film—"Suzy Snowflake" or "Hard Rock, Coco & Joe"—and a pre-recorded sing-along with Santa.
Cars will need to tune to 89.9 FM to hear the show.
The drive-in is requiring face coverings for all staff and guests if they leave their vehicles.
Ryan Oestreich, general manager of the Music Box Theatre, said in previous years, the theatre would have nearly 20,000 people attend the holiday show at its home at 3733 N. Southport Ave. over the course of its run.
Even though they cannot host the show the same way they have in previous years, Oestreich said canceling it would have "ruined the holidays" for some, as it is an annual tradition for many.
"This is an opportunity for you to get out of your house, do something safe and have a lot of fun—and just forget about the world for a minute," he said.
Admission for regular guests is $41 per car and $37 for Music Box Theatre members. Car capacity is limited to a maximum of six people.
'Let It Shine' While Safely in Your Car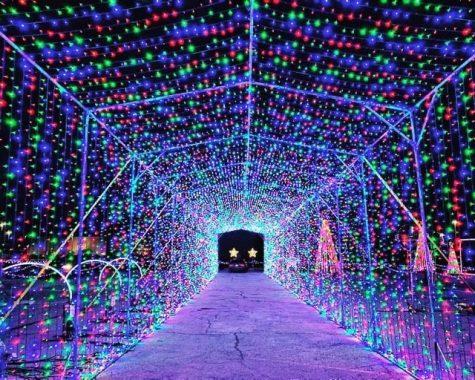 Drive through lit archways as candy canes sparkle and snowmen dazzle. "Let It Shine," a drive-thru light show at 1515 Lake Cook Road in Northbrook, Illinois, opened this year for the first time and will be available through Jan. 9. The light show is less than 25 miles outside of the Loop.
It contains 1 million smart LED pixel lights that are animated and synchronized with a designated station on the radio.
Co-founder Glen Gaode was inspired to open his own drive-thru light show after years of attending shows in Arizona with his family.
Katie Peterson, the show's director, said the amount of time it takes to drive through the display varies. She said many people enjoy the light tunnel the most.
"It's a blanket of light as you drive," Peterson said. "It's neat to experience. We encourage everybody that goes through the show to drive super slow to really take it all in."
Tickets are sold online only and will be scanned upon entry. All staff must wear a face covering and sanitize the equipment frequently. Guests are not allowed to leave their vehicle or make stops along the route.
"Let it Shine" operates from 4:30 p.m. until 10 p.m. Monday through Thursday and 11 p.m. Friday through Sunday. Admission is $29.99 on weekdays and $39.99 on weekends and holidays, including the week leading up to Christmas. Light show guests can also purchase a fast pass for $15 extra to skip the line.
Maggie Daley Park Ice Skating Ribbon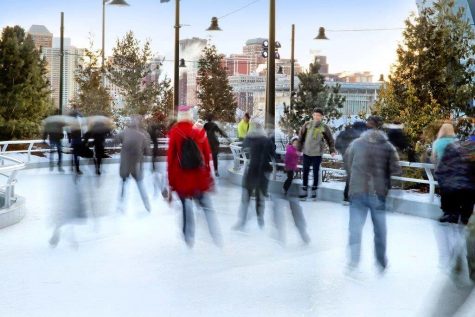 The Maggie Daley Park Ice Skating Ribbon is quintessential winter fun. Located in Maggie Daley Park, 337 E. Randolph St., the ice ribbon first opened in 2014 and ever since it has been a beloved downtown favorite.
The quarter-mile ice skating ribbon is a decorated course inspired by alpine forests and opens up to a "magnificent view of the city," said Rochelle Brophy, marketing and event manager at Maggie Daley Park.
The ice rink has reduced its capacity to 25% and typically sees no more than 720 people daily during weekdays.
Skate rentals are located outside, and hand-sanitizing stations are located throughout the area. Skates and surfaces are sanitized regularly.
Guests are required to book their 90-minute ice skating session prior to visiting and must wear face masks the entire time.
Samantha Taplin, a senior American Sign Language-English interpretation major, visited the Ice Ribbon with her fiancé for the first time in November.
"I've never seen anything like it before," Taplin said. "It's a very Christmassy activity—ice skating—and the view is gorgeous."
Admission and skate rental together cost $16-$20 during the holiday season, and $5 if guests bring their own skates. Time slots are available on the Maggie Daley Park website.