'Rushed' affiliation vote worries some CFAC members
By Alexandra Yetter & Blaise Mesa, Co-Editors-in-Chief
September 9, 2019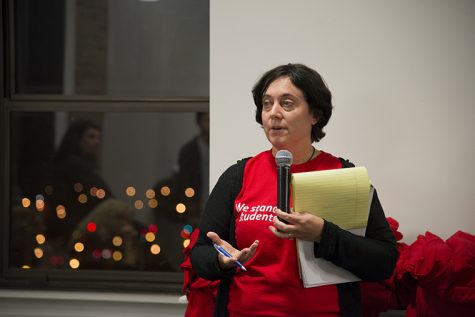 Some members of the Columbia Faculty Union were dismayed by how a summertime affiliation vote was handled by union leadership, citing a lack of information before the "rushed" vote and concerns of bundling multiple changes—including a dues increase—on the ballot.
The vote, which took place from Aug. 22–28, included aproval of affiliation with the Illinois Federation of Teachers, as well as approval for a dues increase and constitutional changes, as reported Aug. 28 by The Chronicle.
CFAC President Diana Vallera, who is also an adjunct professor in the Photography Department, said in a Friday interview with The Chronicle that dues will go from a flat dollar amount to a percentage-based rate of 2.5% of an adjunct faculty member's salary.
"I am proud of our members who participated and did vote in favor of a structure [change]," Vallera said. "Even though some will be paying more, they understand they will be paying their fair share. That's what a union is all about."
According to a petition circulated by union members unhappy with the voting process, for a professor instructing one course per semester and earning roughly $5,600, dues would increase from $130 before the vote to $140 under the new arrangement, an increase of 8%. On the other hand, for a faculty member instructing six courses in a year and earning roughly $33,600, dues would increase from $260 before the vote to $840 under the change, or by approximately 223%.
In a follow-up call to The Chronicle Friday, Susan Van Veen, an adjunct professor in the Business and Entrepreneurship Department and CFAC Steering Committee member, disputed the characterizations of the increase by some union members, emphasizing the 2.5% of salary for every member. However, she said the numbers are not yet final.
Van Veen said in an Aug. 29 interview that working with IFT "made sense" for protection of resources, benefits and the educational system.
"This is a great move for our union and our members," Van Veen said. "It's going to allow us to really focus on our students and strengthen the focus on the quality of education at Columbia."
Some union members thought the issues on the ballot should have been separated into individual votes because the popularity surrounding affiliation may have overshadowed the other changes.
"It was inappropriate to tie in the vote for affiliation with changes to the bylaws," said Katrina Kemble, adjunct professor in the English and Creative Writing Department. "Given the choice, I voted no for everything."
Vallera said in an Aug. 28 interview that in order for CFAC to affiliate with IFT, the union needed to make some structural changes to be in compliance with federal labor law, which is why issues were voted on together. Vallera said attorneys for CFAC, IFT and the American Federation of Teachers reviewed the union's inherited bylaws and updated them to be in compliance.
One of the constitutional changes included an anti-discrimination policy to be included in CFAC's bylaws, which is something IFT requires of every local union, Vallera said. However, she said CFAC's bylaws are going to be reviewed by a committee, which will be established in the fall, to discuss changes.
"We certainly don't take [concerns] lightly," Vallera said. "Whenever we make these kinds of decisions, we're always going to get some voices that criticize us. We absolutely did the right thing going into this semester with this kind of strength and power."
Robert Perkovich, a senior lecturer in the graduate School of Business at DePaul University and legal services consultant, said "unions have a fair degree of discretion" when internally governing themselves, which includes the bundling of votes.
While Perkovich said there are no set rules for governing votes, there are some cases where there would be regulation, such as in "due process issues."
Van Veen said CFAC made efforts to provide members with information on the vote.
"We explained it and we explained it and we explained it," Van Veen said. "We had meetings, we had mailings, we had our reps calling. We had everyone talking to people."
Kathleen Arnold, senior professional lecturer at DePaul and labor union expert, said unions should wait until they have a "critical mass" of voters before holding votes.
Kemble said it was "disingenuous" to hold the vote during the summer when union members may not have been in the city.
Perkovich could see how union members would say a summer election might be a due process violation, but did not say whether challenging the vote would be successful.
For Jason Betke, an adjunct professor in the Cinema and Television Arts Department, the changes would result in a "significant" increase in dues for him. He recognizes the change may be more equitable, but without more information from CFAC leadership on what the money would be funding, he is "not comfortable raising dues" without knowing how the additional funds are used.
"It might be earthshaking, the constitutional changes and the bylaws changes," Betke said. "It might be changing the way we vote, it might be changing the way leadership nominates and appoints a steering committee. We have no idea. And much of what they're asking of us might be good, I have no idea. Much of it might be terrible."
Other members welcomed the changes that come with affiliation, with Van Veen calling the constitutional changes a "no-brainer." She said there was no point in delaying the vote as dues often fluctuate and the recent changes would make it more equitable.
Betke, and a number of other union members, led a petition effort to delay the affiliation vote until after the fall CFAC leadership elections so more information could be discussed. The petition, which was delivered to Vallera after the vote, had more than 60 signatures, Betke said.
"We're hoping IFT has the good sense to help us, to help the members that want to slow things down," Betke said.
Vallera confirmed she did receive the petition and is reviewing it, but said some of the people who signed it were not union members and possibly at least one was an administrator. She said some eligible members who signed the petition still voted despite being concerned.
Vallera said the 57% voter turnout with 76% voting in favor was proof that the majority of membership backed the affiliation and changes.
But some members still questioned transparency issues surrounding the voting process. One part-time faculty member emailed The Chronicle following the Aug. 28 article to question the legitimacy of the vote, claiming 76% of 57% did not constitute a majority of members and violated the union's bylaws. The faculty member declined an interview with The Chronicle.
"If the union doesn't recognize over 60 people's concerns about this, then that's a serious concern for unity and solidarity," Kemble said.
Vallera stressed concerns come from a minority faction within the union.
"Since I took office it has become a very strong member-run union really with lots of ways for members to participate. The numbers are reflective of a very strong union," she said. "After the first election I was in, there was a huge increase in voter participation."