Rising star ROSIE talks honesty in songwriting and what her music brings to the table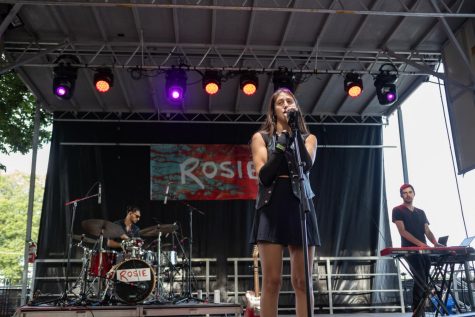 Under the performance name "ROSIE," Rosie Schur has accumulated quite the following on social media while maintaining an all-natural style and support from her family.
Two years ago, ROSIE, 22, was isolated in her room for months due to COVID-19 and said she was going through a traumatic breakup, writing songs every day and posting them on TikTok. Now, she has multiple singles, an EP and performed at this year's Lollapalooza.
"I am a very deeply feeling person, and I'm pretty sensitive and I also am pretty sober and clean, so I really have my brain on overdrive all the time … songwriting is coping," ROSIE said.
Now, ROSIE has amassed more than 1 million monthly listeners on Spotify.
She grew up 40 minutes outside of New York City in a family filled with musicians who influenced her interest in the art. Though none of her family pursued music professionally, that didn't stop them from supporting ROSIE and her brother in pursuing their dreams.
"When it came to me and my brother — the following generation, we always knew we loved music," ROSIE said. "And our parents [and extended family] were always super supportive of it, so when I finally did have the opportunity to really start pursuing music professionally, it was already a given for my family [to say], 'We support it; we love it.'"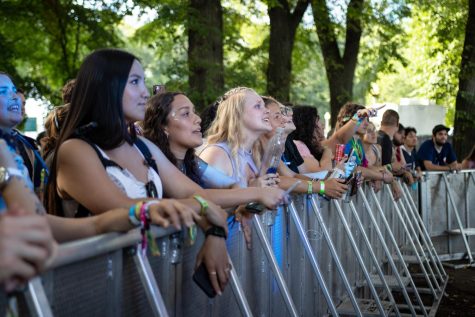 ROSIE studied music therapy and songwriting at Berklee College of Music but ultimately dropped out around the time of the pandemic.
"We grew up in a family where education is really valued, and education is such a gift," ROSIE said. "On one hand, I was committed; I was like, 'I'm gonna finish early, like I need that piece of paper.' But on the other hand, Berklee is extremely expensive, and we couldn't necessarily afford it, and then the pandemic hit in 2020."
While climbing up the ladder of success, she talked about what inspires her and her songwriting process.
"I would say honesty and just openness," ROSIE said when talking about what she values most when songwriting. "There's nothing that I'm holding back, and there's nothing that I'm saying in there that's untrue. I connect really deeply to everything I write for worse or for better."
When it comes to social media, ROSIE feels the same way: no makeup and no filters, just her.
"I definitely think about it all the time because when starting this whole all-natural [idea], I definitely got some pushback," ROSIE said. "I got comments like, 'Well, if you don't look like a pop star, you're not going to get signed to a major label,' [or] 'If you don't have a good look or if you look tired, have breakouts, people aren't going to be drawn. They don't want to follow that.'"
ROSIE politely said she saw that point from an industry perspective, but said she would not take that advice.
"Going into it I was unsure if if these concerns were right," ROSIE said. "As I developed my 'anti-brand' brand and I just kept going with it, I think I saw how necessary it is to keep putting my face out there all natural and even when it's scary, even when I don't look my best, even when it doesn't necessarily flatter me. I'm not going to look like a pop star, whatever that means; I'm going to keep doing it because I wish that I saw someone like that on social media when I was younger."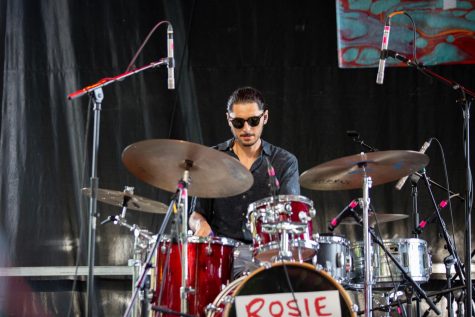 ROSIE has 14 million likes on TikTok, where she still posts regularly about songs she's writing from her bedroom.
Right after coming off a tour as the opening act for Chelsea Cutler, ROSIE performed at Lollapalooza on July 28 where the crowd sang along to her songs like "Something I Hate" and "Never the 1."
"I honestly am still in shock at how many people not only showed up, but the way they participated," ROSIE said. "They really made it a community event; it didn't feel like I was singing [or] putting on a performance for a crowd. It felt like there was an interaction; it felt like it was an equal energy of give and take, so I honestly could not have asked for a better first Lollapalooza experience."
After her performance, ROSIE went out into the crowd to hug her fans.
"I love meeting everyone and you know, especially coming up as a COVID artist, I was unable to physically interact with anyone for so long, and now I get to hug them, and I get to meet them so it feels really great," ROSIE said.
ROSIE said she does not know what's next for her, but she hopes to tour in the fall and will continue to make music. Fans can follow her journey and listen to her music by visiting her website.