Review: A tropical vacation in January: Divino Niño holds sold-out show
With a flowery tune that ignites the swaying of hips, bass riffs that ring out and the fast-paced thumping of two-headed bongos, a Divino Niño show is like taking a tropical cruise in January.
There is no other band in the Chicago scene that could represent something bigger than music––blending together two communities––than Divino Niño, and from the looks of their live performances, it is certain the band is leaving an imprint on the city.
The chemistry does not just exist on-stage. For Divino Niño fans, it can feel as though you are part of a big, indie family, singing along to every word and swaying in unison to the tunes. From singing "Happy Birthday" to band members; to feeling as if one is floating down a Willy Wonka caramel stream during "Melty Carmelo"; to belting the poetic words of "Maria"; and to finally wrapping up the show with a karaoke rendition of Cher's song "Believe" with the lyrics projected on-stage, a Divino Niño show has become a Chicago staple.
The Chicago-based quartet has been known for their ability to make any ordinary day feel as though it is the middle of summer. With inspiration drawn from Bogotá, Colombia—hometown to Javier Forero, bassist and vocalist; and Camilo Medina, guitarist and vocalist—the band infuses their traces of harsh, punk energy with a soothing and dreamy island hum.
Though Forero and Medina met in Colombia, and then again in Miami years later, they made the move to Chicago in 2010 to attend the School of the Art Institute, 36 S. Wabash Ave.
Already a perfect addition to the Chicago scene with an alternative, indie-punk vibe, the group has also found their spot in the community by making headway through the Latinx and DIY music cliques.
A DIY music community can be related to any genre, but it is grounded in the idea of providing space for musicians to create any kind of music they want without the backing of a record label, or the industry in general.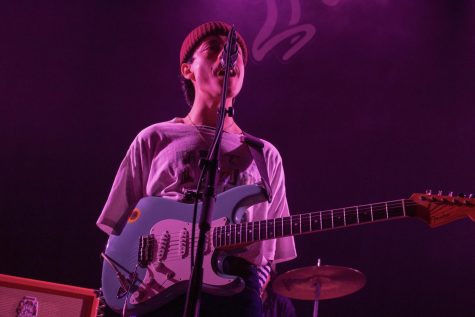 Drummer Pierce Codina said in a Sunday, Jan. 12 email interview with the Chronicle that the DIY music community as a whole may be large, but it is comprised of several smaller communities. Codina said it took a while for the band to find a relationship with a community where it "clicked," but once it did, it connected with other bands and musicians with a similar style.
Divino Niño tends to blend the DIY and Latinx scenes together by collaborating with other Latinx artists and introducing them to the DIY community. Codina said the Latinx music community is growing and although the Chicago Latinx scene is not as large as it is in Los Angeles, Codina said it will continue to grow and "could rival [LA] one day."
"In general, there are just more and more immigrants, and sons and daughters of immigrants, taking shape in the music scene now," Codina said. "[They] are bringing a different sound and vibe to indie music."
As the headliner of the Friday, Jan. 10 sold-out Winspear Review show, put on by the independent record label Winspear and held at Lincoln Hall, 2424 N. Lincoln Ave., it was clear nearly every person in the crowded venue attended for Divino Niño. With three bands opening, the audience anxiously awaited the moment the Divino Niño boys hit the stage.
Coming on-stage just past 11 p.m., opening with their Spanish and English song "Quiero," tired bodies jolted with excitement, eager to hear more. The band played a perfectly-crafted set with a mix of older singles and newer hits from their first full-length album "Foam," released in June 2019. Seven months later the album continues to encapsulate the essence that is Divino Niño.
Codina said the process of creating "Foam" was brutal. They scrapped nearly three records worth of songs and recordings until they got it just right. Their previous releases felt more like demo compilations rather than full albums, Codina said, and for "Foam" they wanted to make a real album in which all four members––including guitarist Guillermo Rodriguez––were involved.
Between the smiles, swift footwork across the stage and guitar riffs that echo off each other, the band members are a match made in music heaven.
"We genuinely love each other and each other's company and just want to share that vibe," Codina said. "We also all have very different personalities but they complement each other, which is pretty crazy. It's a nice little cocktail."