Review: 10 restaurants near campus where you can eat vegan for less than $10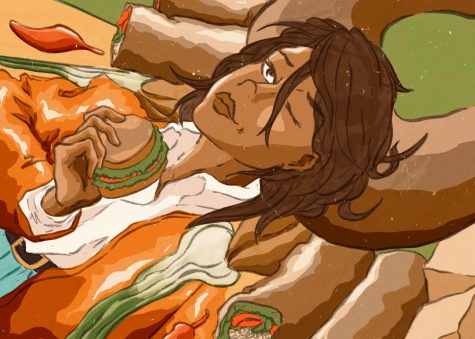 If you are vegan, you probably know that eating out can sometimes be a challenge. Even though the South Loop has plenty of amazing restaurants, many do not have vegan-friendly options, and even fewer have vegan options accessible for college students set to receive a 10% tuition increase. So, I put it upon myself to find some quality vegan options around campus for less than $10.
If you are not vegan but are trying to be more environmentally friendly with your diet, I hope this can help you out, too.
1. Cafecito
Cafecito at 26 E. Ida. B. Wells Drive has a new vegan menu that does not disappoint. They offer several pressed vegan Cuban sandwiches, from $8.50 to $10. They are the perfect quick bite between classes. The "Sabor Impossible" sandwich with Beyond meat, vegan cheese, spinach, red onion, tomato, pickles and vegan chipotle mayo is one of the best vegan sandwiches I have ever had.
2. Trader Joe's
Trader Joe's at 1147 S. Wabash Ave. has several frozen vegan options for less than $5. I usually get the "Vegan Tikka Masala" that comes with rice and a soy and wheat-based meat alternative covered in delicious spicy tomato curry. You can heat it up in the microwaves on the fifth or seventh floor at 1104 S. Wabash Ave. and eat it in the third-floor lounge, just make sure to ask for a fork from the cashier before you leave the store.
The Indian and Nepalese restaurant at 606 S. Wabash Ave. has several vegan options, as Indian food is often plant-based. If you are looking for something quick, hearty and cheap, their traditional samosas and pakoras are both fried vegan appetizers packed with vegetables for less than $6.
If you like tofu, you are going to love Thai Spoon and Sushi's fried tofu for $5.25. I often get it with a side of white rice which goes for just $1, or steamed vegetables for $3, if I'm feeling healthy. The restaurant at 601 S. Wabash Ave. also offers vegan sushi options that are surprisingly good and budget-friendly. My favorite is their sweet potato roll for $6.50, but they have avocado, cucumber, shitake, asparagus, spinach and more for only $4 or $5.
The "Everything Plant-Based Sandwich" with Beyond Breakfast Sausage, JUST Egg and vegan cheese at Peet's at 41 E. 8th St. has been a lifesaver for me on those days when I am in a rush. They, unfortunately, don't have any vegan pastries, but I highly recommend this sandwich for $5.95. It is most likely not going to fill you up too much, but it will give you enough energy to get you through the class you are running late to.
6. Devil Dawgs
The classic hot dog and burger spot, Devil Dawgs, 767 S. State St., has two delicious vegan options: a Chicago-style "Vegan Dawg" for $5.50, and a "Very Veggie Burger" with lettuce, tomato, onion and pickles for $5. The "veggie" instead of "vegan" part of the "Very Veggie Burger" might seem scary, but I have asked and Googled if it is vegan, and indeed it is.
7. Chopsticks
All of Chopsticks' vegetarian options on the menu are vegan-friendly. The Chinese restaurant at 28 E. Roosevelt Road offers a variety of rice bowls with vegetables and tofu for $9.99 for dine-in or take-out. Ask for the "small" bowl; it is the cheaper option, and the portions are big enough to last for two or even three meals.
8. Asian Outpost Hawaiian Hideout
Asian Outpost Hawaiian Hideout has a vegan and gluten-free menu with a variety of vegan options for less than $10, from salads to vegetable lumpia, pad Thai and more. The restaurant at 1315 S. Wabash Ave. also offers vegan sushi similar to Thai Spoon and Sushi's, and it is a super cute place to go eat with friends.
Flaco's Tacos at 725 S. Dearborn St. offers a black bean burrito with spinach, onion and pico de gallo for $6.95 and tacos with the same ingredients for $3. I have tried better vegan Mexican food, but the restaurant is open till 10 p.m. on Fridays and Saturdays, so it's a good option for a late-night food run.
10. Hero Coffee Bar
Hero Coffee Bar offers a variety of bagel sandwiches that are vegan or can easily be made vegan. Their sandwiches go from $5 to $8.75 at their 439 S. Dearborn St. location. Not all of their bagels are vegan, so make sure you only stick to the plain, everything and sesame ones. The vegan chai muffin is a good sweet treat, too! 
The prices listed in this story are no McDonald's dollar menu prices, but it's a start. Being vegan does not have to be expensive, and the more people buy these options, the more common and cheaper they will become in the food industry. Supply and demand, baby!