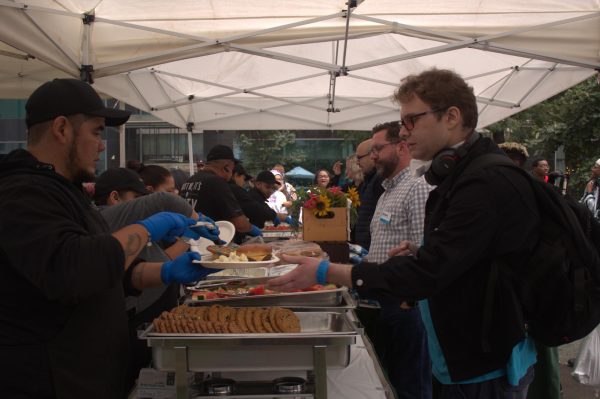 Columbia's Black Student Union partnered with New Student Programs to host a Kick-Off Cookout for students to eat, mingle and play games before the summer season officially comes to a close.
The event was hosted outdoors on Friday, Sept. 8, across the street from the 1104 S. Wabash Ave. building.
Rain delayed the start by 30 minutes but didn't top the event. Some students sheltered under tents and others went across the street to the 1104 building.
Though there wasn't live music as planned due to the rain, students brought out their own speakers.
 Karington "KK" Cox, a senior fine art and graphic design major and president of BSU, greeted students and handed out wristbands.
Cox said that the collaboration came as a result of NSP reaching out to the BSU.
"BSU always wanted to do a cookout because as the Black Student Union, a cookout is something that's very prevalent in our community," Cox said.
This collaboration was funded by NSP in support of BSU. Sarah Bonds, a senior musical theater major and Student Organization Committee representative for BSU, spoke about the collaboration between the organizations.
"Members of BSU as well as New Student Programs really put a lot of thought and their creativity into putting this together and thinking about what would be valuable for the students, as well as ways for students to get together, make news connections and help them along with finding their community at Columbia," Bonds said. "We want to support you. We want to be your community. We want you to make friends and meet all the fantastic Black students of Columbia."
Lacresha White, a sophomore fashion studies major, is no stranger to BSU. She has been attending the organization's events since last year. Some of those events include movie nights, game nights, Family Feud and the Blackout Party. She found out about the cookout during this year's Convocation.
"The events are always really nice, hype and enjoyable. You always feel at home," White said.
Autumn Risbrook, a sophomore dance major, was back for a second year.
"I really love the BSU E-board, what they stand for and what they're doing. I was a part of a lot of BSU events last year," Risbrook said. "I just love being a Black person. That's what I'm here for."
BSU will begin having biweekly meetings starting Sept. 20.
"If you don't know BSU, go ahead and follow our Instagram @ccc_bsu. Tune in to us. We are the lit-est and largest organization on campus and we strive to connect each other," Cox said.