'Queering' Chicago beyond Boystown one party at a time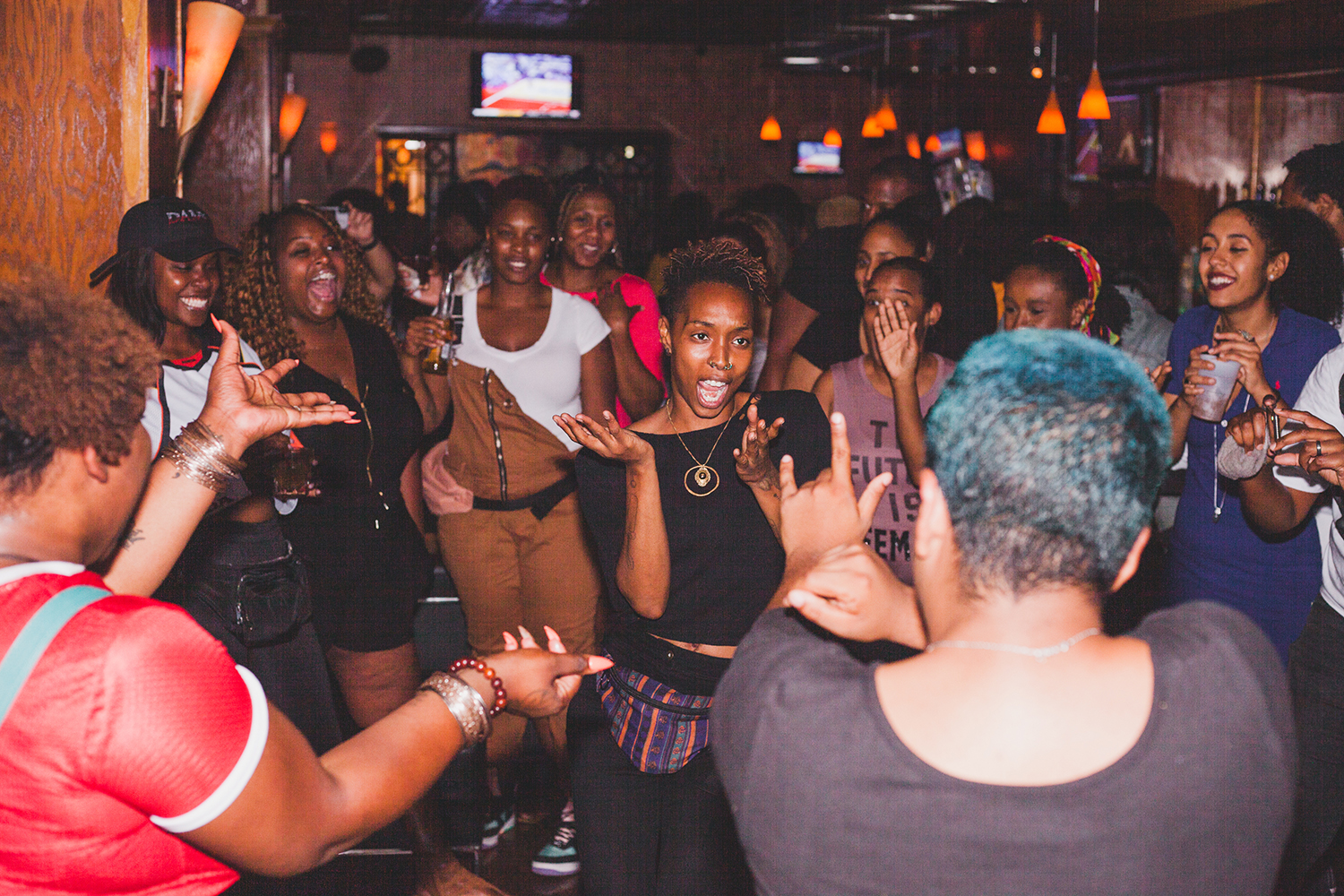 For LGBTQ+ residents of Chicago hunting for a place to dance, flirt and order one too many vodka-cranberries, there is one neighborhood that always comes to mind.
Boystown, nestled between Lakeview East and Wrigleyville, is Chicago's designated "gayborhood." However, Boystown's venues often cater specifically to cisgender, white gay men and leave little room for other members of the LGBTQ+ community, according to smallWORLD Collective Founder Jae Rice.
SmallWORLD Collective is an artist collective that throws parties and other events that focus on queer women of color. SmallWORLD hosts "Energy," a weekly event every Sunday night in the South Loop at Tantrum, 1023 S. State St., which Rice referred to as "queer church" and "queer black Cheers."
Parties such as "Energy" that focus on women, femmes, nonbinary and transgender people have been popping up in Chicago for years, but the city still does not have a dedicated location or venue for anyone in the LGBTQ+ community, besides gay men.
"My wife and I … got back to Chicago maybe three and a half years ago … and it was hard for us to find anywhere to go," Rice said. "There were some spaces that were queer adjacent … that queers went [to] because there were no other options. And then there was Boystown. Like, 'Oh, yeah, we go to Boystown.' We go to Boystown and it's super white, it's super male heavy. We're not welcome there."
In June, a Boystown club, Progress Bar, 3359 N. Halsted St., was criticized when an email to employees, which banned DJs from playing rap music, leaked to the public. People quickly jumped to social media to accuse the club of trying to keep out black patrons, until owner Justin Romme apologized and reversed the decision.
Molasses, a pop-up party for minority transgender and gender nonconforming people—which used to take place at Berlin, 954 W. Belmont Ave.—is currently transitioning into obtaining their own venue.
According to co-organizer Zola Chatman, the poor manner in which people who are not cisgender, gay white men have been historically treated at Boystown venues, such as Progress Bar, makes it hard to offer a safe space in the neighborhood, so Molasses will create its own space in Pilsen.
"It is so hard to be brown and trans within [the Boystown] community at all," Chatman said. "And the people who are brown and trans are only given chances to excel as performers—and performers with very little power, influence or voice. These performers are put up on a pedestal to represent inclusion and diversity … but behind the scenes it is all cis, gay white men that are running the scene."
Another local party is Flannel Friday, a monthly event that "celebrates queer women and femme identities," according to the Facebook event page. Flannel Fridays used to take place at Mary's Attic, 5400 N. Clark St., but with an increase in crowd size, the event is being moved to a larger venue at Le Nocturne, 4810 N. Broadway, where the first party took place Friday, Sept. 6.
"All of the parties that had been available prior were either annual parties or … [in] areas like Boystown, where the focus has really been cis, white men," said Gretchen Kirchmer, co-owner and founder of LezBe Events, the group that runs Flannel Friday. "Finding space where we felt like we were walking into a crowd of people that were identifying the same way that we were was harder to and."
To Kirchmer, the focus of LezBe Events is to create inclusive spaces where queer folks can dance and meet people, whether that be romantically or platonically. She hopes, through events like Flannel Fridays, queer people can grow their network and become more involved in the community.
According to Co-Owner of LezBe Events Elena Sotirin, the pop-up structure allows them to do that.
The flexibility of moving from neighborhood to neighborhood lets the culture expand beyond Boystown, she said, and allows them to "queer" otherwise traditionally straight venues.
As some of these parties try to transition to a standing location, they face unexpected obstacles.
"It's politics," Rice said. "As we're finding out, it's hard to maneuver as queer women of color. It is hard to maneuver as queer women in general. It's hard to get a liquor license; it's hard to get these loans; it's hard to find these spaces; it's hard for me to even get these people to call me back for a space. Even saying [I] have the money doesn't matter, they won't call back. And then there's a big stigma [of] 'I don't want a dyke bar in my neighborhood; I don't want this.'"
According to Kirchmer and Sotirin, this stigma is common. There is a pervasive idea that queer women do not go out as often as queer men, particularly once they are in a relationship.
Groups like LezBe are working to change that narrative.
"We've seen challenges in working with venues, specifically on targeting that audience specifically for those reasons," Sotirin said. "There's a culture of that cliché notion of the lesbian community dropping out of the scene when they partner up, and I think that we are working to change that perspective with the venues that we're working with and prove that even partners come out, even our friends who are partnered up come out, and even our [polyamorous] friends come out, and we are bringing people together to understand each other better."
According to Rice, events such as small- WORLD's "Energy" are "necessary."
"We're going through something different than our straight counterparts and our white counterparts … and so our finances aren't always flexible for extracurriculars such as going out to a bar or something like that," Rice said. "But that doesn't mean that we don't need to have the option. That doesn't mean that doesn't need to be there."