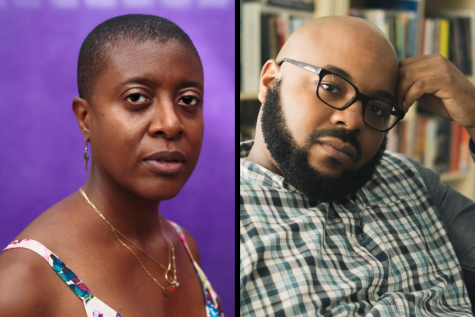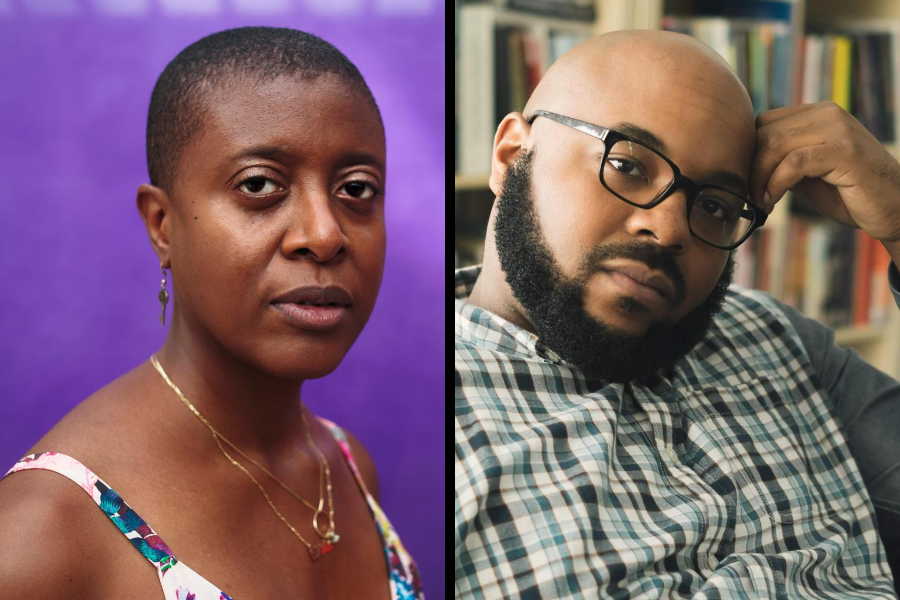 The core of writer, visual artist and Columbia alum Krista Franklin's identity is being a Black and femme woman, which she purposefully reflects in her writing, art work, conversations and lectures.
The Chicago Humanities Festival invited Franklin to dive into these aspects of herself and her work at the Esther S. Saks lecture series.
The lecture, hosted virtually Sept. 8, honored Chicago activist Saks and her 90th birthday, celebrating her lifetime commitment to culture, curiosity and social justice.
Franklin, who earned an MFA in interdisciplinary book and paper arts at Columbia in 2013, joined authors Nate Marshall and Parneshia Jones to discuss this year's topic, "Black possibility, Black future, Blackness as tomorrow"—a quote from Marshall's 2020 poem collection, "FINNA."
The discussion touched on the nature of publishing work during the pandemic and how panelists felt stifled by inheriting their ancestors' history. The event also included poetry from Marshall and Franklin's new books.
The Chronicle spoke with Franklin, the author of "Too Much Midnight," about her hopes for Black people in the future, what it is like being an artist during the pandemic and the Black Lives Matter movement.
THE CHRONICLE: What has it been like being an artist during the pandemic?
FRANKLIN: It has not been productive in terms of new output, but has been productive in terms of people recognizing old work. The stillness and calmness—that's what we have had to engage with at this time because the pandemic has made people pay more attention to things in the past.
Do you feel you have a responsibility as a Black artist to respond to the Black Lives Matter movement?
Of course I feel like I have a responsibility to respond to all things Black, but it doesn't necessarily have to do with Black Lives Matter. My work was dealing with Black lives prior to Black Lives Matter becoming a movement. Black Lives Matter is about the third or fourth movement that I've lived through; it's not new for me.
I am a Black woman. That is the foundational identity that I have. Anything that I make, even if it doesn't say anything about Black people at all, the foundation and the aesthetic of that is going to be Black and [femme]. Black Lives Matter is just a part of this large galaxy of blackness that I pull from daily in my work and my daily life.
During the panel you mentioned you do not consider yourself an activist. Can you explain why?
I don't think people should associate necessarily people who are talking about justice work as being activists. I think activists have a particular role in the society that is very important. An activist has to be courageous and someone willing to put their life on the line sometimes for the people. I'm not that person. I'm an artist, writer and thinker.
What does the future of Black lives look like to you?
Black folks have to determine what kind of future we want. I hope that the future of Black people is to not only survive, but to thrive. That means that we have [a] stronger economic basis, mental health basis, spiritual health basis [and] our children are feeling supported and loved and are conducting themselves in ways that are exhibiting of people that have self-worth.
What message do you have for students?
The challenge that I place on all of us is to be our very best self and to be as just and kind as we can be in this time because we are under some challenging circumstances as a nation. My challenge is to encourage people to study their own humanity and the humanity of others as deeply as possible.