Pulling back the curtain on race, diversity and curriculum in college theatre
May 28, 2019

Editor's Note: In April, The Chronicle reported on concerns from students in the Theatre Department about racial insensitivity in the casting and direction of the play "HOME/LAND," which was performed in March. Since the story was published in our April 29 edition, The Chronicle continued its reporting in an effort to get to the core of issues in the department. We are running this story now in hopes it will inform the direction of the department as it searches for a new interim chair.
In addition, the term "N-word" is used in this article, referring to a student's personal experience discussed during an on-campus event. The Chronicle does not condone or promote the use of this term nor the word it refers to; however, the content of the article requires its use for clarity. The Chronicle warns of its use and apologizes for any discomfort the printing of this term may cause.

---
When junior theatre major William Pettway arrived at Columbia as a freshman, they wanted to be an actor. But after a year of not being cast in all-white shows, Pettway decided to change their major to directing to create opportunities for people of color in theatre.
On her first day of "Theatre Foundation II," senior acting major Tina-Kim Nguyen worried about being the only person of color in class because she did not want to be the token representative for all people of color.
During her freshman year while in rehearsal for "The Conference of the Birds," which takes place in the Middle East, sophomore musical theatre performance major Cynthia Hindmon was advised by her white male director to "pretend you're a little kid from Africa" for one role as a slave. She was also told to "pretend to be a terrorist" for her role as a character who murdered someone. He also wanted her to wear a headwrap in an "offensive" style, and because it was her first major production at the college, she was scared to speak up.
These are just some of the anecdotes relayed by Theatre Department students as they discussed a lack of diversity in the curriculum, faculty, casting and productions.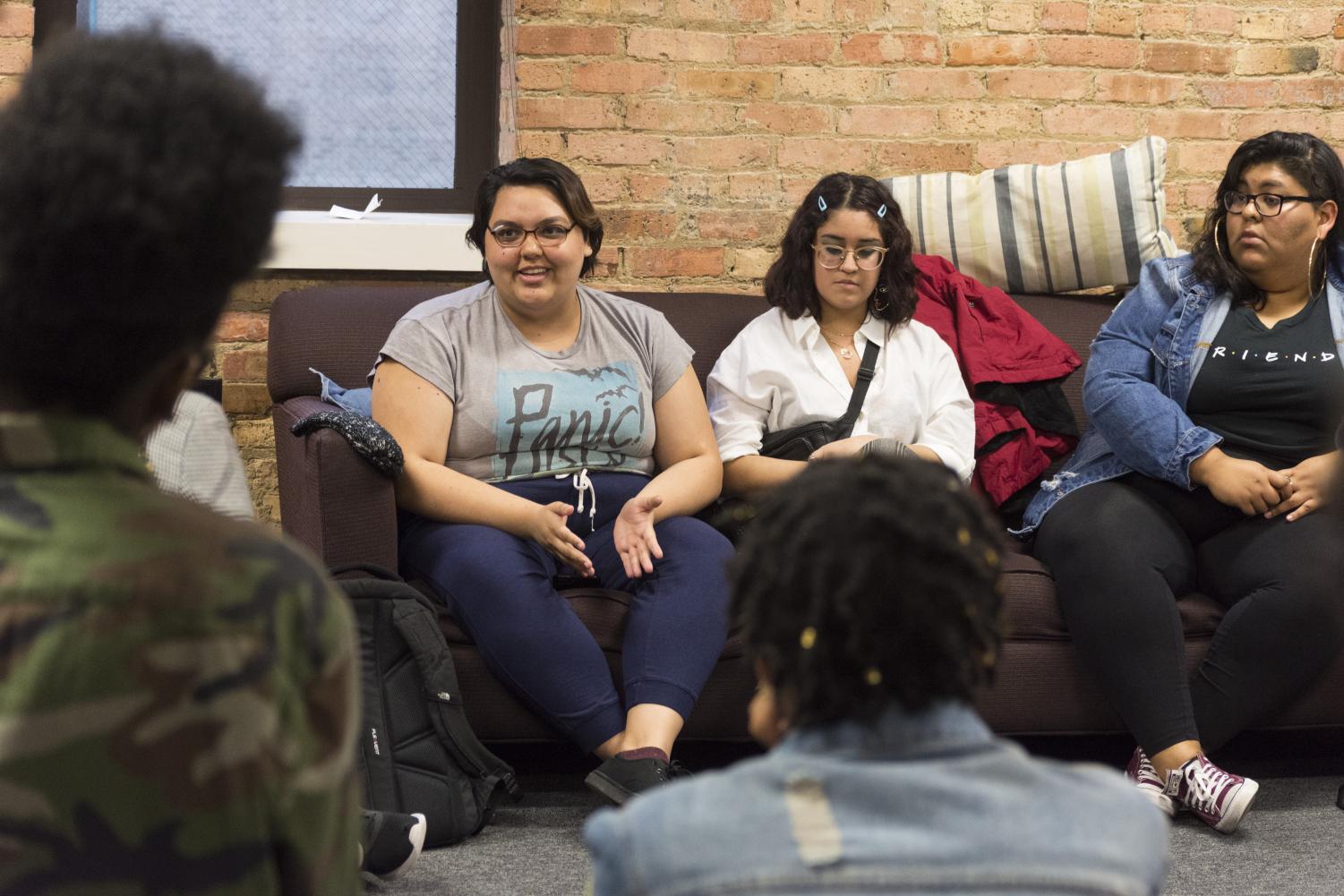 Theatre students aired their concerns at a student forum organized by the Mosaic Theatre Collective in conjunction with the Asian Student Organization, the Black Student Union and the Muslim Student Association, as reported April 29 by The Chronicle. Much of the discussion revolved around student grievances concerning the play "HOME/LAND," which was performed in March.
With three American Indian/Alaskan students, 17 Asian students, 91 black/African American students, 100 Hispanic students and 49 multiple-race students, people of color make up roughly 30% of the Theatre Department, according to Institutional Effectiveness statistics.
"Columbia still feels pretty segregated," Pettway said. "People of color and white students are getting very different experiences from Columbia."
In a May 2 email statement to The Chronicle from then-Interim Chair of the Theatre Department Peter Carpenter, Carpenter said the department was able to solicit funding for the Madeleine Moore Burrell Playwriting Prize, which supports playwrights who show a commitment to communities of color. Carpenter added the department was also working on curriculum changes to support diversity, equity and inclusion goals. Since his statement, Carpenter announced he was leaving Columbia to take a position as director of theatre and dance at the University of Florida, as reported May 15 by The Chronicle.
Since taking on the role of interim chair in 2016 under former Dean Onye Ozuzu, Carpenter said the department has taken proactive measures to improve diversity in hiring, faculty development, curriculum and programming.
"Every theatre department in every institution of higher education should be reckoning with the question of how to create a more diverse, equitable and inclusive community for students," Carpenter said. "I know that work on these issues is never finished, and I sincerely believe that as faculty and staff we are continuously looking at ways to improve the student experience."
As a white male instructor, assistant professor of instruction in the Theatre Department Justin Brill said he is conscious of creating a dialogue between himself and his students. He does so by having students create video reflection journals on what they would like to learn in his musical theatre courses, and also by making an effort to show productions in class that showcase diverse talent and representation.
Although Brill said there have been some missteps in diversity initiatives, having conversations surrounding diversity is a "sign of progress" in a "messy process."
Despite the department's attempts to address its diversity issues, Pettway said they lost their trust in the department during their sophomore year after a professor tried to convince them not to cast people of color in their "Directing II" project based on the play "Proof." The teacher told them, "It's really difficult for people of color to play white people."
Pettway said there is no real accountability for faculty. Pettway said they were taught racist productions in class, heard a professor refer to people of color as "colored," heard a professor occasionally say the N-word in class and had a white female professor touch their hair without permission.
Sophomore theatre directing major Amy Gerwert-Valdez, along with other students, spoke with Carpenter about prejudicial issues occurring on the set of "HOME/LAND," as reported April 29 by The Chronicle, but she said no real action was taken, only "false promises" and positive affirmations of support.
"They say, 'We're going to do something. [Students] might not be able to see it, but we're going to do something,'" Gerwert-Valdez said. "If we can't see it, is it really happening?"

Pettway added they know multiple people who have gone to Carpenter to complain, but still nothing has come of it.
Visiting DEI Scholar-in-Residence Khalid Y. Long said he was not surprised to hear of students' issues with the lack of diversity in the department and is glad to know students are yearning to learn from a variety of curricular perspectives, but he stressed these issues are not all unique to Columbia.
"Columbia College Chicago—an amazing institution—does not stand alone from institutions across the country that do have ingrained institutional racism and where students of color find they have to battle institutional racism," Long said.
After a professor showed "The Mikado," a racist comedic opera that appropriates Japanese culture and perpetuates Asian stereotypes, Pettway said their classmates looked at them, waiting for them to speak up, which Pettway did.
When asked for the class's thoughts on "The Mikado," Pettway pointed out the insensitive showing of appropriation of European colonization.
"The only time we see any type of change happen is student-led, persistently talking to people about race. Even then, it's not much," Pettway said.
Gerwert-Valdez said she has yet to have a professor of color for a theatre class. Having no professors of color prohibits students from having someone to look up to and mentor them in the industry, she added.
As she is often the only woman of color in a class, Gerwert-Valdez said it can be scary when her peers expect her to speak up on racial issues she feels unable to speak accurately about.
In freshman musical theatre major Madison Henderson's "Musical Theatre History" class, Henderson said the instructor can be ignorant on how to approach racial issues. After viewing "West Side Story," the professor said a class discussion about brown face—used in the film to make Latinx actress Rita Moreno darker—was not important to have.
"Whenever we learn history … [we're] only learning white history. This is the first time people can hear African American history, and it's frustrating when [the professor] tells it wrong," Henderson said.
Racial incidents do not end in the classroom, though.
Nguyen said productions in the department are performed by "the same 20–30 people over and over again"—white, female students, who, she added, make up the majority of the acting department. Although Nguyen said this trend is indicative of the industry, it can be discouraging not to be cast as often due to race.
Casting controversies happen on a yearly basis in the department, according to Nguyen. During her freshman year, "As You Like It" was double-cast by the new director of the production after noticing there was an all-white cast. During her junior year, "The Conference of the Birds," based off a Persian poem, had a majority of its cast made up of white actors. During her senior year, it was "HOME/LAND."
Director of Education and Community Engagement at the Goodman Theatre Willa J. Taylor—who works with former theatre students from Northwestern University, Loyola University, DePaul University, the University of Chicago and the University of Illinois at Champaign-Urbana—said in a May 2 email interview she has heard complaints from students at those schools surrounding the lack of opportunities in their theatre departments.
Taylor added she has also heard complaints of the lack of representation among faculty in theatre programs. One factor is the faculty of color are usually adjuncts, which means they have limited input in what shows are produced, who is cast and what resources are used to ensure a diverse cast.
Adjunct professor in the English and Creative Writing Department Daryl Satcher said while diversity issues sometimes carry over into the theatre industry, Chicago has gotten better about providing opportunities to actors of color.
"There [are] more and more opportunities coming about [in Chicago theatre]," Satcher said. "Sometimes you have to start and do your own thing to get the fairness you're looking for."
Satcher is no stranger to creating opportunities for students, including here at Columbia. In 2011, he directed a student production, "The Wilson People," which featured all black student actors celebrating the works of playwright August Wilson.
Satcher said the college has a responsibility to provide diverse opportunities and allow all students to showcase their work. He added if the department is looking for more diverse faculty members to direct future shows, he would be open to discussing the opportunity.
"It's not just about being in class, you have to be able to get up on that stage and [perform] in front of an audience," Satcher said. "If you're not getting that opportunity, [and] Columbia's not careful, they could lose some students."
Hindmon said new faculty of color—including Long, as well as part-time faculty member Dawn Renee Jones—helped her when she was losing hope in the department.
As an African-American woman, Jones said students often seek her out for guidance because her experiences and interests resonate with them, and they are "hungry for content that has relevance to their lives" that she provides through salons called "Young, Gifted and Black" which revolve around African American theatre artists and activists.
Jones said it is the college's responsibility for any issues of discrimination to be addressed and that if any student concludes their time at Columbia without being taught a diverse curriculum, the college has done them a disservice.
"Particularly in an educational institution, it would be in the best interest of all of our students … to receive as broad and deep an education to all cultures," Jones said. "We all have work to do—not just the faculty and the grown-ups—but students have their own work to do as well."
Pettway has created numerous opportunities as a directing student for other students of color, including expanding the cast for a variety show to bring in more people of color, working on shows for the Black Arts Festival and co-creating the Mosaic Theatre Collective for people to find a community within the department.
"Columbia has this image of being super diverse, super woke, super active and progressive, but I'm not really seeing it," Pettway said. "Columbia should focus on making a safer space that is all those things that they appear to be on the outside."