Protesters take 'freedom ride' to support former Columbia student charged with hitting cop with skateboard at protest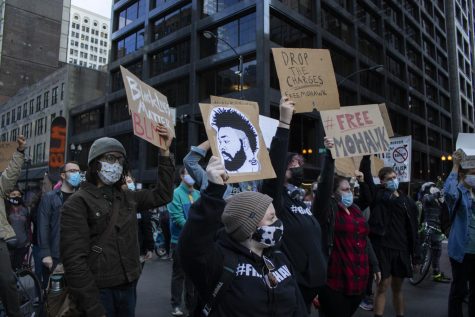 A crowd of demonstrators gathered outside of the Cook County State's Attorney's office last week with skateboards and picket signs protesting Jeremey "Mohawk" Johnson's electronic monitoring.
Protesters rode on skateboards and bikes through the downtown area Thursday, Oct. 1 for a "Freedom Ride" to encourage people to pay attention to Johnson, a former Columbia student and musician who was arrested during a protest Aug. 15, as reported by the Chronicle Aug. 19.
The next morning, Friday, Oct. 2, chants of "Free Mohawk, free them all," were heard on the steps of the Cook County Criminal Court, 3150 W. Flournoy St.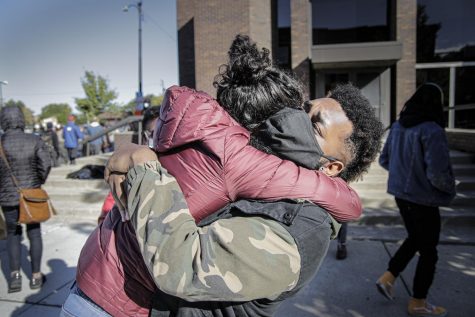 Johnson, who last attended Columbia in 2017 and is an employee at The Second City, was formally charged Aug. 17 in Central Bond Court with "felony aggravated battery of a peace officer" with a skateboard.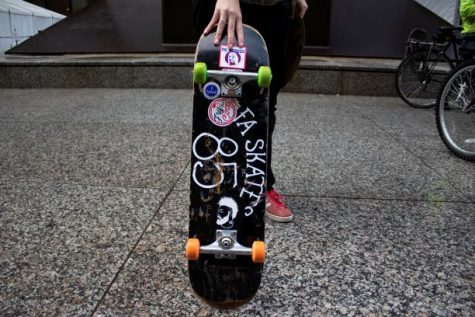 An official news release provided by the Chicago Police Department after Johnson's arrest stated the incident took place on the 200 block of South LaSalle Street on the evening of Saturday, Aug. 15. The news release alleges Johnson struck a police officer with a skateboard in multiple overhead swings as conflict escalated between protesters and officers, as reported by the Chronicle.
Johnson has been placed under the Electronic Monitoring Program since Aug. 17 and is not allowed to use or own a skateboard while in the program.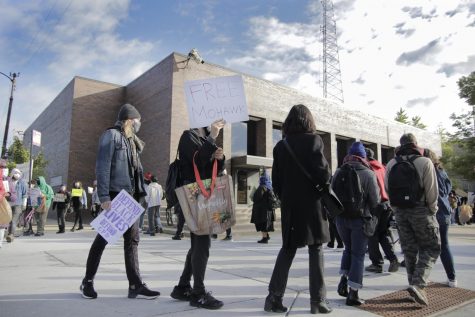 Participants of the "Freedom Ride" gathered to denounce wrongful arrests during protests.
"We're here to get the attention of the [state's] attorney's office," said Kim Whitfield, organizer of the "Freedom Ride." "We're hoping that they would rule in favor on behalf of our friend, but also so we can raise awareness [about] what is going on in the city for protesting."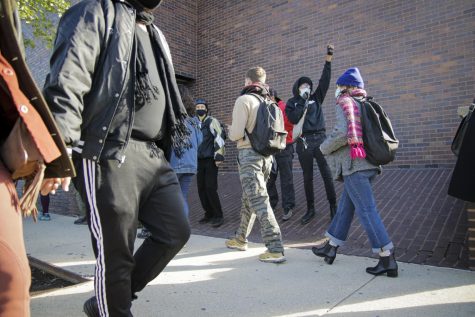 Demonstrators have been protesting since Johnson's arrest in August to gain awareness about his case. Organizers encouraged protesters to write character letters for Johnson, which are opinions about Johnson sent to the court to be used during his trial.
Javaron Buckley Sr., the owner of Buckley Law Group P.C. and Johnson's lawyer, said the firm plans to present a mitigation package to Johnson's prosecutor to potentially lessen the charges against him or have his case dismissed altogether.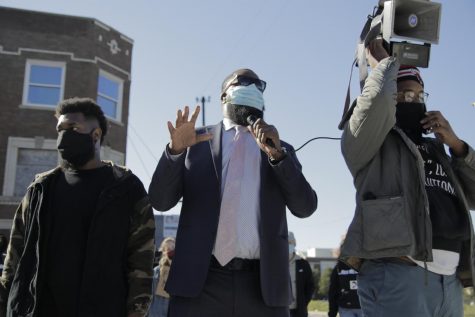 As of publication, Johnson has not been assigned a prosecutor, according to Buckley.
"We're trying to raise as much awareness as we can so that he is not just another Black man lost in the system," said Sofia Thompson, a protester who was there when Johnson was arrested.
Whitfield said skateboarding is both a passion and a means of transportation for Johnson, so taking it away from him and placing him on electronic home monitoring is a "political tactic to silence more voices that are protesting in the city."
On Friday, Oct. 2, protesters gathered outside of the Cook County Criminal Court when Johnson was given an official court date for his arraignment, which is set for Oct. 14, according to Buckley.
Buckley said Johnson plans to plead not guilty to the charges.
Since Johnson's arrest, he has appeared at three separate court hearings establishing details of his bond and his trial—all of which have been attended by his friends and protesters.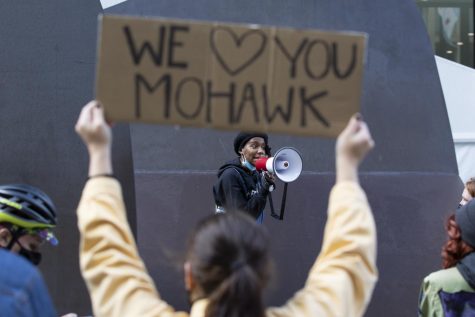 Buckley said he believes the case has been handled in an "unusual" way given Johnson's lack of prior convictions.
Johnson said he believes the "unusual" charges are a result of his race.
"Other [protesters] who are getting felonies who don't look like me are getting their charges dropped and I'm not," Johnson said.
Shortly after his arrest, details of Johnson's arrest were released on the Chicago Police Department's public Facebook and Twitter pages, an action that Johnson and his roommates said put their own safety at risk.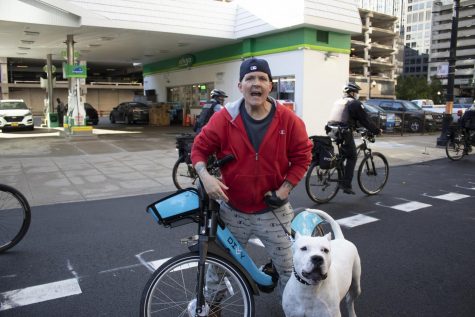 "Upon that announcement on CPD's social media, we all decided it would be best to vacate the house for about a week," said Camden Stacey, Johnson's roommate. "Since then, we have been living back at the house and things have been solid, thankfully."
Johnson's friends plan on providing further court support for his upcoming court date on Oct. 14, and despite his arrest, Johnson said he advocates for people to continue protesting police brutality and racial injustice.
"If you think there is something wrong with this city, you don't fix it by staying at home and pretending everything is OK," Johnson said. "You have to show up for the things you believe in. People should absolutely be protesting."