Updated: Former Columbia student charged with hitting cop with skateboard at protest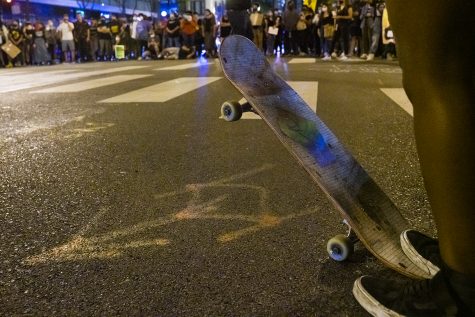 A man identified as a former Columbia College Chicago student was arrested and held on $20,000 bail for allegedly hitting a Chicago police officer in the head with a skateboard during a weekend protest.
According to the Chicago Sun-Times, Jeremey Johnson was identified by his attorney as a 25-year-old student at Columbia and a full-time employee at The Second City, an improvisational comedy enterprise.
Lambrini Lukidis, associate vice president of strategic communications and external relations, told the Chronicle on Tuesday, Aug. 18 the college could not comment on the incident as it would be a violation of student privacy. She updated the Chronicle on Thursday, Aug. 20 that Johnson last attended Columbia in 2017.
An official news release provided by the Chicago Police Department states the incident took place on the 200 block of South LaSalle Street on the evening of Saturday, Aug. 15 during a protest against police brutality in the Loop.
The news release alleges Johnson struck a police officer with a skateboard in multiple overhead swings as conflict escalated between protesters and officers. Several videos of the protest posted online displayed altercations between demonstrators and the police.
Johnson was arrested at 7:42 p.m. Saturday evening, according to the news release, and was charged with "felony aggravated battery of a peace officer" in Central Bond Court Monday, Aug. 17.
An email response from the Cook County State's Attorney's Office Communication Department stated the department is "unable to comment on pending litigation."

During the Aug. 17 court session, Cook County Judge John Lyke Jr. said if Johnson is able to post bond, he should be able to leave his residence for school and work under electric monitoring, according to the Sun-Times. Lyke told Johnson he cannot use or own a skateboard while he awaits his trial on Aug. 24.
While Mayor Lori Lightfoot said in a Sunday, Aug. 16 interview with CBS' "Face the Nation," that people "looking for a fight" in peaceful protests were to blame for the previous day's violence, organizations such as Increase the Peace argued it was police officers who initiated the violence with protesters, according to the Sun-Times.
This story was updated Thursday, Aug. 20 at 11:51 a.m. to clarify that Jeremey Johnson is a former Columbia student and not actively enrolled at the college.